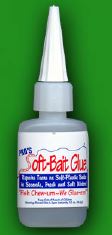 Every bass fisherman has run out of "the only soft plastic lure they'll hit" during the course of a fishing day.
Similarly, virtually every angler has experienced times when he could've "loaded the boat" if only he could combine two plastic baits in a way that no manufacturer had yet matched.
Up until now, those problems have been difficult, if not impossible to remedy. Fishermen have taken lighters, soldering tools, and various adhesives to their baits, but the results have been underwhelming. Recently, however, new Virginia Federation sponsor Pro's Soft Bait Glue has emerged as the fisherman's best friend and rescuer in these circumstances. It's an adhesive unlike any other, and one that you simply must have in your boat.
Personal Tale (or Tail) of Woe
This past summer, I fished a two day club tournament on the Chowan River, in Eastern North Carolina. Needing a good finish to maintain my place in the standings, I spent the two days prior to the event pre-fishing. Although others claimed to be on good fish in the days leading up to the event, I was struggling. Finally, on Friday afternoon, I dug through the bottom of my tackle stash and found some discontinued soft plastic baits that looked appealing. Desperate, I rigged one up, and on my first strike caught a two pound fish. The bait wasn't too messed up, so I re-rigged it and continued fishing.
Fifty yards down the bank, I got another brutal hit, and set the hook on a mean spirited grinnel. After two jumps, he broke the seventeen pound line. From my original 5 baits, I was now down to four. I threaded on another and ran to another pad field I had seen. Once there, I caught two fish relatively quickly, and pulled the bait away from a third. At that point, the bait I was using had an inch of its head dangling loose, and its tail was nearly severed. I threw it in the bottom of the boat and put on a similar bait, but in the rest of the afternoon I could not get a strike. With three of my "magic baits" left (I won't disclose the name of it for fear of depleting any remaining packs in local tackle shops), I returned to the hotel and rigged up for the tournament.
Starting in what I thought was my best area on Saturday, I ran the bank with a buzzbait and zara spook. Those baits only produced one halfhearted strike. Switching to my plastic bait, I quickly caught a small keeper. By noon, I had a good limit in the boat, including a lunker of over seven pounds. All but one of the fish were caught on my new favorite lure. One problem, though: I had no intact baits left. The ones sitting in the bottom of the boat were mangled, seemingly beyond repair.
After returning to the hotel, I hit Wal-Mart and 2 local tackle shops looking for anything approximating my lure – the closest thing I could find wasn't even close. I spent the next hour with a lighter and a conventional store-bought adhesive, trying to piece together even one whole bait out of the fragments. I was only mildly successful, and to the extent that I was able to put the baits back together, the adhesive could not withstand the rigors of pulling the bait through tough stands of lily pads. The proof of that came on Sunday, when all I could catch was three squeakers, falling out of first place by exactly one pound. If only I had been able to put my baits back together such that they would hold up, I'm confident that I would have won the tournament.
Humble Beginnings
Countless fishermen have stories similar to mine, running out of their own magic bait at the worst possible time. These tragic scenarios provided the necessity that led to the development of Pro's Soft Bait Glue.
As every non-brain-dead fisherman knows, for the last year or two the hottest bait on the market as been the Yamamoto Senko and its many imitators. While this bait catches tons of fish, it is not without inherent drawbacks: it tears easily, and is typically more costly than other soft plastic baits.
Avid fisherman and businessman Mike Rice was in Greentop one day, talking to Mickey, a longtime employee of the shop. In passing, Mickey said "if you can find a way to reliably glue senkos back together, you'll make a million bucks." Although Rice had lived in Virginia for fifteen years, most of his fishing occurred in saltwater, and he was admittedly "out of the loop." Once Mickey started explaining, the wheels in Rice's brain started turning. After a series of other professional ventures, Rice had been looking to diversify his businesses. Picking up on Mickey's words, he set out to develop and market a glue. First, he worked with a product called Lightning Bond, but its results on fishing lures were less than satisfying. He refused to give up, though, and working closely with a chemist, he eventually came up with the unique formulation that he now sells as Pro's Soft Bait Glue.
The Difference is in the Details
Fishermen have long used a variety of conventional adhesives and glues in their fishing, but none have been completely up to the task. Pro's Soft Bait Glue, one of the few such products aimed specifically at the fishing market, has characteristics that distinguish it from the competition. As Rice states succinctly, "It can't be duplicated."
First, and perhaps most importantly, it "works on 98% of all products," Rice says. "Even the new Gulp! products from Berkley." Unlike many of the other products, it is insoluble in water and fuels. It remains pliable in the water, as well as over time. In fact, Rice says, you can open the bottle, close it back up, and a year later it will still be a pourable liquid.
One problem that many of us have had is the issue of the effects of other adhesives on skin. You glue a bait onto the hook shank, go to remove your hand to cast it, and your thumb and forefinger are stuck together. Rice has remedied this problem. "It doesn't grab onto you," he says, due to a lack of stabilizers. Nevertheless, after gluing plastics together, an angler need only wait a few seconds before submerging the bait in the water, with no loss of bond.
Finally, with today's plastic baits being impregnated with salt and a variety of other "secret formulas," anglers have realized that attraction through scent (or by masking human odors) plays a key role in fishing. Unlike many other products, Pro's Soft Bait Glue has no lingering odor to dissuade fish from striking and holding onto a lure.
Do these factors alone justify the price of $9.99 per bottle? Rice often repeats the mantra that "seeing is believing." At the Jacobs Cup tournament in Richmond, pro fishermen, many of whom are loathe to spend their own money on new fishing products, raved about the product. At one point, anglers including Roland Martin and Derek Yamamoto gathered around Rice to get a glimpse of the glue at work. The price is really not a factor, since in the end the ability to recycle plastics will end up SAVING the angler money. For this reason, "guides love it," says Rice. "Glenn Briggs at Lake Anna swears by it."
Unlimited Uses
My first thought when I heard about Pro's Soft Bait Glue was the ability to mend torn plastic baits. Indeed, as mentioned above, it was this purpose that led to the glue's development. But by no means is it limited to that single use.
Anglers can use Pro's Soft Bait Glue to make the plastic bait of their dreams. Say you've always wanted a junebug lizard with a limetreuse tail from a gatortail worm. Now you can produce that bait in seconds, and show the fish something different from anything they've ever seen.
Rice says that it will adhere to "anything rubber....tennis shoes, the step pads on your boat, anything." By keeping a tube handy on the boat, an angler can deal with the nagging problems that seem to suddenly arise and compromise efficiency or safety. Among other things, you can use it to secure loose carpeting, to tighten up cork handles, to reattach a loose transducer, and to replace the rings in your rod guides.
As Rice, an avid saltwater fisherman, can attest, Pro's Soft Bait Glue is good for other types of fishing besides bass. Fly tiers find that it works great as a head cement. No less an authority that Bob Clouser, inventor of the Clouser Minnow, states that there is nothing like it for instant bonding. Pro's Soft Bait Glue has gained a legion of followers among the users of giant (and expensive), plastic-tailed swimbaits, particularly on the west coast, and was featured in this respect in the October/November issue of Bass West magazine. Similarly, muskie fishermen throughout the country have picked up on its many uses, as detailed in several issues of In-Fisherman.
Nor is its use limited to fishing in this country – Rice recently made a shipment of his product to Japan, where it was featured on the cover of one of that country's leading bass fishing periodicals.
What's New?
As the Virginia Federation's newest sponsor, Pro's Soft Bait Glue is committed to continuing to develop products with the input of the grassroots fisherman. Mike Rice met Federation President Roger Fitchett in March of 2001 and quickly realized that once the company got on its feet, it was important to gain a foothold in its home state. In the near future, he plans to reward Virginians' loyalty by offering special deals or discounts for Federation members.
Just because he has a revolutionary product on his hands, Mike Rice has not stopped tinkering or inventing. He is planning to release a non-acetone glue remover in the near future that will further benefit the user of Pro's Soft Bait Glue, with no harm to any other products.
Additionally, Rice has increased his company's presence on the internet, expanding his website with the help of a new webmaster, Ron Colby. Colby, you may remember, is a former Bassmasters Classic contender, reaching "the big show" through the Federation trail. He is also currently the webmaster for Gary Yamamoto Custom Baits. One can only hope that the crossover between these two companies will produce further innovations and savings. Where Can You Purchase Pro's Soft Bait Glue?
Locally, Pro's Soft Bait Glue can be purchased at Greentop as well as Bucko's in Newport News. Mike Rice also says that you may be able to purchase it at Dick's Sporting Goods or through manufacturers' kits in the near future. You can also order through the website http://www.prosoftbaitglue.com or by calling 1-888-433-3644. For more information about the product and Tackle Retailers, call 804-798-5225.
If you are still skeptical, perhaps your best bet to pick Mike Rice's brain about Pro's Soft Bait Glue is at the upcoming Bass Expo in Timonium or at Bassarama in Richmond. As in recent years, he will be at the shows demonstrating his glue to crowds of customers. Its maker stands fully behind its effectiveness. No corporate pitchmen, no glossy advertising campaign, just a "seeing is believing" attitude.
Copyright 2004 Peter Robbins All Rights Reserved
robbins@vabass.com