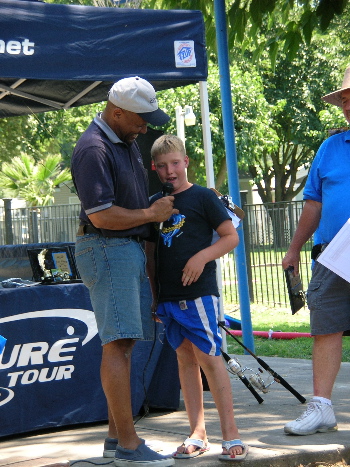 The Future Pro Tour's first annual "Take-A-Kid Fishing" event hosted by the Lighthouse Resort and Marina lived up to it's anticipated excitement and fun, with over 70 kids – plus their parents and families, attending an event that was rewarding for everyone who participated. Kids ranging from 4 to 15 years old showed up at Friday night's registration festivities where each kid received a free tackle pack, rods/reels, free BBQ, and a seminar hosted by the king of the "delta rats" Andy "Cooch" Cuccia.
That evening, kids also enjoyed swimming, free bingo night, and a variety of other activities provided by the resort. Saturday morning saw a stiff delta breeze, which was welcomed by all, as the weatherman predicted that the rest of the day would be a "scorcher". But these kids didn't care about the weather – hot or cold, as participants in both the bank and boat divisions had a "ball" and caught a variety of fish ranging from stripers, to catfish, to bluegill and bass, on the bait and tackle provided to them by the various tackle stores that co-sponsored the event such as Fishermen's Warehouse, Hook Line & Sinker, Extreme Outdoors, Troy's Outdoor Sports, Outdoor Pro Shop, and Sac Pro Tackle.
The California Department of Boating and Waterway Safety provided Sterns lifejackets for every participant in both divisions as education about water safety was foremost in everyone's mind. West Marine Products provided bottles of much needed sunscreen lotion for anyone that needed it, to help combat the heat rays of such a hot summer day. And not to be left out, Hydrate 2o the newest and most dynamic product in performance water for athletes, was on hand to set up a booth that provided free water to all of our kids – all day long.
In the bank division, Christina Esparza took the biggest black bass award with a bass that weighed ½ a pound, Thomas Doren took the big striper award with a 1.69 pounder, the big Catfish award went to William Doren for a 1.39 channel catfish, and the big panfish award went to Shea Hamilton for her a bluegill that weighed 21 ounces.
In the boat division Kalen Rafferty (15) took top honors with a 4.25-pound largemouth bas that was caught on a Reaction Innovations Dominator, and the big panfish award for the boat division was taken by Devin Bright who caught an absolute monster bluegill that went nearly 2 pounds!
Brooke Gushea (7 years old) received a trophy for being the youngest female angler – catching the biggest fish (a 3.98 pound largemouth bass), and the award for the youngest male angler was given to young Brent Zieska Jr. (4 years old), who landed a nice bass weighing 1.95 pounds!
Talk about kids having fun! But it did not end there….. At the awards ceremony, all kids received recognition and a participation ribbon, and were treated to a huge raffle in which rods, reels, tackle, and a huge assortment of other prizes were given out culminating in the grand raffle prize - a fully-rigged electric guitar (valued at over $400) courtesy of SKIP'S Music of Sacramento, Elk Grove and Modesto.
Many thanks to the good folks at the Lighthouse Resort and Marina for providing great facilities and support staff for the event, and to all of the parents that signed their kids up and actually fished side-by-side with them, making their angling experience even that much more enjoyable. Believe me…they will never forget it.
And a BIG thanks to the major sponsors of the Future Pro Tour; People's Folsom Lake Chrysler/Jeep Hyundai, Ranger Boats, Evinrude Outboards, C&C Marine (Citrus Heights/Modesto), West Marine Products, Minnkota/Hummingbird, Lucky Craft, Lamiglas, Sawyer Cook Insurance, for supporting the FPT organization and making this event a possibility.
Hope to see all you kids (and parents) at next year's event!
Vince Harris – Director Future Pro Tour Tournament Trails