Known for their fishing prowess on the tidal waters of the California Delta, Lorenzo and John Rossetti packed up their bass catchin' experience and hit the road for a two-day, three lake Bass Cat Owners Regional Championship. The father/son team returned to their Northern California home as the multi-fishery champs, claiming an all-expense-paid Brazilian fishing adventure alongside Rick Pierce of Bass Cat, valued at over $20,000.
The Rossetti's repped for the West Coast in the six-team invitational championship, securing their name on the Bass Cat short list, by winning their respective region with an astounding 23-lb lead over the runner-up for the two-day event.
With the secret stops on the championship trail kept under lock and key, the fishing duo left the Golden State and it's mild winter conditions behind, boarding a plane bound for an unknown bass battle set to place in Arkansas.
The trip took them through a bass fishing obstacle course of sorts featuring three separate weigh-ins. The first day offering a three hour time allotment in the morning to find five fish on Norfork Lake and a re-launch in the afternoon, 40 miles away to add five more at Crown Lake. A full second day on Bull Shoals wrapped up the event.
All teams were offered their choice of one practice location. The competition was divided with half picking Norfork and the remaining doing work on Bull Shoals. Having never been to any of the fisheries that faced the Rossetti's, Lorenzo decided to put the practice day in on Norfork. "I figured since we had the least amount of time to spend there, that would be the best place to concentrate," said Lorenzo.
LET THE GAMES BEGIN
Although they practiced at the site of the first venue, their first three hours on the water at Norfork only produced two keepers. "The conditions were tough, nothing like I've ever fished in," Lorenzo said. "It had been 80-degrees two days before we got there and it dropped to 30 to 40 on our practice day. The morning of day one it was 16-degrees outside. The boat was frozen to the trailer and the trolling motor cables were frozen, so we couldn't even use it. Every time we turned the handle on the reel shaved ice came off the line. It was absolutely frigid. These are not things that I am used to dealing with, being from Northern California."
Their 10 a.m. weigh-in came quickly. Their two weigh fish came from the same 20-yard stretch and translated into 3.84, putting them in second place with nearly a three pound gap behind the leaders. "We got five, but only two that we could weigh - a spot and a smallie," he added. "We got them all shallow on Strike King ripbaits, a Revenge spinnerbait and a Strike King 1.5 and 2.5. crankbaits."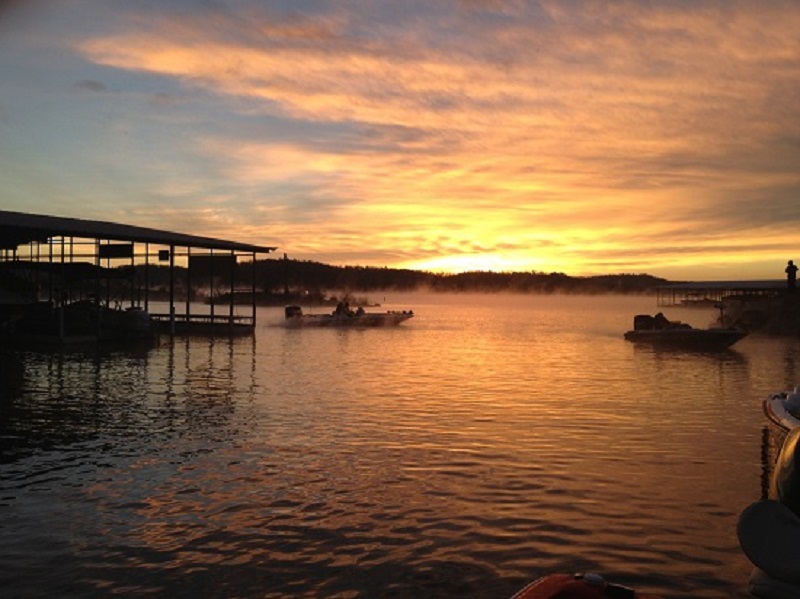 After a drive to their second location and a pit crew on the trolling motor, the Rossetti's set out - paper map in hand - into the heat of the day, at 26-degrees to make up for lost ground. "We got nothing for two hours," recalled Lorenzo. "Staying towards the dam, I figured out I had to slow down and look for deeper water ledges and drop offs with timber; but not being familiar with the water, I wasn't sure where to find them. I would drive around until I was able to visually locate areas where the channel was in 15 to 18-feet and had a drop to about 25. I found three spots and caught four fish before time ran out. Here, we got them on a black and blue 1/2-oz Strike King Hack Attack jig with a Denny Brauer black blue flake chunk trailer."
They added 4.98 to their total at Crown Lake dropping them to 5th place and widening their climb to first by approximately 4 1/2-lbs.
"We had 8.82 and I was not feeling confident," revealed Lorenzo."
LAST CHANCE
The final stop on the final day offered up an opportunity for a full day of fishing on Bull Shoals and the Rossetti's made the most of it.
"I did learn something from our time on Norfork," he recalled. "I knew they were moving from their fall-like pattern in to winter and they were on structure where the flats met the chunk rock. That turned out to be critical and I parlayed that information to Bull Shoals. It was most important to really focus on hard structure. I could see that little break where the pebble turned to chunk rock on the bank and followed it below to find some wood, standing or fallen timber or brush and that is where the bigger fish were."
Using the same Hack Attack jig in 3/4-oz, Lorenzo stuck the biggest bass of the event at Bull Shoals - a 5.62. "I thought I was hung up," he said. "I popped it to come free and it grabbed again. I thought I was stuck again, but a fish was on it. I was about 75 to 80-feet from the boat. It jumped and I felt like was back at the Delta. It was a fun fight. At that point, I felt like we were on an even keel with the other teams and it gave me a boost of adrenaline, energy and confidence and we just continued on replicating that pattern. We tried cranking bluff walls and using a shakey head; but it didn't pan out. Obviously, the big fish wanted a crawdad and that jig in areas with chunk rock was a recipe for success."
After a dozen keepers, they day was coming to a close. The Rossetti's hauled the biggest limit to the scales with 14.32 and took the victory by nearly two pounds.
"I am really excited about the win," said Lorenzo. "I'm excited about going to Brazil to fish for Peacock Bass with my dad and Rick Pierce Jr. It is going to be an awesome trip!"
The Rossetti's were appreciative of the Bass Cat generosity and couldn't wait to get to Brazil. Lorenzo's sponsors include Strike King, Mercury, Phenix Rods, Prudential Realty, Revenge Baits, Outdoor Sportsman and Nor-Cal Battery.