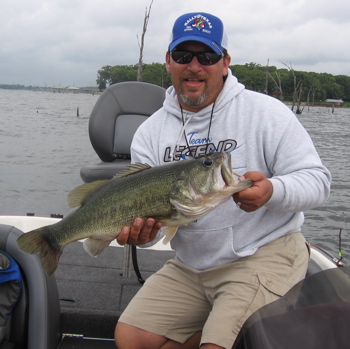 Trying to keep up with the politics that Californian anglers face seems a daunting task. We're faced with many issues that seem to keep popping up and sadly there just isn't a fishing interest lobby in place to get our voice's heard at all levels of state government. This lack of representation is something that many industry leaders are currently working to correct, but they need our help.
Several key groups have banded together to try bring the power of the 2.4 million state anglers together to form a cohesive voice. Water for Fish, based out of Concord, is circulating a petition that WesternBass.Com is encouraging all bass anglers to sign.
The era of 'just wanting to go fishing' is a myopic stance that will lead to our future generations not having the luxuries of recreational fishing options that we currently take for granted. Sticking our heads in the ground and pretending that someone else is there to fight for your fishing rights has lead to the opposition making huge gains in areas and anglers have been the one's who paid the price.
Here's the dilemma. The state's agriculture, water and other corporate interests have banded together to take steps that basically destroy our fisheries. Water exports, dams and the policies of our elected officials have undermined our state's fisheries and if continued unabated, they'll serve to destroy the striped bass, salmon, steelhead, trout and bass fisheries as we know them as well as the laws that protect these species.
California is in the process of restructuring its water policies to meet the needs of its population growth. Water, as a salable commodity, has truly become more valuable then gold. Those in control of our water resources sell it off to the highest bidders without regard for where it's going and certainly have even less regard for those that use it along the way. The "Water Wars" have reached new proportions and fish and fishermen are losing the battle.
It never ceases to amaze me how our local, regional and state government can continue to allow developers to further parcel out the state, but I've seen bold evidence of rampant growth in our desert areas, where water is limited in availability, if at all. Our urban and suburban communities are continuing to be expanded at alarming rates.
If fishermen don't unite and make their voices heard in the political process, we will lose millions of fish and the many benefits they bring to fishermen and to the economy.
Below you'll find a petition that you can printout and send in or you can go to the water4fish website and do it electronically.
Sadly, those who are willing to destroy California's fish runs to serve their own interests now control Congress and the Federal Government. These politicians need to hear from us and so I beg of each of you to please, take the time to sign the petition and make sure you're friends and relatives do so as well.
Petition
Water for Fish
Sponsored by The Coalition of Concerned California Citizens
Summary: This petition requests action by Congress and the Federal Government to stop water allocations and projects that destroy California's fisheries and it requests Federal action on fisheries restoration.
Whereas: The Federal Government and the U.S. Department of Interior have proceeded to sign long term contracts for delivery of Central Valley water with no consideration of the health of the California's fisheries; and
Whereas: The water policies of the Federal Government and the U.S. Department of Interior have allowed several species of fish in the California Delta to decline to near extinction levels; and
Whereas: The Federal Government and the U.S. Department of Interior have consciously and maliciously dewatered the Klamath River killing hundreds of thousands of migratory fish; and
Whereas: The Federal Government and the U.S. Department of Interior continue to underfund and fail to fulfill their obligations under the Central Valley Project Improvement Act (CVPIA) of 1992.
Therefore, I join the 2.4 million sport, commercial and tribal fishermen of California and sign this petition calling for Congress and the Administration to initiate immediate and lasting actions which will stop fishery declines and restore those species suffering the impact of misguided government policies. We call for:
1. Full restoration of the flows of the Klamath River and other river changes needed for a minimum of 30% increase in migratory fish runs annually.
2. A moratorium on any California Delta or Klamath water development project, water allocation or water contract unless it can be proven it will have no negative impact on salmon, steelhead, striped bass, delta smelt, american shad, trout, threadfin shad and longfin smelt.
3. A moratorium on any increases in water exports from the Delta until full recovery plans are adopted, funded and are underway for those California fish listed under the Endangered Species Act.
4. Full funding and compliance with the provisions of the Central Valley Project Improvement Act of 1992 which was designed to protect and restore the fish of the Central Valley of California.
5. A freeze on any Federal government funding which would divert, allocate or increase any water diversions or construction of facilities which would allow these activities until all impacted fish runs show increases for at least five years in a row.
Name ______________________
Address ______________________
City, State, Zip __________________
Email ______________________
Mail signed petitions to:
Water for Fish
1301 Plumeigh Lane
Concord, CA 94521
Petition may be completed online at http://www.Water4Fish.org/