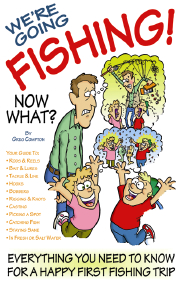 It Was the Best Fishing Trip Ever!
That first fishing trip you take with your children is chock-full of possible snags and tangles. We're Going Fishing! Now What? is a must-have shared-activity guide for parents, grandparents and first-time fisherkids. This easy-to-follow primer explains exactly what to buy, where to go, how to put it all together, and how to catch fish.
Inexperienced fishermen will appreciate the detailed what-to-shop-for checklist, handily located inside the back cover, as well as the book's expert, yet simple advice on basic equipment, rigging, casting, catching and releasing. We're Going Fishing! Now What? also includes helpful tips for making your day so fun and productive, you'll all want to go fishing again and again.
Brand-new fisherkids will flip over the "Photo Keepsake Page," where anglers can proudly display photos of their first catches.
We're Going Fishing! Now What? is professionally illustrated with 50 fun, kid-friendly cartoons, plus detailed drawings that will help you identify which species of fish you're likely to catch. This 32 page, 8 1/2 by 5 1/2 inch book tucks right into a pocket or tackle box for easy reference throughout the day. At a suggested retail price of just $4.95, it's an outstanding bargain.
You'll find it displayed among the fishing equipment or in the reference section at your local fishing and tackle shops. If you don't see it, ask for the book by name. For more information on We're Going Fishing! Now What? contact AA Worms, P.O. Box 176, Temecula, CA 92593; (909) 676-6384; Fax: (909) 695-6746; www.optimumbaits.com
Look for more Now What? parent-children activity guides for first-time adventurers, coming soon from AA Worms.
Did You Know? Eighty-five percent of today's freshwater anglers began fishing before they turned 13, according to the Recreational Boating and Fishing Foundation.