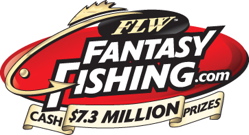 MINNEAPOLIS, Dec., 2008 – FLW Fantasy Fishing, the world's largest and richest fantasy sports game, announced it is substantially increasing its prize pool from $7.3 million in 2008 to $10 million in cash and prizes in 2009 with a guaranteed $1 million cash winner, plus six guaranteed $100,000 cash winners. Additionally, FLW Fantasy Fishing is offering a $3 million cash exacta and a $5 million cash exacta, plus over 2,500 other prizes including new Ranger boats, a Chevy SUV, four-wheelers and hundreds or thousands of dollars in free cash cards and Walmart gift cards.
FLW's Player's Advantage membership is the unique tool that offers many advantages to its members, which include the all-important winning edge statistics that players will need, including the history and statistics of all the competing anglers, up-to-date information on the tournament fisheries, weather conditions at and before tournament time, the hometown favorites and their records, who fishes better in the various weather conditions, plus many more tips about the potential favorites to win each tournament.
In 2008, Player's Advantage cost $39.95 per year. Those individuals who act now can sign up for only $10 for the entire 2009 Fantasy Fishing season which will give them all of the important information and tips as well as all of the other Player's Advantage opportunities, of which there are many. An important fact: Among all those who played Fantasy Fishing in 2008, it was the Player's Advantage members who won at a rate of 400% more than the non-members, including the $1 million winner Michael Thompson.
For those individuals 18 years and older who wish to play the $10 million FLW Fantasy Fishing game in 2009 and want assistance in picking the teams, Player's Advantage will be offering them the pundits' picks, which will allow them to basically push a button that will give them what is called the "Quick Pick." Additionally, they will receive mobile updates, expert blogs and access to FLW Live to watch the weigh-ins as they happen for all four days during each of the seven tournaments.
"FLW Fantasy Fishing is something we have worked tirelessly on and have sincerely enjoyed sharing the excitement of the players and the extraordinary growth that we have experienced in our inaugural year," said FLW Outdoors Chairman, Irwin Jacobs. "Our inaugural season in 2008 was such an incredible success that frankly, it ran participation off the charts. We wanted FLW Fantasy Fishing to have another year of even greater growth in 2009, so we decided to offer an additional $3 million in cash, plus enhanced features and tools such as Player's Advantage for a total cost of the unbelievable price of only $10 for the entire 2009 FLW Fantasy Fishing season.In 2008 Player's Advantage proved to be the invaluable advantage to its members bywinning four times more often than those who weren't Player's Advantage members. The FLW Fantasy Fishing game has positively transformed many individuals' and their families' lives from around the world. Visit fantasyfishing.com to see and hear directly from last year's Fantasy Fishing winners how their lives were changed in 2008 by playing the richest fantasy sports game in the world."
In 2008, FLW Fantasy Fishing's inaugural year, it crowned fantasy sports historical first $1 million cash winner Michael Thompson. Additionally there were seven $100,000 cash winners during the seven FLW Tour tournaments along with over 4,000 additional prizes ranging from a $39,565 Chevy Silverado to a $51,495 Ranger Z19 bass boat to hundreds of thousands of cash cards from Walmart to BP gas cards. For a complete list of prizes for 2009, please visit fantasyfishing.com.
"FLW Fantasy Fishing obviously changed mine and my family's life forever in the most positive way," said Thompson, who recently purchased his dream house on 40 acres in Minnesota thanks in large part to his FLW Fantasy Fishing Player's Advantage membership. "I can't wait for the 2009 season to begin as I have already signed up for Player's Advantage and recruited many more of my family and friends to also play the game. The prizes being offered by FLW Fantasy Fishing are unbelievable and to think that someone again will win a guaranteed $1 million in cashor possibly $3 or even $5 million in cash is truly amazing, if not remarkable. Playing the world's richest and largest fantasy sports game not only offers tremendous prizes but also improves relationships and camaraderie among family and friends who can and will enjoy playing Fantasy Fishing together."
There is an additional new game to Fantasy Fishing in 2009 – "The $3 Million Power Hook" in the Forrest Wood Cup Championship. FLW Fantasy Fishing will be offering this amazing additional guaranteed cash prize of $3 million in cash to any individual who selects the first through fifth place anglers in their exact winning positions at the Forrest Wood Cup Championship which begins on July 30 and concludes on Aug. 2, 2009. There will be only 77 professional anglers competing in the Forrest Wood Cup whereas in all of the other six FLW Tour qualifying events there will be approximately 150 professional anglers. Participants will also have the opportunity to win an additional guaranteed $5 million in cash in the "Rank 7 Exacta Bonus Game" for any player who selects the first through seventh top finishers in any one of the FLW Tour qualifying events in 2009 in their exact winning positions.
Another new addition and very exciting opportunity to win thousands of dollars in cash for those playing Fantasy Fishing in 2009, will be a newly-developed referral program allowing participants to earn back $2 in cash for every $10 Player's Advantage membership they are responsible for referring and signing up. Basically, participants earn 20% cash payback for all Player's Advantage cash memberships they register. If an individual signs up five players, they will receive their own Player's Advantage for free. If they register 100 Player's Advantage members, they will receive $200 in cash. If they sign up 1,000 members, they will receive $2,000 in cash. Or imagine for being responsible for registering 10,000 people and earning $20,000 in cash. There are no limits to the amount one can earn in recruiting Player's Advantage members. All recruiting cash due to those individuals will be paid within 30 days upon conclusion of the Forrest Wood Cup Championship on Aug. 2, 2009.
"Record numbers of people in the world of fantasy sports enjoyed playing Fantasy Fishing in 2008; however, millions of people stood on the sidelines watching as FLW Fantasy Fishing awarded $1 million in cash to Michael Thompson, plus $100,000 in cash each to seven individuals for playing and winning a fantasy sport," said Jacobs. "Just as Fantasy Fishing is the greatest fishing game on earth, we have now developed the Fantasy Fishing referral program to get everyone involved and participating. We are looking forward to rewarding those that generate interest in our game, getting more people involved in our sport and having the time of their life playing Fantasy Fishing with their families and friends.
Along with the special price NOW of only $10 for a Player's Advantage membership in 2009, fantasyfishing.com will feature many articles, interviews, online videos and improved scoring techniques. For additional information, the complete rules and to register, please visit fantasyfishing.com.
FLW Fantasy Fishing continues to be the leader around the world for the richest fantasy game offering $10 million in cash and prizes in 2009. Fantasy Fishing permanently changed the landscape of fantasy sports in 2008 with the offering of $7.3 million in cash and prizes and attracting players from more than 123 countries throughout the world. But now in 2009, FLW Fantasy Fishing is going to top that by offering an unbelievable $10 million in cash and prizes to many families and individuals that will no doubt make their dreams come true. To register now for Fantasy Fishing and Player's Advantage, visit fantasyfishing.com.