Moderators: MKA, Mike M, Caudawg, ash
Where's the nearest Market or Restaurants by the lake?

Thanks,

DP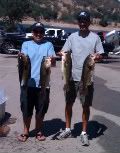 ---
There is a small convenient store about .25 miles from the lake on Santa Margarita Lake dr. There is also a store and 2-3 restaurants in town. Atascadero is only a 15min drive which has super markets, fast food and restaurants.
---
Thanks Andy, will I pass this on my way in? Were coming from the south.

DP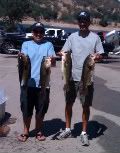 ---
If you come up the 101 you will go through the town and pass the the little store on the main road. Actually the little store is on the corner of Pozo and SM Lk Rd, which is where you will turn left to go to the camp grounds and lake. Atascadero is further north on the 101.
Dan P wrote:Thanks Andy, will I pass this on my way in? Were coming from the south.

DP
---
---
Who is online
Users browsing this forum: No registered users and 2 guests