Cachuma Lake and Reports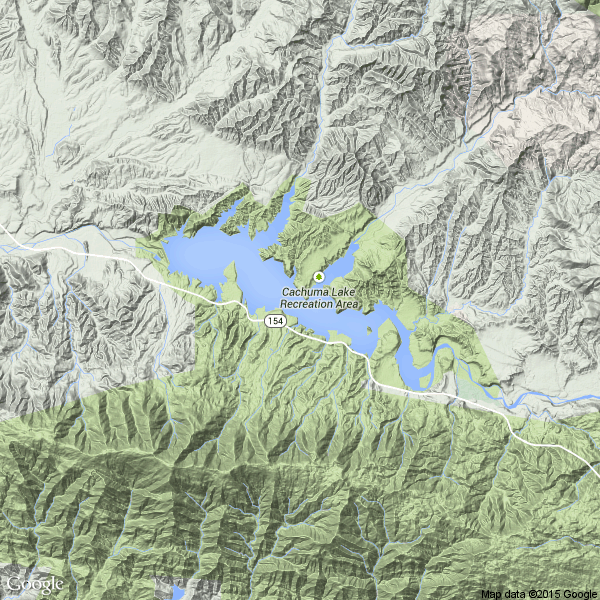 Click for Navionics/Google interactive map
Friday, Jan 15

Thursday, June 28th, 2007
Water Temp: 71 Early Mornin

Water Clarity: Clear (4+ foot visibility)

Report: Started Fishing early morning around 6:30 am. I hit the east side of Arrowhead island for no takers. I threw a Rapala XRap 4" glass ghost colors for no takers. I then switched to a drop shot Oxblood robo color for nothing as well. I made my way around the south side of the island eventually to the east and switched between a silver 4" top water zara spook, robo worm and XRap. No takers. I decided to move to a little deeper by going over to the Chalks Bluffs. I finally got my first hit off of a drop Shot in about 15 feet of water. I continued for another 20 minutes for no takers. Fished in front of the Restricted Area on the drops and caught 4 - 5 dinks. All caught on drop shot robo's oxblood. Gotta love the smallies!! Got a little windy so I cruised over to the eastern Chalk Bluffs Point. Worked my way North for no takers. I threw everything but the kitchen sink. Cruised North to Johnson Canyon and threw a drop shot setup again. No takers. I switched to a spinner bait and got a couple taps, no takers unfortunately. Decided to finish my day in Bobcat Canyon. Caught a couple more dinks on drop shot. Man those smallies fight good!!!
City: Camarillo

Tips: Drop shot seemed to be the best weapon. Did not see any Shad this time. I think the full moon had a large effect on the bite. Tight lines.
Friday, June 15th, 2007
Water Temp: 72 plus

Water Clarity: Clear (4+ foot visibility)

Report: Vis good generally, stained in narrows. Still fishing the Senko on the rocky banks. Found a couple off Cachuma bay in 25 ft and also a nice #4 in the narrows. Things are changing though so time to find new fish.

Tried the wacky jig thing first time off Bobcat in 25ft, lost 2 small fish; interesting new technique but the hooks are a "odd" angle.
City: Santa Barbara
Friday, June 8th, 2007
Water Temp: 75

Water Clarity: Stained (2-4 foot visibility)

Report: Pretty steady. Fish on Senkos along rock. Still not seeing fish on the cliffs though. Windy early today. Fog/low clouds gone by 8:30. Visibility generally good; clear at dam, less in coves. I get most fish by just running bank and tossing senko; fish 10-20 feet.
City: Santa Barbara

Tips: Still lots of room for RV/camping as of today. Not much longer and the crowds arrive.
Sunday, May 27th, 2007
Water Temp: 62-67o

Water Clarity: Stained (2-4 foot visibility)

Report: Gold Coast Tourney today with 19 boats on hand. Early low fog at 6AM launch with weather reports saying sunny to low 70's and 9mph winds. Well, temps were close but not till after 1 and the winds were close as well but failed to add that 14-15mph gusts. --- Cachuma Bay is clearing from last week but still chocolate colored but fish are there. Partner and I had a great start on top water with three in the boat on our first stop but all were too small, headed to second stop and the same, small fish. Partner finally pulled a keeper and we headed out towards the river. Only hit and miss so moved towards the dam looking for more weight. Hard day with only three in the hole and a dissapointing 13th placing.

Winners in with 23 and big at 6.58, second in with 11.53, third in with 10.81, 4th at 9.48 and so on. arted with jigs on a spot they hit the week before but switched to a senko weightless back in the river area where they stayed pretty much all day.
City: Santa Maria

Tips: Smaller fish were in close and bigger post spawn fish were holding on points in small areas. Senkos are always a good choice worked slow as was Sweet Beavers weightless. I hit a good top water AM bite on a silver MegaBass popper but didn't get to try the Rico as it shut off. No crankbait fish today which was sad.

Water Temp: 70 deg

Water Clarity: Clear (4+ foot visibility)

Report: Good vis most places. Temp now up to 68-70. Drop shots on flats and senko still working for a few fish. Another nice honest 5 today.
City: Santa Barbara
Tuesday, May 22nd, 2007
Water Clarity: Muddy (0-2 foot visibility)

Report: Are there shad up rite now
City: ventura

Water Temp: 65+

Water Clarity: Clear (4+ foot visibility)

Report: Fished from the shore the last 2 days off e-point. Using a drop shot with Ox blood red flak or a Margarita Mutilator, straight rigged and wacky rigged, I was able to coax 10 on Monday and 7 more this morning. In that bunch were 2 that went 4 lbs or better and 2 at 3 + lbs the rest were 1.5 to 2 lbs. The water was warm and clear. The trout bite was on last week for sure, using a bobber, down about 5 to 6 feet and using crawlers. Seems to have slowed a bit this week.
City: Santa Ynez

Tips: The fish can be seen from shore if you don't move around a bunch. I started withn a straight drop shot rig and after the bite slowed, I used a tip from my friend K.Ripa to change to a wacky rig and it started the bite going again....thanks for the tip Kelly. Work your worm slow, but shake the heck out of it.
Monday, May 21st, 2007
Water Temp: 64 or so

Water Clarity: Stained (2-4 foot visibility)

Report: Not a lot of new info to add. Wind came up at noon. Vsby clr at dam to 2 ft off Jackrabbit. Didn't find a clear pattern. Tried jig worm on chalk cliffs but no takers. Best fish was about #5 on a Senko. A few other small fish on rocky banks.
City: Santa Barbara
Sunday, May 20th, 2007
Water Temp: 67o

Water Clarity: Stained (2-4 foot visibility)

Report: Started out in Cachuma Bay to check out the spot we did well at last Saturday. Dissappointment! Water has been really churned up from all the wind the last few days, and it is pretty muddy looking with visability less than a foot in spots. Tossed a top water Rico which hit last Sat. but nothing. Same with a shad crank and a chart. blade. No takers, not even a follow so we headed to Santa Cruz. Hit the slopes with drop and sweet beavers and my fishing partner for the day boated two nice chunks. One nice 3-3-1/2 LG and a real prize a very nice 3+ smallie! Hooked into several small fish and elected to leave it alone for the day and went looking again. Stopped at the south side of Arrowhead with only minmal hits and no takers so relocated towards the south end of the lake stopping at the the rock walls and electing to try something different. Was slow going and I did see a few boaters hit a few or two but we were pretty no-go. Changed to a Yum Watermelon Seed on a darter head and got plowed on the second cast! I boated a decent 4 pounder and I could see she was 'flat belly' and had maybe spawned a few days ago and was still really active. Un-buttoned her and eased her off in the deep water with a 'thank you' as she dropped out of site. By now, it was 11:30 and as I was told the day before, the wind was in the area and it started to pickup so we headed towards the marina. Half way in, the wind really picked up on the main lake and I was pushing over several 2 foot rollers before hitting the safety of the calm marina. A good day and I located some spots for Saturdays tourney.
City: Santa Maria

Tips: I feel that Cahcuma Bay still holds good keepers but it will be a few more days of little wind to clear it out for fishing. Santa Cruz is still a decent spot as is Johnson bay in the early morning hours. Be extra alert as the winds came early and made fishing very tough. I would suggest you head in if it starts to blow hard as the main lake can be a rough one.
Wednesday, May 16th, 2007
Water Temp: ?

Water Clarity: Clear (4+ foot visibility)

Report: I walked the shore for a little while before making a cast and saw that there are still a good number of fish on beds. I enticed one small male to bite on a chartreuse senko and got two more on a junebug senko. Two of the fish were accompanied by other fish that followed them all the way to the shore as I reeled them in- a pretty cool thing to see. While I was coaxing the small male into biting, my wacky rigged senko got hung up on a branch and instead of pulling hard to free the lure I just shook it until the fish pulled it off the branch for me... thanks for the help. Overall, not a bad day for a small amount of fishing.

Tips: I've caught some on rattle traps other days, but today they wanted it slow.
Saturday, May 12th, 2007
Water Temp: 68o

Water Clarity: Stained (2-4 foot visibility)

Report: Just a day to have fun with two friends --

Quite the change in weather as last Sunday was a real heat buster! M Today, never took off my coat until noon

Overcast looking conditions with fof laying high and blocking the sun. Found a few decent places where a dop, weightless and crank would work and we took in some fair keeppers. Water is down enough to expose some pretty good stop points which you should at least try out. Fished Cachuma Bay, Arrowhead and Santa Cruz. Small fish with only a few decent keepers. Three lost good keepers in the 3-4 pound range.
City: SM

Tips: Had years first taker on a top water and crank but most were on plastics tossed weightless.
Monday, May 7th, 2007
Water Temp: 63-67

Water Clarity: Clear (4+ foot visibility)

Report: Wow, I don't even know Jim and I did all that... Looks like your report is equally generic, but others will probably still benefit. Please stick with the lake conditions and leave the conjecture out since you don't know me.
Sunday, May 6th, 2007
Water Temp: 67

Water Clarity: Stained (2-4 foot visibility)

Report: Went Sunday and it was hot. The bite was very slow as they were not even hitting the senko well not any that were of any size. Tried drop-shot for one 2lb smallie and a bunch of dinks and that was it.
City: sm

Tips: figure out the post spawn.

Water Temp: 65-67

Water Clarity: Clear (4+ foot visibility)

Report: Hot - Hot - Hot But not the fish...!
Made the drive down today looking for lake conditions, ie level etc., and to seek out a few possible spots to check at next tourney. Was a sad day as when I left at 2:30, the fish clean station was still 'bone dry'! Nada - Zip.
Hit the river with a smallie beaver and I took in several small 10-11" fish and maybe one 2 pounder but that was it. Tossed a few cranks with only two hitters and nothing but a dink on a golden shad blade setup. Pretty miserable but what a great day! Only a few gusts to maybe 15 but it was a warm one!
City: sm
Thursday, May 3rd, 2007
Water Temp: 62

Water Clarity: Stained (2-4 foot visibility)

Report: Wow, Jim post a report saying he isn't going to give turnament guys info unless they start posting reports and all of a sudden a generic report is posted Hmmmm!

Anyway went out today very windy but the bite was decent. Caught most fish on senkos in about 10 - 15 feet. Also a decent bite on plastics. There are still fish bedding.
City: sm
Wednesday, May 2nd, 2007
Water Temp: 62-67

Water Clarity: Clear (4+ foot visibility)

Report: Water color from clear to stained, temps vary across the lake depending on clarity. No matter since they bit everything today. Shallow to deep, cranks, plastics... not a great bite just basically junk fishing all over. Ended the day with 3' waves. 25 or 26 fish, 5 best weighing about 14#.
City: Vandenberg

Tips: Go fishing. You'll catch more at Cachuma than at your computer:)
Monday, April 30th, 2007
Water Clarity: Muddy (0-2 foot visibility)

Report: I totally agree J -- Figure out the post-spawn is going to be the ticket.. Did you have any success on cranks??
City: SM
Sunday, April 29th, 2007
Water Temp: 64

Water Clarity: Stained (2-4 foot visibility)

Report: Beautiful day at the lake. Same as last Thurs. Great bite along rocky edges on senko. Some fish on flats. Fishing with my 5 yr old GS and he managed 2 nice fish with drop shot. Follow fish a little deeper after 11am.
City: Santa Barbara

Tips: I sure wish tournament guys who e-mail me asking for info would occasionally report; then I would answer.
Thursday, April 26th, 2007
Water Temp: 63 or so

Water Clarity: Clear (4+ foot visibility)

Report: Wife and I tried drop shot off flats and near island; not many takers. Went to senko on edges of bays, very good. Lot of fish just not much size. Mix of small and large mouth. Fished medium banks, not the cliffs.
City: Santa Barbara
Monday, April 23rd, 2007
Water Temp: ?

Water Clarity: Clear (4+ foot visibility)

Report: Hank-SW Delta has had bed fish since the last full moon. Water warms faster over there. Different forum though. Got on the lake today for my first solo boat trip to the lake. After loosing godzilla smallmouth the other day, I wanted to target smallies. Fished rip baits at the drops of rocky flats about 10 ft deep. That was pretty cool and my confidence was soaring. If it werent for Hurricane Cachuma, my score would have been better. Caught 4-5 mini keepers and one that I was really happy with about 3 lbs. Not a toad but you know when you just feel good about a fish. fished various drop shot offerings adjacent to these flats with little success in 15-25 feet. did the same on steeper banks with little success. Seemed pretty tough but I dont have the experience here yet to know if this was normal
City: Goleta

Tips: Dont go up-lake in Gale Wind.