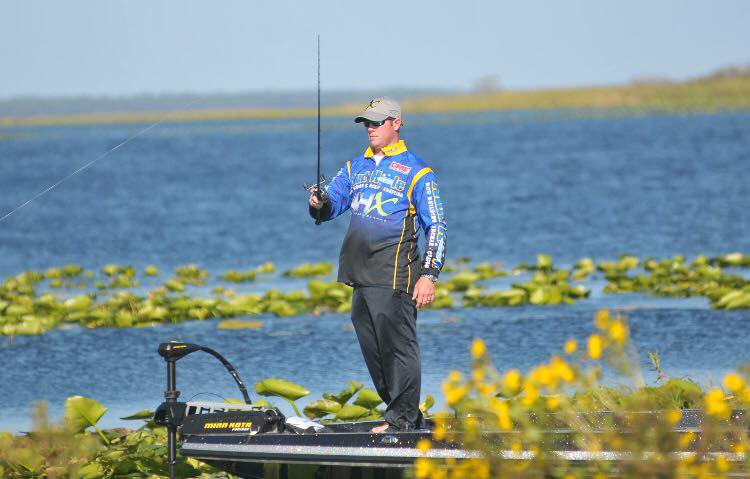 There are many ways to fish grass and we all know that bass love hiding in vegetation. For many anglers, grass fishing is a way of life.
One professional angler who excels at fishing grass everywhere in the country is FLW Tour pro Brandon McMillan. He's best known for punching matted grass but has three rigs that he relies on anytime he is fishing around vegetation.
Punching Grass in Cold Weather High Pressured Areas
McMillan is most comfortable with a heavy rod in his hands. He has a setup that he uses just about everywhere he goes; a soft-plastic like a Zoom Z-Hog and a Z-Craw.
Both look similar, but the Z-Hog has more action and McMillan reaches for this when faced with cold weather or fishing pressure.
"The Z-Hog falls through the grass cleaner and faster and with it, I can get more flips in a day. I think that is the key, being efficient and making the most drops I can," he says.
When he wants the bait to have more movement because of dirty water or finicky fish, the bait with more action generates more bites according to McMillan.
He rigs both with a 4/O Mustad Grip Pin Max 3X Punch Hook. "I think you get more bites and land more with the 3/O. The big tungsten weights blow out the mouth of the fish and you need a good hook to land a big one in the grass," he says.
McMillan uses a mix of Flat Out Tungsten weights in sizes from ¾- to 1 ½-ounce when punching grass and says he will use as light as he can to penetrate the grass. "You don't want to have to jiggle the bait to get it through. If that is happening you need a heavier weight."
He fishes this setup on a 7'9" heavy MHX rod that he built himself and attaches a Shimano Metanium spooled with 60-pound Gamma Torque braid.
Finding the Right Grass
Typically, McMillan will flip and punch whatever is in front of him, but says there are several things he looks for that seem to produce more fish.
"There are times when they are in certain types of grass and not in others; but I have seen that if there is way more of one type of grass, they will be in whatever there is less of," he says and feels that a mixture of two types of grass is even better. "If you can find the seam between two types of grass, they will often be right there."
Soft Plastic Stickbait on Grass Edges
McMillan used a Senko to finish in 6th at the recent FLW Tour stop on the Potomac River. He was targeting matted milfoil and fishing the edges and the situation called for a bait presented to the edge of the grass.
"In these situations where they are not under the grass and you can't flip for them, I like to target the edges and holes in the grass," says McMillan.
He fishes the bait on a prototype MHX rod that is soon to be released, a 7'2", heavy that is beefy enough to throw baits like a frog, but still has a soft enough tip to cast a weightless soft plastic on baitcast gear.
He's a big fan of high-speed reels on all techniques and uses a Shimano Metanium in the 8.5:1 gear ratio spooled with 14-pound Gamma Edge fluorocarbon.
When it comes to the hook, McMillan prefers a Mustad KVD Grip-Pin 2X Fine Wire hook in a 3/0 size. While many prefer larger hooks, he believes it is the perfect size for soft plastic stickbaits.
"It fits perfectly and the Grip Pin keeps the bait straight and prevents it from falling down the hook of the shank. Also, any bigger hook and you tend to collect more grass and junk," he says.
Two Different Swim Jigs
Swim jigs and grass just go together and McMillan will typically have at least two different versions rigged and ready to go whenever he is fishing around grass. Before designing his signature series 4x4 Swim Jig, he used to make his own. One of the biggest things he looks for is having the right hook.
"My swim jigs use the same hook I used to use when I poured my own, a Mustad 32886BLN. It has a 30-degree bend and doesn't collect as much grass as you are reeling it back. It's also the perfect angle and the bait swims in like the keel of a boat," he believes.
He'll fish it on both braid and fluorocarbon, either 50-pound Gamma Torque or 20-pound Gamma Edge fluorocarbon spooled on a Shimano Metanium. He prefers a 7'3", heavy MHX rod and again says the fast reel is key.
"Anytime you have to take up slack to set the hook, the high-speed reel makes a difference," says the Florida pro.
There are many ways to target grass in bass fishing and no two anglers will approach it the same way. For some anglers like Florida's Brandon McMillan, grass fishing is how they started bass fishing and it is where they are most comfortable. He has proven that he is one of the best around vegetation and his success is thanks to flipping, punching, swimming a jig and fishing grass edges with a soft plastic stickbait.