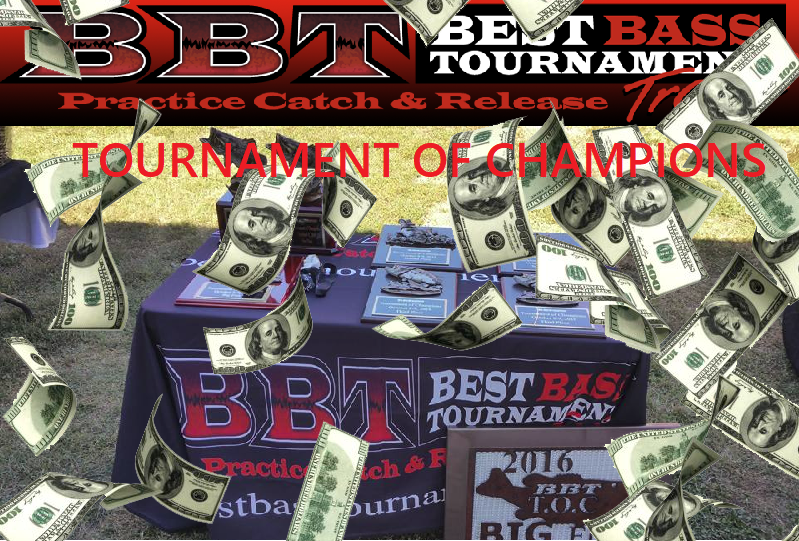 The 2017 Best Bass Tournaments (BBT) season is flying by. As the season winds down, the BBT Tournament of Champions (TOC) location has been announced.
This year the two-day event will be held on the famed, big bass fishery Clear Lake. It is a popular location for fall invitational events and the site of the very-first BBT TOC won by Adam Belmont and Stephen Magill in 2012.
Belmont and Magill broke the 50-pound mark in that two-day event and the possibility for a repeat half-century tournament total looms on the horizon for this year's BBT anglers.
Anglers that have earned a place in the 2017 BBT will be receiving an invitational email to attend the event. All teams intending to compete will need to RSVP to the event, by phone or email.
BBT TOC FEES / PAYBACK
As always, the BBT TOC will feature a guaranteed grand prize of $20,000 cash payout to the winners. Varied cash payouts according to the season's withholdings will be paid to the top teams, starting at 2nd place down.
Options are an add-on and will be paid to the top teams that enter, from 2nd place down. The best of the best get paid. That's what a tournament of champions is all about.
The BBT TOC does require an event fee. For anglers that are curious as to the reasoning behind an event fee at a TOC, please note that any event has costs associated with it – staffing, travel, lodging, permits, insurance, payouts, banners, scales, software, website and more. At a TOC, there is also the guaranteed $20K, angler's banquet, trophies, etc.
Some of these costs are absorbed by sponsors; however some sponsors are "product only" sponsors and the caterer won't take worms or frogs as payment.
The rest of the costs must be paid one of three ways – a percentage can be held from each event through the season (meaning each event payout is decreased all year) OR a community pays an organization to hold an event in their area or an event fee is charged for the TOC.
There are many communities that are not in a financial capacity to cover the cost of an event; yet, we still love to fish on their waters. Some communities cannot pay a dime for us to come. Frequently this is the case; so, the costs must be absorbed one of the two other ways.
BBT doesn't want to decrease the payout of regular season entries; so, we have always chosen to charge a nominal event fee for the TOC and continue with our $20K guaranteed championship, regardless of the number of entrants.
The BBT discusses this annually at our advisory meeting to ensure this continues to be the wishes of the organization. Thus far, it has been the case; so, we charge a lower fee than the regular season and add options for those that wish to sweeten their opportunity for an even larger pot.
MORE PRIZES
Anglers will the opportunity to win additional prizes in other ways. Raffle prizes will be available two ways – one for those that have purchased merchandise through our partnering tackle stores and also by boat numbers.
Additionally, there will be cash and prizes awarded for specific sponsor branded contests. Look for info on these specialty opportunities. As always, these expanded prospects as well as the tournament events are made possible by the BBT sponsors. Please support them, as they support you.
BBT TOC CHAMPIONSHIP WEEK
The TOC officially begins on 12:01 on Monday, October 2nd, when an off-limits, no information period goes into effect through safelight on Wednesday, October 4th. During this time anglers will not be able to talk to anyone that is not in the TOC or be on the body of water for any reason.
At safelight on Wednesday, October 4th, official practice will commence and run through Friday, October 6th at 2 p.m. The rules of official practice require anglers to continue to abide by the no information rule – meaning anglers will still not be able to talk to anyone that is not in the TOC. During official practice, anglers may only fish with another angler in the TOC. No guides, friends or even family members may be in the boat during this week.
Anglers will be required to check-in on Friday, October 6 during the time of 2 p.m. to 4 p.m. with an added sponsor meet and greet opportunity during this time block. Should an angler miss this check in time, they will not be allowed to check in late. Arrangements must be made to check-in at 5 a.m. on Saturday, October 7, the first day of TOC competition.
Launching out of Red Bud in Clearlake, the yearend event will take place on October 7 and 8.
BBT TOC DEETS AT A GLANCE
October 2 – Mandatory off-limits, no information period
October 3 – Mandatory off-limits, no information period
October 4 – Official Practice
October 5 – Official Practice
October 6 – Official Practice Until 2 p.m. Check-in 2 p.m. to 4 p.m. with Sponsor Meet-n-Greet
October 7 – Competition Day 1
October 8 – Competition Day 2
Launch Ramp: Red Bud
Host Hotel: Clear Lake Cottages