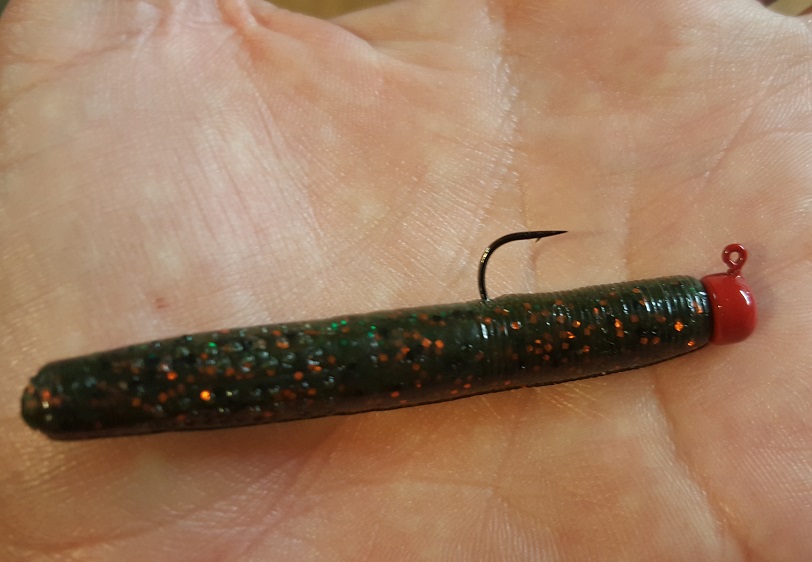 There is always a new technique gaining popularity in bass fishing, a new way to rig a plastic or a new plastic style altogether. The latest craze is something I have really enjoyed fishing this year, the Ned Rig. I heard about this little finesse rig online and didn't give it much thought, until I tried it.
The rig is very simplistic. It is a half-sized, soft plastic stickbait with a small mushroom jighead; but its effectiveness is mind-blowing.
Baits, Jighead and Gear
The soft plastic used on the Ned Rig is about the size and shape as a five-inch Yamamoto Senko, cut in half. You can use just about any stickbait, but Z-Man fishing makes a version that is the most popular for Ned riggers.
It is specially designed to have the right shape, size and tapered top for better rigging. The Z-Man version is called the T.R.D., an abbreviated version of "the real deal", and it is. What makes the T.R.D. special is the Z-Man plastic called ElaZtech. This stretchy plastic is very durable and more importantly it floats very well. With catching so many fish on each bait, the different plastic helps keep your baits going much longer and the floating properties add to the effectiveness of the rig.
The small jigheads I use are a mushroom head and do not hang up very easily in rocks which is a plus. The Z-Man ShroomZ as they are called have a special barb on the shank to keep the ElaZtech firmly in place. The best jigheads are also the lightest and non-typical weights such as 1/10-oz and 1/15-oz are my two best, as they allow the bait to fall very slowly, which is one of the keys to the Ned Rig.
With the lightweight jighead and small plastic, spinning gear is the best choice and I fish it on the same rod, reel and line I use for drop-shotting.
Retrieve and Where to Fish
I have had most of my success as the bait is falling, immediately after a cast. I use yellow Seaguar Smackdown braid; so I can easily watch my line and can notice slight "jumps" in it as it is falling. Once it hits the bottom, a standard jig or soft plastic retrieve works well as you slowly bounce it along.
I prefer to use the Ned Rig around docks, rocks and points. Since the rig has an open hook it does hang up easily on grass and wood so it is not the best in those situations unless you make precise casts and have no fear of losing a few jigheads.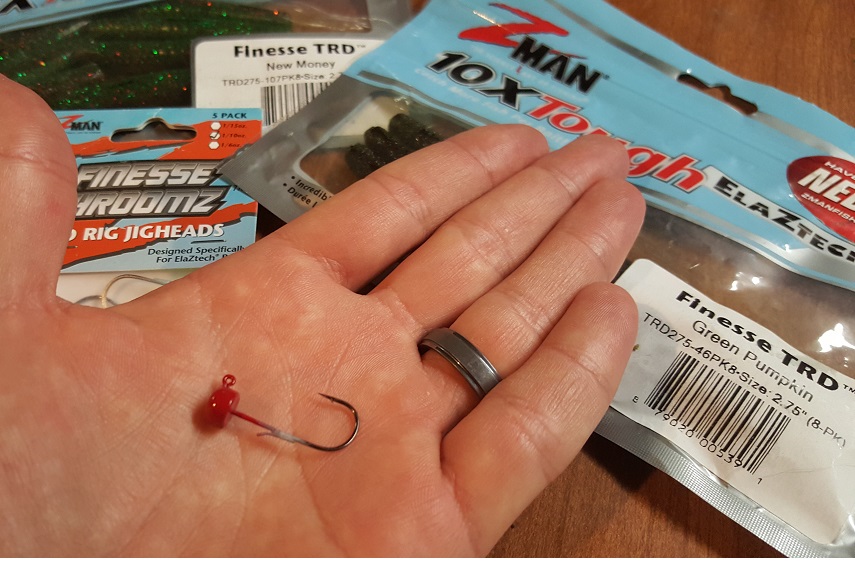 The Ned Rig really surprised me with how well it works. It is a fun way to just go and catch some fish and I will always have it in my back pocket when the bite gets tough and I need another fish or two.