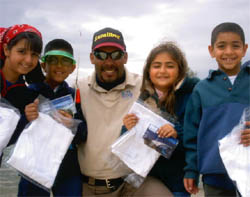 Well, it is April 27th, 2002, 3:30 a.m.. and I am off to do what I love: fish. Today is a little different, though. Today is a charity tournament; the cause is Abused Kids and Special Olympians.
It is the 10th annual Bassing for Abused Kids Tournament at Castaic Lake, California. Of course, I am there bright and early. It is a little cold and overcast but who cares? The Lord woke me up for another day and I am going fishing! I meet my partner for the tournament, David Toth, and we have a chance to catch up with all of our buddies and share our fish stories. Leanne Grimes kicks off the tournament with an awesome rendition of the national anthem and then we're off--we're boat #1. David puts a fish in the boat on his first cast while I'm busy trying to cut the hook out of my pants. I forgot we were fishing for bass. He then puts #2 in the boat. I finally get the hook out and after I put #3 & 4 into the boat, we're off to a great start.
I start the day "sight fishing" with a Fire Tiger YRRWN4Y Riverside Rib Worm. Sight fishing is a technique we do around this time of year when the fish are spawning. The smaller male buck fish will come up and make a bed for the bigger females. The females will stage out in deeper water and wait for the buck males to come and push them up on the bed. We actually look for the beds and hope to find a female on the bed but it is usually the bucks we find since the female is only there for a very short time, usually only for about 10 hours. Obviously, a very important tool in sight fishing is the polarized glasses you wear to be able to see in the water. I have just been blessed with a new eyewear sponsor, Kaenon, and today was my first time trying them out. I have to tell you, I have tried them all, from top of the line to the bottom, and these glasses are by far superior. There is no doubt in my mind that they are the best on the market. Not only are the lenses awesome, the construction is rugged and the fit is smooth. No pinching of the temple so you have a headache by the end of the day. I actually felt like Superman with x-ray vision. I am very happy to have these in my arsenal. And they look very cool on and we all know that in Hollywood, image is everything. Well, back to fishing.
When we do find a fish, we hope that they are what we called "locked on." When they are locked on, they are much easier to catch because they are very protective of the beds and they attack and eat your bait to get it off the bed. If they aren't locked on, you can still catch them, it just takes more patience and time. Sometimes when you catch the male buck, the female will move right up on the bed, a real bonus.
We had an awesome day of fishing. I caught my fish on several techniques including cranking, drop shot, dragging a jig and throwing a flash. Pretty much flawless. We probably caught 20 fish continuously, calling as we went. For those of you who aren't familiar with the format, we are allowed to bring in five fish, 12 inches long from a closed mouth to the tail. When you catch your sixth fish, you do the "calling." Whatever fish is the lightest gets put back in the water, it's "called," and once again you have only five fish and you keep doing this so that by the end of the day, you have as much weight as possible with your five total fish.
Well, like I said, it was almost flawless. When we had about 1/2 hour to go, we pulled into the back of this cove. Now I am throwing a Kinami green pumpkin flash. I cast to the back of the cove, there is that tap we love to feel. I set on the hook and I'm on. I get the fish to the boat. It's just a little guy. I give him the ritual R