Advertising with WesternBass.com
WesternBass.Com
http://www.westernbass.com/

"Without argument, the leading web site for Western Bass anglers."
- Craig Buddo, Fishing Online: 1,000 Best Web Sites
We are one of the most popular fishing pages in the world.
We have some of the the largest and widest-read fishing reports and message boards on the Web.
We have been on the Web for over 12 years and have a well established and continuously growing following.
Our information is constantly changing, providing a highly interactive experience.
Your company gets intense exposure at reasonable rates.
Advertising with Westernbass.Com is a great way for your business to reach a large market segment: western bass fishermen!
Ad Rates
For Westernbass.com or Western Bass Magazine call:
Wayne Wasulko
916-782-9540
Standard Rates
Add $175 set-up fee to all package that require ads from our Art Department This is a one time only fee and is billed on your first billing cycle. All ad clients are listed on the sponsor page or the guide page gratis. Ad sizes are determined by page placement. Most pages require use of the Ad Box.
Contact us for quotes on all Ad Packages!!!
Banner Sizes
Banner ads can be supplied by you or will be made by WesternBass.Com.


SPONSOR or GUIDE banner ad ( 468 x 60 Pixel ).

BOX banner ad ( 120 x 100 Pixel ).


ROLLOVER banner ad ( 120 x 60 Pixel ).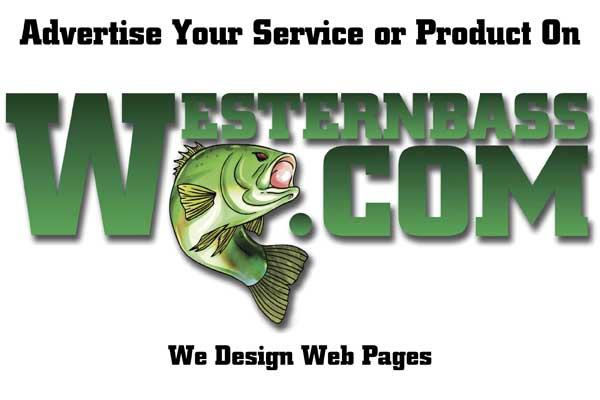 ROLLOVER (POP-UP) AD ( 600 x 400 Pixel ) Can be updated monthly.
Video Taping Sessions: Call for pricing *
Video Taping Sessions w/boat: Call for pricing *
* Most films are shot in one day.
Some filming requires additional expense; i.e, travel, lodging, etc.
Product or Service Commericals
The easiest way to get on board WesternBass.TV is to become an advertising sponsor of WesternBass.Com. Video Taping sessions are a part of every advertising account. However we do offer options on getting your commercial video or film on the site, whether or not we're filming it:
Self Produced Package: Call for pricing
Your film, already edited and ready to run on WesternBass.TV. Programs air for one calendar year.
Assisted Self Produced: Call for pricing
You film it or take pre existing film and we'll edit it into a final program. Programs air for one calendar year online.
Interested in a product or service commercial, contact us NOW!