Proud To Sponsor
The 64th Annual

Conroy Oakley / Andy Cuccia Annual Memorial Pro Teen Classic
In dedication to Andy "Cooch" Cuccia and Conroy Oakley
Sunday, July 15th, 2018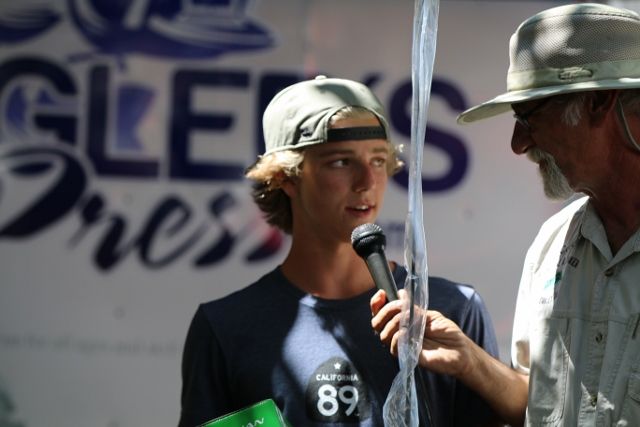 Jed Wood, 16 of Lafayette, COPT Classic XIX Champion

Sponsors
2016 Results
Liability and Consent Form
Boater Registration
Approved Teen Participants
Event Day Checklist
Hello all and welcome to the 2018 Conroy Oakley / Andy Cuccia Annual Memorial Pro Teen Classic. It is with great honor and pride that we are able to carry on Cooch's legacy this year and future years to come. July 15th will mark the 64th year of the Conroy Oakley / Andy Cuccia Annual Memorial Pro Teen Classic. The purpose of the Pro-Teen event is to introduce teenage kids to alternative activities, in our particular case it is tournament bass fishing. It is a chance for a kid, who otherwise does not have the opportunity, to enter and participate in a "pro style" tournament event. This event is great for all teens in and around our community from the ages of 13 to 19 Years of age.
The rules and scoring as follows: one teen per boat with a 5 fish limit. The pro boater will be allowed to contribute 2 kicker fish to help obtain the 5 fish weight limit.
If you are planning on being there this year as a new teen, returning teen, or pro boater please make sure you register before leaving this site! We'll feed ya, launch ya and hook ya up with an awesome pro boater or youth who is eager and excited to learn more about bass fishing! Boater's can register using the link above. Teens can be registered by a parent or legal guardian who has filled out the liability and consent form above and following the instructions therein.
Thank you again, and we look forward to another exciting year.
Pro Teen is now ran by a collective of Family members such as:
Cooch's Daughter Linzy Cuccia
TNT BAITS CO Owner Johnny Fainv
Fishing Brother Ronnie VanAirsdale
$35 Entry Fee which includes:
Tackle pack of great value
Commemorative participation plaque for each teen
Snack pack & bottled water during the tournament
Free Raffle Tickets
BBQ after the tournament including family & friends
One great day of fishing!!
Tournament will be held at Russo's Marina
Pre check-in on July 14th, between 4:00pm-6:00pm for both teens and boaters.
Check-in and partner pairing July 15th from 4:00am to 5:30am.
Blast off at 6:00 a.m. and Weigh-in begins at 12:30 p.m.
Activities throughout the event include:
Free BBQ, 61st Annual Nutcase Chili King Cook Off
Awards ceremony for all teens participating
Huge raffle of donated products
Sign up details:
Eligibility will be those teens, ages 13-19, who are not currently fishing as a Pro or Am in an organized "Pro-Am" tournament Circuit.
Deadline to sign up is July 10th. Entries must be received by this date.
We reserve the right to exclude questionable participants & make changes to rules based on the discretion of the Board.
Although we have set the maximum entry to a 60 contestant limit, we will continue to add confirmed teens as we are assured of boaters to cover the additional teens. These additional teens will be placed on a first come, first served standy by list.
Directions to Russo's Marina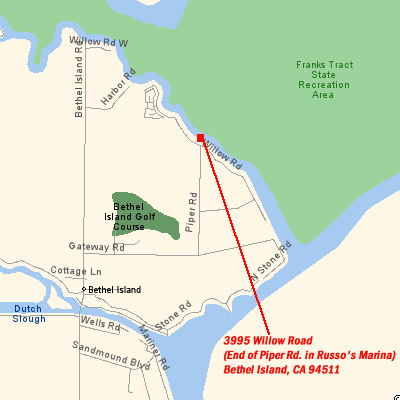 From East:
Take State Hwy 4 to Oakley
Turn RT at Cypress Rd. (Kragens on right corner)
Follow Cypress Rd until it crosses the Bethel Island Bridge
Turn Right on Gateway
Turn Left on Piper Rd - Dead ends into Russo's Parking Lot

From West:
Take State Hwy 4 east and exit at Oakley/Brentwood Exit
DO NOT CROSS OVER ANTIOCH BRIDGE
Follow Hwy 4 thru Oakley
Turn Left at Cypress Rd (Kragens on Corner on left)
Follow Cypress Rd until it crosses the Bethel Island Bridge
Turn Right on Gateway
Turn Left on Piper Rd - Dead ends into Russo's Parking Lot


Results Archive