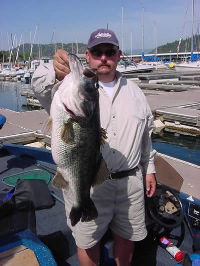 "Man!" I thought to myself, "If the fishing is gonna be as good as this buffet. We're gonna have a great day!" The Prime Rib and Seafood buffet that's served every Friday at the Gold Country Casino was the BOMB! I just about needed wheelchair assistance to get me to the Black Jack tables. But I managed to make it there on my own. At least I walked out with my shirt AND pants on!
Registration began Saturday morning at 4:30 a.m. inside Oroville Outdoors. Once again we had Jim Dandy bait sample packs for the anglers along with assorted Magic Worms and Yodo baits. If the anglers used the Jim Dandy baits and got in the money, they would be award California Tackle gift certificates. With all the teams registered we were on our way to the Bidwell Launch ramp.
With morning breaking fast, blast off began right at 5:46 a.m. The breeze had laid down a slight ripple on the surface of Lake Oroville. But it was not a hindrance as the teams sped off in search of their quarry. All hopes were high with the thought of a full live well. Weigh-in would be a float by weigh-in on the dock of Bidwell Marina and Grill starting at 3:00 p.m.
At crowd had gathered at the grill to watch the arriving teams. The first few teams brought in 7 to 8 pound limits. The bar was raised with a 9 and then a 10 pound limit. Geno Higgins and Joe Hinkle came to the dock requesting TWO bags. This meant that they had at least one five pound bass in their limit. Geno could not wait to show off his prized catch. When he pulled their kicker largemouth out of the livewell, you could hear the "Ahs and Ohs." Along with a few "Gasps" and "Oh my Gods" throughout the crowd as he hefted the big scaled and pop-eyed fish. "It's a 10!" someone said. Another yelled "A 12 plus!" Weigh master Jerame Davis bagged the brute and layed her in the basket. Over the watchful eye of Geno Higgins the scale came to rest on 13.01! Geno will receive an Ultra Linings Spray-On bedliner for his truck from Ultra Truck Works courtesy of Jesse Angeles if that fish holds out as the Biggest Bass of the Year in the California Foothills Division! Add the remaining four fish and their total weight was 22.23! An awesome sack on any lake! But even better that is was from Lake Oroville. Geno and Joe were confident they had at least Big Bass of the event. The question to Geno, was it worth cutting his Disneyland vacation short to come and fish today? His partner said he picked him up from the airport and headed right to the lake! After all was said and done. The answer was a definite YES! They came home a $1577 richer for 1st place, Big Bass and option money! Along with 84 Lumber sponsored 1st place and Big Bass plaques. Geno also received a 7' Lamiglass Competitor rod for catching that Big Bass!
A 13.31 limit got Dave Rush and Brad Taggert 2nd place 84 Lumber Plaques and a total of $702. Dave Rush also had 2nd Big Bass of the event and received a California Tackle lifetime warranted spinning reel, a RoboWorm assortment, a box of custom hand-tied finesse jigs, a team set of EZ-Cull-RZ and a jar of Craw-Cane powdered fish attractant.
Steve Flanders and Ed Zinda's 5 fish 10.97 limit was good for 3rd place, $522 and 84 Lumber plaques.
The 10.54 limit that Marcel Colin and Troy Schroeder brought to the scales netted them $325 and 84 Lumber plaques for 4th place. Charlie and Rick Bruton had 5th place, 84 Lumber plaques and $275 in the bag for their 10.18 limit.
Our Lucky S.O.B. (Son of a Bass) one spot out of the money option went to Bob and Bobby Trujillo for their 10.06 limit. Jesse and Jesse Roach Jr. received a 12-pack of XS Energy drinks, the great tasting energy drink with NO CARBS, NO SUGAR and only 8 CALORIES!
After the awards we had more to give away. Their were two $25 Just Fishin' gift certificates courtesy of Dave Yates. A trolling motor tune-up certificate from Sunny's Electric Marine, a $125 value, courtesy of Sunny Lampe. A tackle assortment and a $25 gift certificate from Troy's Outdoor Shop. A $25 gift certificate from Oroville Outdoors. Also had a few RoboWorm assortments courtesy of Mike Brakebill at RoboWorm. Guess it does pay to hang around AFTER the awards!
Thanks to the Best Value Inn in Oroville for their hospitality and great room deals. THANKS to my staff Dan and Jerame Davis and Big Ron Herrin for their continued great job! Our national and local sponsors Bass Cat Boats, Mercury, MotorGuide, Lowrance, Bass West Magazine, Competitive Edge fsihingm, AC Pro Shop.com, Wilson Trophy, 84 Lumber, XS Energy Drinks, Just Fishin Boats, Ultra Truck Works, Sunny's Electric Marine, Troy's Outdoor Shop, RoboWorm, EZ-Cull-RZ. California Tackle Co., Craw-Cane and Office Depot make our events possible and fun. Thanks to them all!
The California Foothills Division makes it last stop on the famed California Delta Sunday June 20th. Yes that is Father's Day! Should be a great time. If you have questions please drop me an e-mail at 481terry@msn.com!