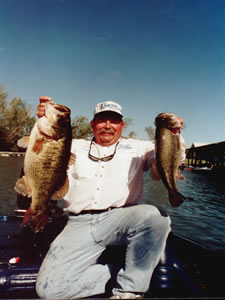 Folsom Lake is the home of the 2007 Honor Bound Team Bass Tournament April 20th and 21st. For some of you who have heard about this team event and have not participated this is your chance. For almost ten years this event continues to grow. Come be a part of a new event sure to change your life.
What is the Honor Bound tournament all about? The Honor Bound tournament is about fishing a well organized bass tournament. It is about being reintroduced or introduced to someone who has made a difference in all of our lives. It is about regaining your Honor and about possibly making a change in your life. The Honor Bound Tournament is run by the Christian Bass Anglers Fellowship www.thecbaf.com
Why have you heard about this bass tournament? Well to start off with, for many years we have had the support of a great resource such as Western Bass. Com, who have been there for us since the beginning. It is a well run bass tournament and draws some great anglers. It is recognized by many tackle manufactures, retail stores, and boat manufactures.
Like so many good events we have the backing of so many good companies, retail stores, and folks who just plain want to donate their product or services because they believe that they too can help make a difference to a person's life.
Who fishes the Honor Bound Tournament? Each year we are surprised at the big names that show up to support this event. There are some good teams out there that come to fish the event, enjoy our ministry, meet good people, and eat a great meal.
We put more interest in making this event a success for all who attend in more ways than just winning a bass tournament. We have parents with kids, husband and wives, and just good team partners helping each other out with life's challenges. Last year we had over one hundred fifty people attend this event.
Come out and have a good time, meet some bass anglers who love the sport and who love God.
If you would like to know more about your 2007 Honor Bound Tournament please go to www.thecbaf.com and or www.jerryfournier.com. If you would like you can email me at bassin@jerryfournier.com. Or Call Scotty McVea at Scotty's Automotive (408) 370-1458. I know the people you meet there will be friends with you for a life, just like all the new people I met ten years ago when I first attended an Honor Bound tournament. I will look forward to seeing you all there.