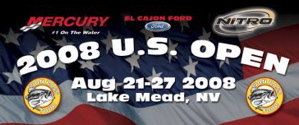 LAS VEGAS--Summertime and the U.S. Open go hand in hand, and the 2008 edition could be one of tightest in history.
"There is only one U.S. Open and I want to win one," says Gary Dobyns in a soon to be published feature in the U.S. Open Program. WON BASS staffer Bill Mays further quotes the Yuba City gunner as saying, "As soon as I heard the date was changed to August and not on top of the Columbia River tournament, I signed up that day. It's the most prestigious tournament in the West and one title I want to hold."
Dobyns will join select company if he reaches his goal. This year's event features many former winners including former Oroville ace, Gary Klein—a special ambassador for the Open. Closing in on his 27th Bassmaster Classic appearance after a top 10 finish this past week on Lake Erie, he has one more stop on New York's Lake Oneida, before he heads West to Lake Mead.
"The U.S. Open is a very important tournament," noted Klein. "And it's a lot of fun."
Klein, arguably with the most successful tournament career by a Californian, remains a tough competitor as well as a great ambassador for the U.S. Open. This year both competitors and visitors alike will find him out front greeting individuals in the reception line on Sunday as contestants move through the Sponsors Showcase. He will also be holding seminars at Bass Pro Shops and signing autographs for those who would appreciate his western roots and his impressive career.
The presence of Klein, as well as other former winners such as Rich Tauber (competing in his 26th straight Open), Mike Folkestad, the only 3-time U.S. Open winner, former Californian Aaron Martens, another 2-time winner, John Murray of Phoenix, a two-time winner as well, plus former champion John Kerr of Ramona, (who returned the Zara Spook to prominence on Lake Mead) make this a powerhouse field
When you add Dobyns, Robert Lee of Angels Camp, Roy Hawk of Knightsen, and Sean Stafford of Fairfield, plus Shaun Bailey of Lake Havasu City, John Morrow of Brea and Justin Kerr of Simi Valley, plus some surprise late arrivals, you have the recipe for a most memorable event.
Rich Tauber, who put the city of Woodland Hills on the bass fishing map, and who has never missed a U.S. Open, is fired up about the quality of the field, plus the other activities associated with this year's event, hosted by the Silverton Lodge & Casino and Bass Pro Shops. "I'm excited about it," he said.
"We know it's going to be a battle out there," said Tauber, "but when you bring in a limit sack there at Callville and the sun is beating down on you, it feels pretty darn good."
Lake Mead seems to want to cooperate this year. Reports of catching 20-30 fish a day have been trickling in. Dobyns notes, "I don't expect to see a change in numbers, just like always, (it's) tough to find the bigger fish. That's what makes the U.S. Open so challenging, the best anglers in the West, competing on a huge body of water, and fishing under the toughest conditions. It's going to be a lot of fun!"
If you're ready to "go for it," anglers who would still like to secure a spot in this special 26th edition of the U.S. Open should contact WON BASS at (949) 360-0030, ext. 38.