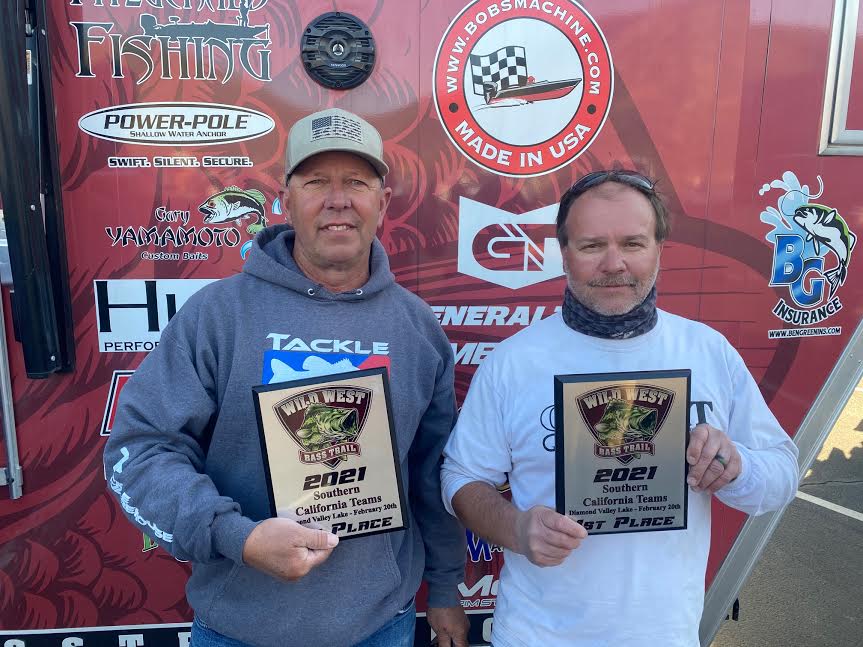 HEMET, Calif. – The team of John Mikkelsen and Randy Lewis joined forces for the win at the season-opener of the 2021 Wild West Bass Trail (WWBT) Southern California Team series at Diamond Valley Lake (DVL). Their tournament total topped the leaderboard at 28.04, anchored by a 7.30 big bass, and earned the team a prize payout of $4.250.
Friends for over 35 years, Mikkelsen, of Temecula, Calif., and Lewis, of Ramona, Calif. made their gameday plan of attack and immediately switched to Plan B, when their starting spots were loaded with competitors.
"We basically, just decided to go to places where nobody else was," said Lewis. "We were avoiding community holes and looking for as clean of water as we could find."
In addition to clearer water, the team sought staging areas.
They're not up yet; but they are in areas where they're close to spawning," said Lewis. "Places adjacent to a big flat or connected to a creek channel, like highway areas."
Their Plan B paid off and the pressure was gone when the team filled out their limit by 9 a.m.
"We probably had 25 pounds by then," recalled Lewis. "And we culled up a couple times throughout the day."