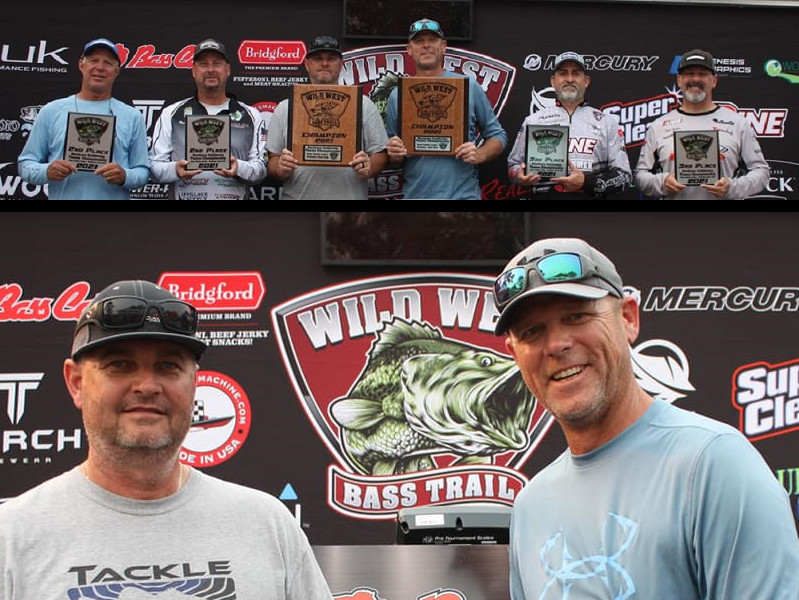 LaGrange, Calif. – With a tournament total of 24.25, Garrett Maddex and Scott Burke bested the 75-boat field of the Wild West Bass Trail (WWBT) Northern California Teams Championship on Lake Don Pedro presented by BassCat Boats and Mercury Marine.
Both California anglers, Maddex, of Escalon and Burke, of Oakdale ended Day One in 4th place, with a weight of 11.77. They brought 12.48 to the scales on Day Two to climb into the top-spot and claim their win. Their ascent to victory earned the team a BassCat Boat Bob Cat equipped with a Mercury 150hp Outboard.
Burke described a combination of years of experience on Pedro and a lot of good fortune as the foundation for the accomplishment.
"We have been fishing here for fun and tournaments for 10 or 20 years – 10 or 12 years as partners; but that being said, I've heard when it's your turn, it's your turn and that is sure what it felt like," he explained. "We went into practice knowing it was fishing tough, knowing it was fishing different; but then we learned how different it was. We did find a few areas and knew we would really have to count on those areas to produce."
They concentrated mainly on three creek arms for their fish – two were unnamed.
"We spent the bulk of our time in those two random creeks," revealed Burke. "They weren't major creeks, but they had the things we were looking for – bait and fish that were eating and birds.
"The last day about 2:00 or 2:30 p.m., we went into...