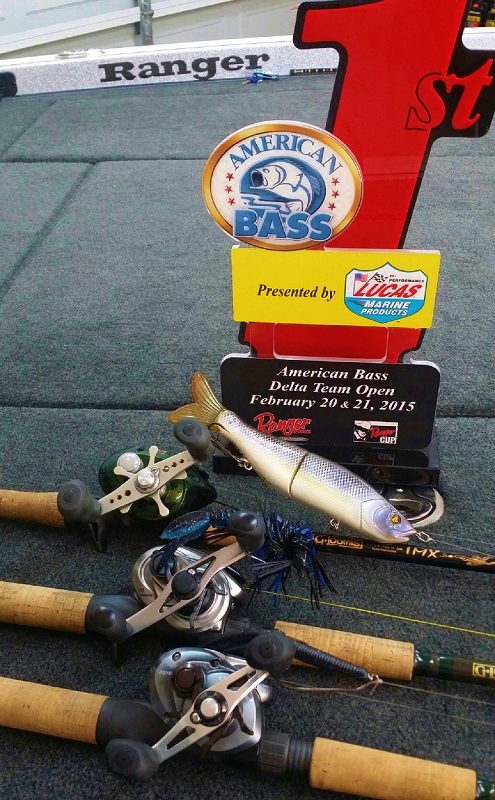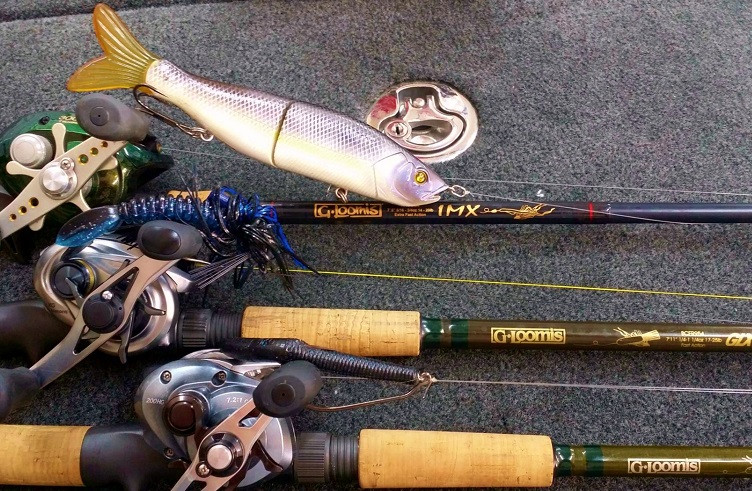 Ken Mah and Jason Austin claimed victory in the 43 boat field of the first American Bass Lucas Oil Team Open of 2015 on the California Delta. The partners claimed victory with 52 lbs even, a gap just shy of seven pounds over the runner's up. They earned $7,210 for the two-day event which included a $1,000 Ranger Cup contingency.
They caught eight keepers on day one with their five weigh fish coming in at 29.67. Leading the event as they blasted off on day two, the anglers found themselves at mid-day with a limit of about 15 that included one that only went a pound. A change in plan proved wise and they caught 12 keepers on day two. A last minute decision had them culling up for a 6 and a 4 in the last half hour of the event, cementing their win with a day two total of 22.33.
PRACTICE TO GAME-DAY
The team had limited practice, but one day on the water (a week earlier) was enough to put together a strategy for the event. "I felt like we had found fish, but knew with the way that the tide was going to reverse and the weather was going to change, they wouldn't bite as good," said Mah. "That was just what happened; they didn't bite as good. In practice last week, the fish were up more and definitely more active. The bite this weekend was more subtle. As the days warmed up, the fish bit the bait better, but the bite didn't necessarily get better."
They caught eight keepers on day one and 12 on day two.
THREE BAITS
Austin boated the team's biggest fish each day (an 8.33 on Friday and a 5.96 on Saturday) draggin' a black/blue, 5-inch Yamamoto Senko on 20-lb Sunline.
Mah landed his best fish each day with a River2Sea S-Waver 200 in Warden. "I threw it off and on, in specific areas for about three hours of each day," said Mah. "The first day, I got a 7.75 and the next day I got a five pounder with it."
The rest of their weigh fish bit a black/blue flippin' jig. "I fished the same jig on two different types of line," revealed Mah. "I had one on 25-lb fluoro and the other on 65-lb braid." He employed the fluoro on steeper riprap banks and the braid when around grass or mats.
ON THE MOVE
The ever-changing bite of the finicky Delta bass kept the team adjusting. "Yesterday, we caught fish in two general areas and today we went back to the same places and never got bit," said Mah.
He attributed the deteriorating bite to a colder day, a minimal amount of post front conditions and less of his preferred tide. "I had a hard time getting bit once it was about half way out," he said. "Once the tide turned, it made it a little bit better; but a little bit better really only translated into a bite or two more."
CONDITIONS
The water temperature hovered around 59 or 60-degrees. "In the areas that we were fishing, the water was heavy-stained to muddy throughout most of the system," Mah recalled. "I liked the color in the system. I think it gets warmer faster and causes the fish to move shallower."
He described the vegetation in his areas saying, "there was not a lot of sticky grass around, but the hydrilla was nice and crunchy in a lot of the areas."
KEYS TO SUCCESS
A factor for attracting bites was a slower presentation and allowing the down baits to have some time on the bottom. "None of the fish were eating on the drop," said Mah. "We had no bites on the initial descent at all. We weren't soaking the bait, but it was definitely slower than I would normally fish. Jason would let the Senko fall, give it a twitch, let it flutter around and that is when he would get bit, but never on the initial descent. Same with the jig, never on the fall. I had to give a few little pumps to attract a strike."
Another key for their fish was the depth. "I always preach 3 to 6 feet, but the fish just weren't there," said Mah. "They were holding in 7 to 9 feet. If you're paying attention, every bite from every fish will tell you something. You need those clues to put the puzzle together and adjusting to that depth was a critical piece of the puzzle for us."
LESSONS
"When you need to make an adjustment, the biggest part of changing what you're doing is saying that what you've been doing is wrong and that can be a hard thing to do - especially when what you are doing was working the day before," said Mah. "It's hard not to draw from your history. It is hard to pull the plug on a plan that was working the day before. It is even harder to do if you're leading or in striking distance. If you're in 40th and you leave fish that are biting to find bigger fish, you can be a hero. If you are at the top, it is harder to do, because mentally it seems like more of a failure if it doesn't work out; but that is all part of fishing."