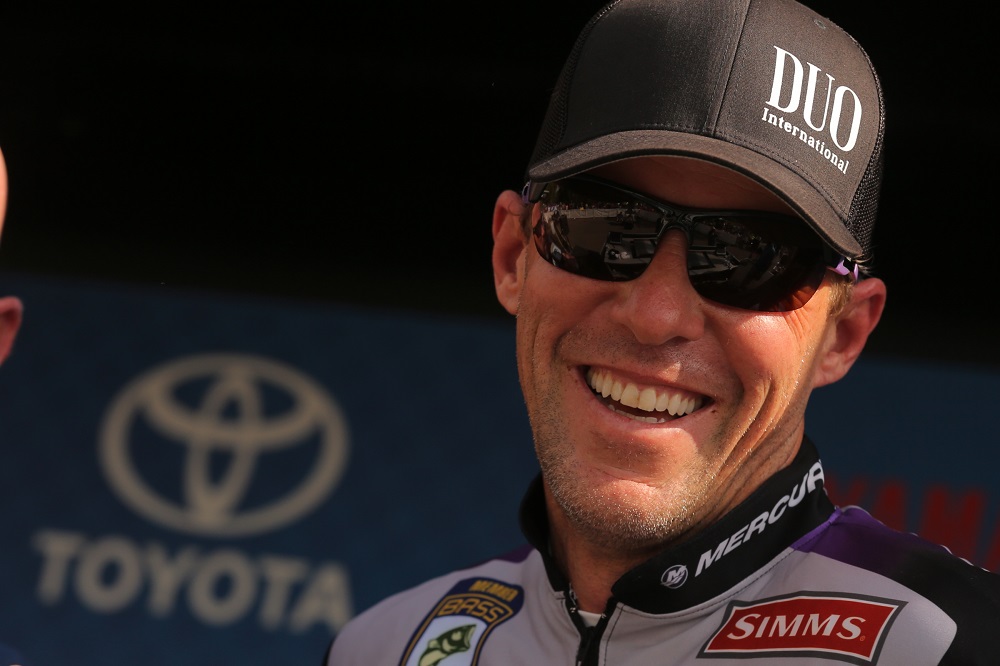 Among those who have never won a Bassmaster Classic, there is likely no better angler than Aaron Martens.
His close calls are legendary with four 2nd place finishes in the event. Will this year finally be his year?
Martens shared his approach, outlook, and thoughts on this year's Bassmaster Classic.
Pre-Practicing Knoxville
Prior to the waters going off limits to competitors, Martens spent eight days scouting. He had two separate four-day trips and said the biggest benefit was graphing with his electronics and getting the lay of the land.
"When I went there both times, the weather was horrible, and it was during a tough time of the year, so I didn't learn much about the fishing. I marked some stuff on my electronics that looked cool, but the fishing wasn't very good," Martens reported.
According to Martens, the Tennessee River and Ft. Loudon and Tellico lakes are full of good cover.
"There are tons of clay and rock banks. There is some wood as well, and the gravel bars should also be good for fishing," he says. "I am going to search for anything with a hard bottom and look for where the baitfish are when we get there."
"Same Old Stuff"
When asked what techniques he plans to use, Martens rattled off just about every popular pre-spawn technique in bass fishing.
"It is going to be the same old stuff: crankbaits, spinnerbaits, vibrating jigs, buzzbaits, and jigs. Then some finesse stuff like drop-shot, shakey head, and Neko Rig," he said. "My guess is jigs and crankbaits are going to be very good. I'll have at least three different jigs tied on, and my guess is I'll have three or four different crankbaits ready as well."
Jigs and Cranking
As he stated, he plans to have at least three of each of these tied up for the Knoxville Bassmaster Classic.
"I plan to have a football head jig, swim jig and a jig to pitch. I might even have another casting jig because I think jigs are going to be very important here," said Martens. "I'll also have a big range of crankbaits from shallow to deep and a lipless like the Duo Realis G-Fix Tungsten Lipless Crank 68."
No matter which type of jig he is using, he will have it on the same reel. In fact, he uses the Shimano Metanium MGL for all of his baitcasting needs. It comes in three gear ratios, but he prefers the 8.5:1 for everything but small crankbaits where he uses the 7.4:1 gear ratio. Martens realizes this is a high-end reel, and some may balk at the top-shelf price, but he is a big proponent of it.
"I have had 70 or 80 Metaniums over the years and in a few of the different generations they have built, and they are all still in great shape. I fish them hard, and I fish all the time," Martens said. "For someone who fishes less than I do, there is no way they wouldn't last you a lifetime."
Martens has long been a fan of fast reels and sees many benefits.
"I have always wanted to use the fastest gear ratio I could find. Years ago, that was only 6.3:1, but they have increased that. One thing about the Shimano reels and their Micro Module gearing is that you don't lose the torque and power that you do with other brand's high-speed reels," he stated.
"I do think a faster reel helps because you can quickly take up the line. This time of year especially, you'll make a pitch and fish will grab the jig and swim away fast, and you need to be able to catch up to them. The same thing goes if you are going down the bank quickly with the trolling motor and have some slack, you need to get control of the line faster to get a good hookset," Martens added.
Finesse 'Em
Martens is a very versatile angler and has won major tournaments on a wide range of techniques, but most bass fishing fans associate him with spinning tackle. He's widely known as a guru with light line and finesse techniques.
"Finesse fishing is something I know I can depend on no matter where I go," he added. No matter which finesse technique he is using, he uses one reel for just about all of it, the Shimano Stella 2500.
"The thing I like most about the Stella is that they last forever and do not change. They are still as smooth as the day I got them, they never get bad or rough," he stated. "The other thing that I like is the drag system, it is perfect."
There are many deserving anglers in this year's Bassmaster Classic field, but few have as many Classic heartbreaks as Aaron Martens. A win here would mean a lot to him, and he will again be one of the favorites to win once the tournament begins.