AHWAHNEE, Calif., July 2011 – The realistic action and life-like appearance of ABT Lure Company's new Banshee swimbait work together to trigger violent strikes from bass virtually anywhere in the water column.
Available in 4 _-inch and 6-inch sizes, this narrow-profile "Next Generation" hardbait features four jointed sections that produce an amazingly fluid swimming motion upon retrieve. This enticing action, along with detailed "Natural Image Transfer" finishes that mirror the patterns and colors of actual forage fish, make the Banshee an offering that bucketmouths, bronzebacks and spotties can't resist.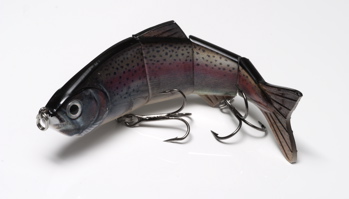 Equally impressive is the Banshee's versatility. The proprietary design of this bait allows it to be presented several different ways, and at varying speeds, to entice bass holding at different depths. According to Allen Borden, president of ABT and designer of the bait, the Banshee is engineered to deliver tantalizing action regardless of how you retrieve it.
"This isn't your ordinary lure, said Borden. "Sure, it's highly effective when fished like a traditional swimbait, but it's just as deadly when used like a jerkbait, or when worked slowly on the surface like a topwater bait."
Anglers will be impressed not only with the Banshee's action and appearance, but also with its durability. While other manufacturers use plastic connectors to attach the sections of their jointed swimbaits, ABT employs rugged steel hinges that significantly prolong the life of each lure. Every Banshee is also equipped with strong, laser-sharp hooks for positive, rock-solid hook sets.
Both sizes of the Banshee Swimbait come in a variety of life-like patterns/colors, including: blueback herring, threadfin shad, rainbow trout, golden shiner, perch, baby bass, chartreuse shad and splatter back. Every Banshee is also equipped with 3-D eyes, which add to the overall realism.
Unlike other premium swimbaits, ABT's Banshee is priced to fit any fisherman's budget. The 4 _-inch size has a manufacturer's suggested price of $12.99, while the MSRP for the 6-inch size is $14.99.
SPECIFICATIONS:
ABT BANSHEE SWIMBAIT
Length Weight Depth
4 _" 1/2 oz. Slow Sink/10" per sec.
6" 1.5 oz. Med. Sink/15" per sec.
To learn more about ABT's "Next Generation" Banshee Swimbait, or the complete line of quality ABT lures, visit: www.abtlures.com. ###