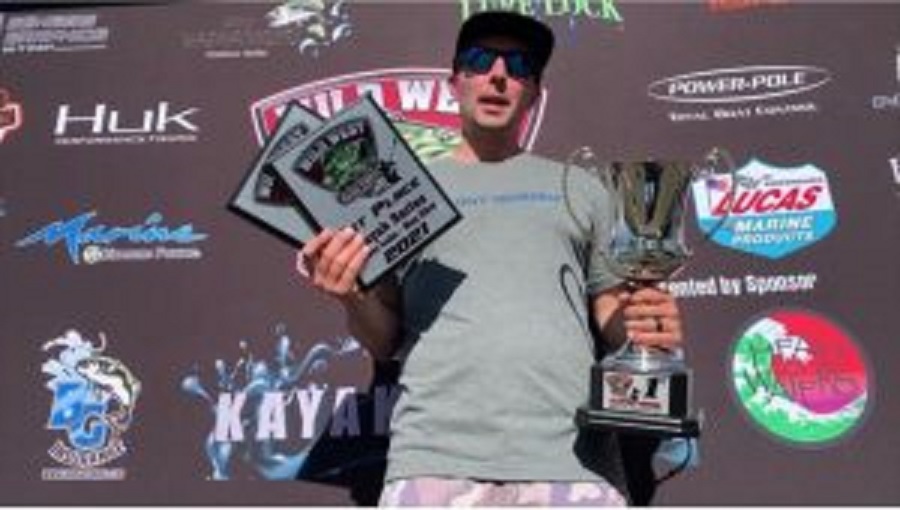 LAKEPORT, Calif. – As the only angler to break the century mark, Alex Cox, of Seal Beach, Calif., reeled in 100.25" for the victory at the 2nd stop of the Wild West Bass Trail Kayak Series at Clear Lake presented by Headwaters and Crescent Kayaks.
With 93 other kayakers vying for inches on the famed big bass fishery, Cox measured up with the biggest bass of the day at 21.50", adding to his total and pushing him just shy of 3-inches past his closest competitor.
Cox put in south, at Redbud and traveled approximately 30 minutes with his MotorGuide Xi3 trolling motor. He was equipped with two Bioenno batteries for a game plan that included 15 areas over 17 miles. However, a super-productive first stop kept him in place for most of the fishing day.
"The area just kept putting out fish from about 6:30 to 8:30 a.m. and with the weather conditions and how they were biting I just didn't want to leave," Cox recalled. "I had 100 inches by about 9:30 a.m. and then I just went around for a boat ride. I junk fished a little and looked for bed fish; but didn't get further from the ramp than I had to."
His magic spot stretched 100-yards and was described as a sloping bank covered in rock. His fish came out of 8- to 20-feet of water.
"I think it was productive because all of the fish seemed to be post spawn and it was a stage for them to come off of their spawning area and eventually move into their summer areas," he added.
He matched his single spot with a single lure, catching all fish on ...