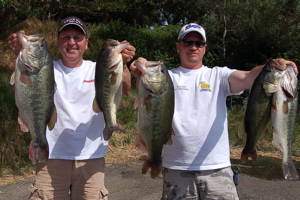 Saturday was anything but normal. There were approximately 500+ boats on the delta fishing under incredibly good fishing conditions. 180 in a rookie event, 150 practicing for FLW Stren, 125+ weekend fun fisherman, 30+ boats in two different team tournaments at Ladds and the 40 boat we had at The State Park. Needless to say, the Delta was busy.
For other reasons, this was a very special day for me as a tournament director. Two of my best friends finished in the top two spots. I have known Bobby Delamater for over 20 years. We have seen a lot together and have called each other friend and competitors. Dave Moen is my closet friend on this planet and it was truly great to see him perform at such a high level. He and James used to spend a lot of time on clear lake, having won a Boat and many other events there. Due to the economy, both have become "Delta Rats" and are starting to put things together on this very difficult body of water.
Fishing today was a mix of big fish and patience. All the big bags came Flippin' jigs and senko's and it was a take your pick as far as what area. One team was post spawn fishing in the tract, one was in the heart of the Delta (Middle River) and the third was pre spawns fishing out east. The one thing they all had in common was SLOW, SLOW, and SLOW. With all the boat traffic and pressure over the past few days the fish were a little more skittish and you had to let your bait sit longer than normal.
Like I said, Top Honors went to Oakley's Mike Andrews and Bobby Delamater. These two have been together for quite a few years now and have several wins under their belt, none more impressive than this, considering the conditions. Anchoring their 31.57 pound limit was the BLACK DOG BAITS Big Bass of the day, a double digit 10.31 Lb. Largemouth Lunker. Andrews declined to talk in depth about the winning pattern (FLW Coming Up) but did say in an interview after the event they fish Senko's, Beavers, and Bobby D Chatter Jigs. He took the time to thank sponsors Lowrance Electronics, Russo's Marina, Hook Line and Sinker, Black Dog Baits, Dobyns Rods, and Bobby D Baits. Congratulations to Mike and Bobby for a great day of fishing. I'm sure you will enjoy the $3845 and don't forget to put those plaques sponsored by the Hook, Line, and Sinker in a very visible place.
Second place went to James Nevels of Discovery Bay and Dave Moen of Fremont. These two put together a pretty impressive bag of their own. 5 fish totaling 29.10 pounds is very good when you consider there big fish only came in at 7.81 pounds. Do the math; their other 4 fish averaged over 5 pounds each. At the award they told us how they couldn't get any reaction fish going during practice so the flipped, flipped and then flipped some more. For them it was Jigs and Senko's in the east Delta, not burning more than a few gallons of gas, after the initial run. Their reward for being so focused was $2080 and a pair of those plaques from the Hook. They also took the time to thank D & K Plumbing and Nevels Painting. Good job, James and Dave.
Finishing in third were husband and wife Guyle and Sarah Sternat of Dublin, Ca. They also had five very nice fish totaling 28.45 pounds, including a kicker bass of 8.46 lbs. (second biggest fish of the day). These two did it a little different as they reported catching several swimbait fish on MS Slammers and completing their limit with Senko's. The Middle Delta was there area of choice focusing on areas out of the current where the big fish have been spawning. They took home $775.
Forth place went to Phil Burgess of Kerman. We have to give Phil some Prop's, as he fished alone this day and held his own against all the top 2 man teams around. Phil brought in a total of 25.09 pounds of bass and had 8.08 pound hawg in the bag. He received $740 and 4th place plaques.
Finishing up the top 5 were Tom Lutz and Ash Twigg. These guys are on a roll, after a second place finish last month, they brought in 25.03 pounds and took home $845.
Congratulations to all and we hope to you all at Russo's Marina for our next event on Sunday June 22nd.
100% BASS would like to thank the fine sponsors that make the difference between fishing and the quality events we are able to provide as a result of their support. BassCat Boats, Mercury Outboards, Mossdale boats in Tracy, Berkley Trilene, Spiderwire Braid, Persuader Bass Baits, Walton's Pond in San Leandro, Hook, Line & Sinker in Oakley, Phil's Props in Redding, MF Finesse Custom Worms, Comfortroll, Comfort Suites of Oakley, Jims Pro Bass Tackle in Paso Robles, Cal West Concrete Cutting, Kosich & Callahan Insurance Services, Black Dog Baits, CoverLure, Castillo Badillo, Puerto Vallarta, Mexico, Angels Inn Motel of Angles Camp and Russo's Marina on Bethel Island.
For complete details please see our website at www.100percentbass.com