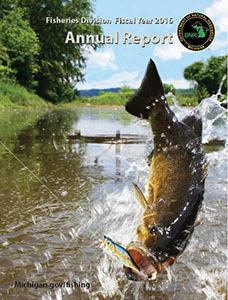 The Michigan Department of Natural Resources today announced that the DNR Fisheries Division's report highlighting various management efforts accomplished during Fiscal Year 2016 is available online at michigan.gov/fishing.

Again this year there are two components to the report: a 13-page document with full details of DNR fisheries management work completed in the past year and a 9-inch-by-12-inch printed trifold brochure (available as a PDF) that visually summarizes the content.

The 2016 Fisheries Division Annual Report focuses on the programs and work completed in the past fiscal year (Oct. 1, 2015, through Sept. 30, 2016) by division staff in an effort to maintain and improve Michigan's fisheries. The report categorizes work within the goals developed as part of the division's five-year strategic plan, published in March 2013.

Highlights of the report include dam removal efforts, habitat restoration work, prevention of aquatic invasive species, state-record fish, fisheries population changes, education and outreach efforts, partnerships, research, fish stocking, energy efficiencies and much more.

"We're always pleased to present our annual report to provide a regular snapshot of the critical work Fisheries Division is doing to manage Michigan's world-class aquatic resources," said Fisheries Division Chief Jim Dexter. "These reports help us track our progress as we work toward completing our strategic plan and we are proud to share them with the public."

Fisheries Division welcomes input from readers of the 2016 annual report. Comments may be shared via email to DNR-Fish-Accomplishments@michigan.gov.