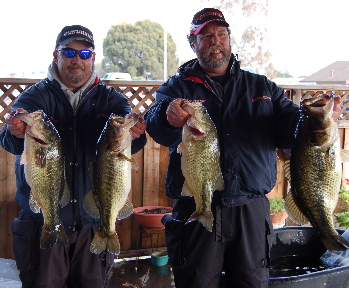 Delta events are always interesting, with the threat of big fish and big bags of fish, Saturday delivered exactly what was expected. Pre spawn conditions were anticipated when 92 teams checked in at Russo's Marina on Bethel Island, the weather was great and weigh in was incredible. At least 50 fish over 5 pounds came in and it seemed like every fish was caught on a white/chartreuse Spinnerbait or a black jig.
Even the smaller bags had a big fish.
Topping the field was Bud Porter of Acampo and Stan LaFever of Ione. These two had what many consider the day of a lifetime, a 5 fish limit, weighing out at 28.92 Pounds. That's almost a 6 pound average. Of course it always helps to have a big kicker, and they did, the 2nd biggest fish of the day, a beautiful 10.54 pound lunker. Both at weigh in and at the awards, Porter told everyone they Flipped Black / Blue Jigs all day in the middle Delta, focusing on areas where the fish were moving up to feed. He also said, that if they didn't get bit right away, they would move to another spot not wanting to waste time on unproductive water. They took the time to thank sponsor Gene Buchholz of the Hook, Line and Sinker for the nice plaques they received and thanked everyone for helping to make this the second month in a row where a record payout for the delta region occurred, an incredible $6380. Congratulations to Bud and Stan for your "Day of a lifetime".
Second place was awarded to Livermore's Bill Spence Jr. and Roseville's Chris Raza. Their bag tipped the scales at 27.31 Lbs and also included the 3rd biggest fish of the day, an 8.30 pound Largemouth. These guys are famous for the use of a Jig and since the jig bite was on here they were, right near the top. At the awards Raza joked a little with the third place finishers (good friend and legend Gary Dobyns) as only friends can do and told us that the jig of choice was of course, a Black and Blue version. They also caught several nice fish on White / chartreuse Spinnerbait as they toured the central delta themselves. Their reward for a very nice day was $3600 and a pair of those nice plaques from "The Hook".
Finishing in third was Ken Schmitt of Livermore and Gary Dobyns of Yuba City. They had what many would consider the best bag of the day as their 27.21 pound limit had no lunker fish in it. Just 5 fish that all went between 5 and 6 pounds each. Dobyns told us all at the awards; they had a little different pattern to find the fish. They used Crankbaits to locate the fish and the slowed down and with Senko's or Jigs to isolate the better ones. It seemed to work as they took home $2020 for the day on the water.
Fourth place went to Robert Dong and Kevin Lee, both from Sacramento. There 5 fish would win any other tournament but on the Delta, it was what it was, 26.03 lbs. Still, not a bad day, $1415 for just over a 5 pound average. Rounding out the top 5 were Bryan Roland of Brentwood and Mike Bryant of Oakley, with 25.82 pounds and a paycheck in the amount $1030. Congratulations to everyone for making this a very fun day to weigh fish. Note, it took 20.33 pound to finish in the money. That's over a 4 pound average. The Delta truly is a great place to fish.
The $1000 gift certificate awarded by Mossdale boats, that is good toward the purchase of a new BASSCAT boat, was won in the raffle by Buddy Rhymes of Silver Springs, Nv and Ryan Monaghan of Reno, Nv.
100% BASS would like to thank the fine sponsors that make the difference between fishing and the quality events we are able to provide as a result of their support. BassCat Boats, Mercury Outboards, MossDale boats in Tracy, Bridgestone Tires and Gill's Tires in Stockton, MinnKota Trolling Motors, Humminbird Electronics, Berkley Trilene, Spiderwire Braid, Persuader Bass Baits, Solar Bat Eye Protection, Walton's Pond in San Leandro, Hook, Line&Sinker in Oakley, Phil's Props in Redding, FishingWorld.Com, MF Finesse Worms, TackleWarehouse.com, Comfortroll, Comfort Suites of Oakley, Sig Fish Inc, and No Sweat Mist.
For complete tournament results, please visit our web site at –www.100percentbass.com.
Bob Kornhauser – Owner 100% BASS – 530-274-1397