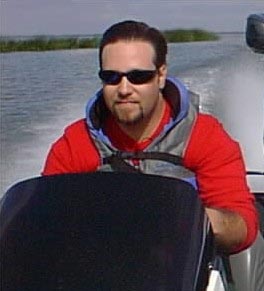 A fishing outing is often thought of as a family event, and tournaments are no different. Team tournaments throughout the country will usually feature spouse teams, father - son / father - daughter teams, siblings and the list goes on. One amateur tour has the distinction of hosting family members of Bassmaster Superstars Skeet Reese and Ish Monroe. John Reese and Greg Simpson have witnessed the success of their professional brother's and sons and have sought their advice in looking for a place to compete.
John Reese is one of Skeet's older twin brothers, his twin Jimmy is a well-known Western Pro as well, and even spent 2003 competing on the Bassmaster Tour. Greg Simpson is Monroe's father, and was Ish's first "fishing partner" and watching his son compete gave him the desire to do so as well.
The Future Pro Tour, in its third season has already grown into the largest circuit of its kind in the region, and Reese and Monroe are members of Future Pro Tour's Pro Support Staff, offering instruction to the competitors and support to the organization. Having an intimate knowledge of the Tour's scope and reach made it easy for Reese and Monroe to offer the tour to family members looking for a place to test their competitive mettle.
"I really like what the Future Pro Tour is doing," Reese said. "I am happy that it is enjoying the success it is, and glad to see Vince Harris (tour director) nurture the "grass roots" anglers that play a critical part in the future of our sport." Monroe echoed those sentiments. "I have been a fan of the format since Vince started it three years ago," Monroe commented. "I thought it was the perfect place for my father – who has been my biggest supporter from the beginning, to get the feel of what I do out on the pro tours."
Tournament professional, and Clear Lake expert Jimmy Reese felt that Future Pro Tour offered a place for John to practice skills witnessed over a lifetime competing against he and Skeet. "It has taken awhile, but I am really glad to see John getting involved in tournament fishing," Jimmy Reese continued. "I really look forward to the day when Skeet, John and myself will be competing in pro level competition.
Future Pro Tour kicked off its 2005 season with 201 teams at Lake Berryessa, and Simpson finished 52 in his first event, while Reese will be entering his first event when the Tour makes it second stop of the season at Clear Lake on April 23. "I watched Ish take a liking to bass fishing at a very young age," said Simpson. "I told him that I wanted to try fishing some tournaments, and he suggested Future Pro Tour; that it was a great place to get the feel of big time events, without the big time cost."
Reese, unlike his brothers, has only fished in a few tournaments, and felt that Future Pro was a way to get a taste of their accomplishments. "Both Jimmy and Skeet have been very competitive when it came to fishing, even when we were kids," John continued. "I enjoyed the competition, especially since it was always friendly, but now, they may regret turning me onto this tour."
Vince Harris, Future Pro Tour's founder and Tournament Director feels privileged that these top name professionals felt comfortable sending their loved ones to compete in these events. "I am honored that this was the recommended place, especially from anglers of their caliber." Harris continued, "we work very hard to run professional style events and bring a big time show to a level of angler that is usually treated as an afterthought. Anglers like the Reese's and Ish Monroe have competed on the highest level, and for them speak well of our program is humbling."
Clear Lake is only the second stop for the 2005 Future Pro Tour season, but it may mark the dawning of a new day for some of bass fishing's royal families.
******************************************************************************************
Skeet Reese is a full time touring professional angler. He has competed in five Bassmaster Classic World Championships, and by finishing ninth in the 2005 Bassmaster Tour, he qualified for the 2005 and 2006 Classics. Reese has earned more than $500,000 in career earnings on the Bassmaster Tournament Trails. Out of 84 total entries into Bassmaster events, Skeet has taken home paychecks in 61 of those events.
Jimmy Reese is also a professional angler; he is best known in Northern California as a master of Clear Lake and has won many pro level tournaments in the west. Jimmy followed in his younger brother's footsteps in 2003 and competed on the Bassmaster Tour, he has posted almost $50,000 in Bassmaster earnings, placing in the money in more than half of the tournaments he has entered.
Ish Monroe became only the second African American angler to qualify for the Bassmaster Classic in 2004, and the first to qualify through the Bassmaster Tour. In 79 entries to Bassmaster Tournaments Ish has earned almost $175,000 in competition. He has qualified for his second classic in 2005 through the Bassmaster Tour.
Future Pro Tour Tournament Trails is the largest amateur only tournament organization in the West. In its third year of existence the tour is drawing record numbers of participants to their events. Future Pro Tour information can be found on the Internet at www.futureprotour.net.