The final hand has been dealt in the first qualifying round of the 2nd Annual Thunder Valley Outdoors Poker Challenge where tournament bass angler Frank Ono bested the field of 146 players, including four bass pro bounties to claim the top cash prize of $500.
The action came to a close as Ono went head-to-head with a regular member of bass pro Alan Fong's weekly home game - Evelyn Fong. Ono entered heads-up as an underdog but withstood the bullying of Fong's chip lead as she showed off her skill playing a big stack and position betting.
The table began to turn when Fong limped in on the button and Ono checked a marginal hand. Both caught a piece of the flop, prompting an all-in and call. Fong flipped up her hole cards to show she held bottom pair (4's). Drawing thin, she got no help from the turn or river and Ono doubled through her with his middle pair (9's).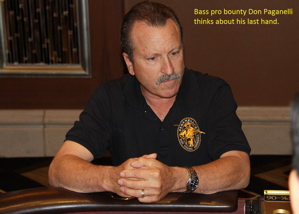 With blinds at $4,000 and $8,000, it was either player's game; but a final showdown gave Ono a J-9 that took out Fong's 6-5, when she missed the flop.
Ono, on the other hand, was left hanging on to middle pair, which held when the rest of the board showed only blanks.
Fong increased her bankroll by $300 for her efforts.
She has played in her brother-in-law, Alan Fong's home game for about five years. Alan described her as a good player, but did say he rakes in the pot about 40 percent of the time.
Many of Alan's regular players were at the event and although all but two were knocked out by the final table, they could be seen sweatin' the rail behind Evelyn as the game played out.
Alan reports that his love for bass tournaments still outweighs poker tournaments and that he is way better at fishing.
Unable to take home the title, but boasting his own brand of poker prowess, was bass fisherman Vang Bee.
Bee brought down two of the four bass pro bounties at the tables, sending both the Bass Fishing Experience guide Don Paganelli and the Fun Fishing television host Alan Fong to the rail.
Bee busted out Paganelli in the first round of the night when he put his J-2 up against Pagnelli's 8-4, suited. Bee then felted Fong on the bubble with a pair of Ladies, as the veteran angler faced a run of cold cards and was blinded out in the turbo tourney, forcing him to showdown with a 7-3, off.
A fisherman since he can remember, Bee put his five years of poker experience to good use and shared his secret to success stating, "I was just lucky, that's it." Bee added a new Lamiglas rod to his gear collection and an Al-e-Baby to his tackle box for the bounty beats.
Another notable in the poker room was Greg Brown. Brown brought down bass tournament pro Preston Henson when he tripped up with his pocket 4's against Henson's Q-10. Henson wasn't really happy about his all-in hand but explained," the blinds had moved up so fast, he had to pick a spot."
Brown has been stacking virtual chips in the online scene for about 10 years and fishing for the past 15. When asked what he thought about busting out the first bounty, Brown said, "I would rather beat Preston here; because if we were in the boat, he would be beatin' me."
Fish Sniffer staffer Ernie Marlan and myself represented the media at the tables, both of us making the top-30 of our round, qualifying for the final event of the evening and the Championship event to be held later this year. When we got to last two tables, I lost Ernie in the shuffle and am not certain where he went out.
As for myself I called an all-in with a short stack and another caller pushed all- in behind me. With a side pot that I wasn't in, three of us showed down.
Luckily, with a K-J, I was on top facing a K-9 and Q-10. A King on the flop looked good and Jack on the turn was okay too. I was ahead, looking at top two pair. All I had to do was hold; but as luck would have it that Jack was a dirty out and set me up against an open-ended draw.
The river was the nail in the coffin for my game. The dealer turned over a 9, giving my opponent the runner-runner he needed for a suck out. I was outchipped by Q-10 with the backdoor straight and was sent directly to the loser's lounge in 12th place.
The top-5 cash winners:
1. Frank Ono
2. Evelyn Fong
3. Kenny Cull
4. Mark Pollard
5. Bee Vang
The July 21st event was the first of two qualifying events presented by Thunder Valley Casino and the Future Pro Tour. The format features a field of no more than 150 players divided into two groups. The first group plays down to the top-15 and is given a break. The second group then plays down to the top-15. Everyone else is eliminated. Anyone knocked out in these first two rounds is entered into a second chance drawing where prizes such as a 32-inch flat screen TV, Hummingbird Electronics, $100's of dollars in casino play and fishing gear raffled off.
The final round of the evening then kicks off with both of the "Final 15" players from each group back at the tables. Totaling 30 players, the final round offers cash prizes to the top-10 and casino comps through the 20th position. All 30 also earn a freeroll into the Thunder Valley Outdoor Poker Championship to be held in November.
The second and final qualifying event, following the same format will be held on September 8 and will provide 30 more players for the November Championship. There is no buy-in, options are available, each round features bass pro bounties and sign-ups are still being taken.
Story and photos courtesy of Jody Only.