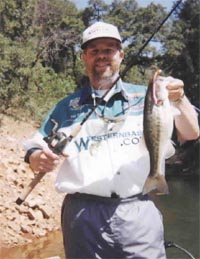 When I found out the Bassmasters planned to bring two of their Tour events to the West, I was very excited. Finally a chance to see the big name BASS Pros up close and see how they would approach two of our premier bass waters. With high hopes I sent my entries in for both the Delta and Clear Lake events. When the envelopes from BASS finally came in the mail, needless to say I was disappointed. I was 28 and 35 on the waiting lists. With only 100 Pros fishing, I figured my chances to get in were slim at best. Then as the 30 day off limits came closer I called BASS to find that my positions had not improved. I had to decide if I wanted to skip 3 upcoming local events to honor the off limits, or go ahead and fish and eliminate myself from the Bassmasters events. I decided to go for the sure thing and fished my local events. I also thought that maybe I could still be involved in the BASS events if I could get on board driving a camera boat. I remembered from previous events that these volunteers were recruited through the BASS Federation, so I sent an email off to Gary Bradford, the Federation President, offering my services for all 4 days of both events. Gary sent me a return message saying he would put me on the list of volunteers. As a side note, as the events came closer, I had two messages on my answering machine telling me they had places for me to fish in both events! Oh well, at least I was still going to be involved. I have been trying to figure out the best way to tell this story and decided I would do it in a diary fashion, so hear goes:
Wednesday April 2
I had been instructed to meet Chris Murray, the BASS Communications Manager, just before the Pre-Tournament meeting on Wednesday. I went into the Radisson on March Lane and my fishing heroes were there! I need to mention that in addition to loving to fish myself, I am also a huge fan and I follow the tournament trails with a lot of interest. There was Jay Yelas, Denny and Chad Brauer, Roland Martin, Kevin Van Dam, Ron Shuffield, and Mark Davis to mention a few! And here also were our local heroes who were making the big time, Skeet Reese, Mike Reynolds, Mark Tyler, Ish Monroe, and of course, Robert Lee. I also ran into other friends who were fishing as Ams and some others who would be driving camera boats as well. We found Chris Murray and he told us he needed three drivers to take media representatives out to see the event on Thursday and Friday. Vic Hershberger (aka Fliyin' V) was paired up with Gary, the Bassmaster Magazine photographer and the other two of us were told to be at the launch ramp at 6 a.m. to wait for assignments. I hung around and watched the meeting and was impressed with how smoothly and quickly it went. We were also entertained by the antics of Fish Fishburn. That guy is hysterical!
Thursday April 3
No media boats were needed today, so I decide to head out and watch on my own. By the way the camera boat operators are paid $100 a day for each day they provide a boat and $50 a day when they use a BASS boat. This is plus gas, oil and launch fees. Over the course of the day, I find Robert Lee, Joe Thomas, and a few others up in the Whites and Disappointment Slough areas. Robert Lee has already started to gather a following with 3-4 spectator boats hanging around. I encounter Brooks Rogers from Quitman, Texas, and he is frustrated because he has a small limit for about 6 pounds and his Am partner has 5 for about 12. He says he knows how to fish weeds, but the water going up and down has him confused! I head for Franks Tract and take time out to watch Ben Matsubu and Gary Klein from a distance. I can see quite a few boats fishing and pull in a little closer and talk with Ron Shuffield. He has a limit for about 14 pounds. He's flipping a worm in tules inside Franks Tract hoping to get rid of some 2 pounders. I watch him catch a 4 pounder and he is quite happy with that. I wish him well and head back in to put the boat away and go to the weigh-in.
Friday April 4
Channel 13 is supposed to come out today, but may have changed their mind due to the rainy weather. The rain quits, but it looks like a repeat of yesterday, until a young Japanese man drives up and looks around. I ask him if he is looking for a boat driver and he says yes. I am embarrassed to say I don't remember his name, but he is a photographer for a Japanese bass fishing magazine. He pulls a map out and point to Franks Tract and tells me he would like to go to that area and look for Takahiro Omori and possibly other Japanese anglers he believes are in the area. After an easy 15 minute run we pull up on the South side of Frank's Tract and he scans the area with his binoculars. There are a lot of boats in the area. He spots Takahiro in the Southwest corner and we head over that way. Fishermen are everywhere. I raise my own camera and I can frame 12 boats at once in the viewfinder. Some are back inside the tules, some are at the tule edges, and even more are out off shore fan casting with Senkos and jerkbaits. Because the anglers are fishing open water, we stay well away and he uses his telephoto lens to shoot the action. There isn't much going on though. Finally we see the Am in the wrapped Lucky Craft boat catch a keeper and shortly after the Pro Kelly Jordan catches one as well. Looks like they both caught them on jerkbaits and suddenly everyone is throwing jerkbaits. We watch for a while longer and finally Takahiro has a fish on, but it turns out to be a steelhead! This brings laughter from boats all around and comments about sushi. He has a heck of a time getting it unhooked, but finally does. We watch a little longer and he decides he has enough shots and is ready to go back in. I ask him if he wants to go look for anyone else. I'm disappointed when he says no. Back at the ramp, I take a break and stop to talk with the factory support teams. Triton, Skeeter, Ranger, Basscat, Mercury, Yamaha, and Motorguide staff are all there. They are just hanging out in case one of the fishermen needs help. What a job that must be! I offer to take a couple of them out to look around for a while, but all decline. So I head back out myself, this time over toward Mildred Island. I run into Ken Cook (I think) and he says he has a limit and is looking for Shamu. I run around a little more and find fellow Kistler Pro Staffer Mark Tyler on the East side. He says he is struggling with only 3 fish in the boat. I watch for a while then wish him well and head over towards little Mandeville. I run into Flyin' V and Gary and they are not having much luck finding people. I take Vic's cell phone number and promise to call if I find anyone. I head back into Rock Slough and find Peter Thilveros there. I give Vic a call to let him know. Not much happening there, so I head back to Mildred hoping to find Ish. I find Ken Cook again, inside the island now, still looking for Shamu. I decide to call it a day and take the boat in and put it to bed and head for the weigh-in. After weigh-in all of the camera boat drivers are supposed to meet. Things work out where I am going to be driving a boat for an ESPN cameraman and I am pumped, after two disappointing days I am finally going to get some action! There are six of us driving camera boats and I will be driving for cameraman Billy Chapman; we will be filming Joe Thomas who is in third place. Marty Dashiel, the ESPN production chief, gives us about 15 minutes of instruction. He explains how important the camera boat drivers are and lets us know that without us they would just be the best fishing show on radio! They film shows like no one has before. We will stay with the fishermen all day filming constantly. Because of the wide-angle lenses, we will be very close to the fishermen, if we think we are too close, get closer. If the fisherman complains, it is up to the cameraman to be the bad cop, the boat drivers are the good guys! Sometimes the cameraman may get into the boat with the fisherman to get a different angle. I am to use my trolling motor to keep Billy in position so that he is not just filming Joe's backside. I am also tasked with keeping a log of the days events. Whenever something significant happens I am to write down the time and description. It may be a fish caught or lost or anything else they may want to include in the show. This enables them to quickly find events in the hours of tape they shoot. Marty asks if anyone has any problems with their boats and stresses full gas tanks and charged batteries.
Saturday April 5
Up early because we have to be in the water and at the dock at Weber Point by 5:15 to pick up the cameramen. We are launching at Morelli park which is near the I-5 Bridge, about a 15 minute idle to the pick up point. I get there and find Ron Mah already there and we help each other launch. Once at the dock, Billy is ready and hops in the boat with all his gear. He stows the bags and will hold the camera while we run. I give him the vest I brought for him to use. As we idle back to the launch area to meet up with Joe, we chat and get to know each other and talk about the plan for the day. He lives in Little Rock and they fly them to the events in a private plane, as soon as the tournament is over, they are on the plane heading back where they will thrash to get the show complete for the following Saturday morning air time. Today we will only go about a half day or until Joe catches some decent fish on film. The big day is Sunday. We find Joe so Billy can hook up his microphone and we pull out the map and he shows us where he will be starting up in Pixley slough just above Paradise Point.
All right, it's game time. I look around. There is Kevin Van Dam, Peter T, Jim Bitter, Skeet. They're all here. This is the big show, and we will be running right with them down the San Joaquin, trying to keep up with Joe Thomas and his amateur partner. It's cold and there is a low hanging fog on the channel, it is sitting just low enough that we can see navigation lights over the top of it, sometimes. Away we go and we are flying down the channel. The boats ahead disappear into the fog and I am using the width of the boat wakes in front of me to judge the distance to the boat ahead. We are past Ladds now. I can see the levee to my right and Van Dam appears in a wrapped Triton, passing boats in the clearer water. I am concentrating hard and glancing at my GPS. I am really glad I have made this run before, and under similar conditions. We are coming up on Fourteen mile slough where we will turn. Boats ahead have slowed. some of them think it is a no wake entering Fourteen Mile. I follow suit, but here comes Robert Lee past everyone and disappears into the fog going up the slough. I am not sure who is in front of me now but I continue to use the wakes and levees as a guide. Finally the fog is lifting and I can see Pixley slough ahead and Joe is already there and stepping on to the front deck to start fishing. Billy is smiling and shaking his head after the ride, but now it is down to business. The water is flat and pretty high, Joe is pitching a Senko right against the bank. I pull my boat ahead of his a bit to give Billy a good shot back at Joe. I notice that the sun is at our backs now and our shadows are hitting the levee ahead of his boat. I am concerned that we might be spooking shallow fish, but Joe doesn't say anything about it. He catches a 13-incher and puts it in the well, then turns around and goes the other direction. I speed up to put us up in front of him again and to my relief our shadows are no longer on the bank. I remember to write a note about the catch in Billy's log book. Joe catches a dink and wonders where have his quality fish gone. He works up and down the bank a couple more times then announces it's time to move. We are idling past Paradise Point and Billy comments about the long no wake zone. I tell him that this is really not a long one compared to some on the Delta. Now Joe is fishing the North end of Bishop cut. A slight breeze has picked up and he is throwing a spinnerbait. This is a post front day after the storm that blew through the morning before. Joe is not getting the kind of action he has had the last two days when he weighed 20 pound bags. I think he is fishing too fast and not letting his bait get down to the fish on this high tide, but I can't say anything. We pick up and head into White's slough, Billy and I both comment that he is struggling and we both think he is fishing too fast. I ask if it's ok to ask questions and Billy says sure. I ask Joe about the weather change and what adjustments he is making. He comments that he is using the Senko more instead of the spinnerbait to deal with the inactive fish. Unfortunately, nothing seems to be working. He is starting to bounce around every 10 minutes or so and only has 4 fish in the boat at 10:30. They are all small. He comments that one of the disadvantages of being on unfamiliar water is not having many places to go. On the other hand, it forces him to stay and work the water he has. Finally at 11:30, Billy announces that we are almost out of tape and will be leaving shortly. We wish Joe good luck and head back for the ramp. As we run up the channel we encounter a long line of big cruisers. I am really thankful that they are all idling. They are all decorated with streamers and flowers. We slow down to ask what is going on and they say it is "Opening Day" on the Delta. Billy wants to film them so I put the boat on plane as slow as possible and we go past them. Everyone is waving for the camera and hollering 'Welcome to Stockton!" We go under the I-5 bridge and start the long idle back to Weber Point where I drop Billy off and tell him I will see him later. Back to the ramp to pull the boat out, take it back to the Super 8 then come back for the weigh-in. What a great show they put on! Fish is once again in rare form and the crowd is tremendous. Afterwards we meet again for assignments and instructions. Joe Thomas has weighed 7-07, just barely enough to squeak in for the final day, so we will be following him again. We are instructed to be at the park at 5 a.m. This time we will be driving BASS boats that were used the day before by the anglers who did not qualify. I think they have us coming so early because the time changes this weekend. This way if anyone forgets, they still would get here plenty early!
Sunday April 6
It's 5 a.m. and all the boat drivers are here, but we are about the only ones. Finally we are called over and get our boat assignments. I will have a plain white Skeeter, the only boat that's not wrapped with a sponsor logo. They put the camera boat drivers in identical boats to the fishermen and that boat becomes a back-up boat in case something happens to the fisherman's boat. We hop in the brand new Chevy trucks and drive to the ramp and help each other get launched. I am trying to figure out where all the controls are in the dark as I idle to pick up Billy. Should have brought a flashlight, but I figure it all out. Billy loads his gear and we idle back to the launch to hook up with the fishermen. He tells me that one of the camera boat drivers from the day before was dismissed because he pulled out a fishing rod and started fishing when the cameraman was over in the pro's boat! He was fishing right on the bank that the Pro had been working. Thankfully he did not catch any fish! We both express disbelief that anyone would do something like that. Billy will be riding with Joe to his first spot this morning because he is his observer and can't take a chance on being separated. On Saturday his Am partner served as the observer. There are fewer boats this morning and thankfully no fog! We hear the helicopter overhead as we get ready to take off. Jerry McKinnis is in the copter and will be interviewing Robert Lee as he runs to his first spot. This really is the big time! The fishermen are blasted off in order of standings so we are the last ones to go. I am not familiar with this boat yet so I don't push too hard, content to ride along at the back of the pack. We are all flying down the channel and encounter a big freighter heading up. What a great picture that must be from the helicopter. As we pass Ladds, we pick up some spectator boats that are waiting for us to go by, but the traffic is not too bad. This boat really handles nice. It is a Skeeter 225 ZX with a 225 Yamaha HPDI. Joe is starting in the same spot in Pixley and I pull up shortly after he does. Billy stays in the boat with Joe so I can back off. I am really happy not to be casting those shadows on the bank. There are a couple other boats watching and I see Vic Hershberger and Gary from Bassmasters watching and filming. Joe picks up two fish pretty quickly and I can tell he is more relaxed. He has no pressure at this point, with nothing to lose and everything to gain. We leave and head over to Bishop where Billy hops back into the boat with me. Joe is wired with a microphone and there is a speaker on Billy's camera. Whenever he says something I hear it right behind me and a couple times it startles me. We are working south down the bank and we smell breakfast cooking. Man, does it smell good! I suggest that "we should head up on the levee and see if we could get some." Joe says "No way, we would end up breakfast ourselves." A couple minutes later two huge dogs appear on the levee and growl at us. Now I understand. Joe catches a good fish and comments that it "musta been living in that old life raft" floating in the water. I notice that we have collected a few spectator boats ourselves and one of them asks "who is he?" We tell them "Joe Thomas from Ohio." This happens several times during the day. Boats come and go and at one time I count 6 of them out there. We have turned back north again and Joe hooks a big fish. It takes off like a shot moving away from the bank and I turn the boat so Billy can get a good shot. I am thinking this is what Joe really needs. All of a sudden his rod straightens out and the line goes slack. Joe collapses onto the boat deck in disappointment. The fish had buried into a clump of weeds and managed to pull free. Joe explains that he is using only 14 pound test line with the Senko and was afraid to put too much pressure on such a hot fish for fear of breaking his line. Unfortunately he was not able to turn it away from the weeds. I ask how big he thinks it was and he estimates over 5 pounds. I write notes in Billy's log book about the fish. It isn't long before he catches another fish, and this one culls for him. Great that he caught another so quickly and hopefully it takes his mind off the lost fish. A breeze has picked up now and he starts throwing a spinnerbait. Several small fish later we pick up and head into Whites slough. He is concentrating on winding levees where fish may have spawned along the bank. He alternates between the spinnerbait and the Senko and culls up small amounts at a time and is building a decent bag. One big fish would really help. We have all loosened up now and are chatting freely as he fishes and we film. He asks about Clear Lake and we talk quite a bit about what he might expect over there. I hope that the info I shared will be useful to him. The tide has gotten pretty low now and he heads over to a tule berm where he lost a 7 pounder the day before. Unfortunately as we approach, we see Robert Lee pull in from the other direction. Joe pulls up and starts flipping but Robert has stopped right where Joe lost the fish the day before. There must be 15 boats around Robert. We continue to work down the berm and ahead of us Robert decides to leave and waves as he goes past us. The entire armada follows him and the bank is totally washed out. The low tide has exposed the mud bank and turned it to chocolate milk in the boat wakes. We pick up and head back to Bishop cut where Joe catches another decent fish and culls again. Joe compliments me about how well I have handled the camera boat and says that "in two days not once did I get in his way. Yet I still was in good position for the Billy to film." I'm flattered and feel this is quite a compliment coming from a man that regularly films a TV fishing program. Finally, it's time to go and Billy hops back in Joe's boat and off we go. I am used to this boat now and let it hang out more than in the morning. With just me in it and very little weight it runs like a scalded dog. Running up the channel we get separated by traffic, but I am able to make up the distance pretty quickly. He stops just short of the I-5 Bridge with about 5 minutes to fish. I think this is where the release boat started dumping on previous days so there are probably fish to be caught. He quickly catches two small ones, but they aren't any help. Time to head in, Billy climbs back in with me and Joe heads for the ramp. As I take Billy back up to the weigh-in area I mention that I will be at Clear Lake also and hopefully will get to drive for him again. Back at the weigh-in he mentions this to Marty and it looks like a done deal! Joe ends up with almost 15 pounds, good enough to move him up to 4th place. I am really pleased to see how well he recovered from the tough day on Saturday. And you all know the rest of the story.
On the ride home I am thinking about all that I saw and experienced. I was in the company of some great fishermen and what I learned was how important adjustments are. Those that can make them come away the winner. I learned that even the top fishermen struggle and sometimes are not sure what to do. I learned a lot about what it takes to put together a quality one hour fishing program and that as I was heading home the film crew was just getting started laying our their story, picking their best shots and editing them all together. I was also thinking that next week is Clear Lake and I get to do it all over again! That will be my next story!