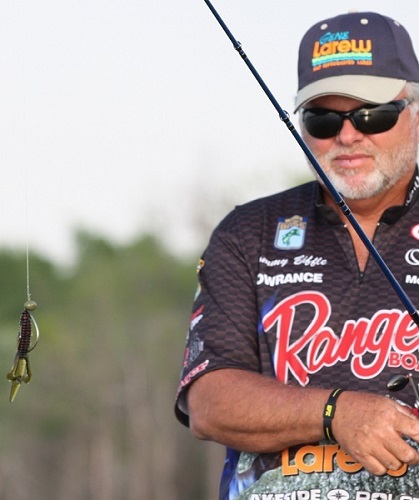 (June 24, 2013) -  Professional bass angler Tommy Biffle knew he had found a special spot during his first afternoon of practice for the Bassmaster Elite Series tournament on the Mississippi River in Wisconsin, when cast after cast came back with a healthy smallmouth bass.   
The discovery of that area and another one like it, both in strong river current, along with an observation of crawdad parts in the livewell, ultimately led to the veteran tournament angler's 7th B.A.S.S. win.  
"When you find a spot like this one early in practice, you can't help but wonder if it'll hold up until the start of the tournament, much less throughout all days," Biffle explained. "That's especially true with smallmouth, but I felt good about this one because I just didn't see this wad of fish moving far, or anybody else finding them other than by accident, like I did." 
Biffle stumbled across the area when he stopped to fish some flooded vegetation on an island in a main stretch of river, which he found was too shallow. As he trolling motored back toward the river channel, he fired a cast with his namesake Biffle Bug rigged on a 7/16-ounce HardHead across where he thought the underwater point should be and had a good-sized smallmouth hit it. The next several consecutive casts delivered the same results, with most of the fish appearing to be in the 3- to 4-pound range.
As he explored more, he realized the ambush area was simply a sandy bottom, but with a shallow ditch nearby that provided great access for fish to move in and out to feed. He spent the rest of the day, and most of the remaining practice, looking for a similar area but could find only one. The fish on the secondary location weren't as big as on the first, although just as cooperative.
Biffle also had a good flipping pattern for largemouth bass going on near the tournament's launch site, but knew he was sharing the stretch with several pros and that it would get "hammered" over the course of the tournament.
"Unlike in many flipping situations, I found the fish were more interested in burying up in the deepest cover instead of relating to a particular kind of vegetation. So rather than searching out the same 'buck brush' that a lot of the guys were keying on, I moved little and was fishing everything that was thick and flooded. I was getting quality bites doing that," Biffle said.
Biffle's first day strategy was to head down river to his smallmouth spot. Although the area quickly produced a limit, they weren't the quality of fish he had found in practice. He left to go flipping and did upgrade his catch 
to his final weight of 14 pounds for the day. 
Throughout practice and on tournament day one, Biffle's lure color of choice was his career-long favorite, smoke silver. Smoke silver was the first color he had Gene Larew Lures, makers of his Biffle Bug, pour for the bait. Because of his fondness for it, it's the color that adorns his jersey and boat wrap, and one that he says is the "chrome" of soft plastic colors.
However, later that evening he encountered fellow Oklahoma pro James Elam cleaning his livewell out from crawdad parts that his day's catch had left in it during the boat ride.
"What color are they?" Biffle asked him, thinking about the "green with orange claws" parts he had found in his own livewell at the end of the day. Elam's answer confirmed the same.
Biffle said the green was about as perfect a match to the green pumpkin lure color as you can get, so that night he used a Dip-N-Glow dye marker to add orange highlights to green pumpkin Biffle Bugs. He colored about a one-half inch area of the bait's tip of the tail, and then put orange highlights on the bait's "arms."
Biffle began his second tournament day flipping cover near the launch area. It was a slow start for him, until with his Power Poles holding him near a bush he had just worked thoroughly, he decided to try the altered-color green pumpkin Biffle Bug and caught a good keeper on the first flip. From that point on, Biffle used the green pumpkin variation throughout the tournament.
In a flip-flop to day one, Biffle upgraded his second day catch on his smallmouth spot in the afternoon, reaffirming his belief that the spot provided better quality fish in the afternoon. Biffle weighed 16 pounds on day two.
Biffle arrived at the launch on day three to learn the news that Brandon Palaniuk, the tournament's leader after the first two days, had his second day's catch disqualified after an inadvertent culling error. Although Biffle felt the pain for his fellow angler, he knew it closed the gap from the lead, moving him from third to second, and trailing now by only a couple of pounds instead of about seven. 
"As a professional competitor who wants to win by beating whoever's at the top of their game in any event, I felt bad for Brandon," Biffle said. "He was in the driver's seat and obviously had a good lead. The disqualification of his day two weight was unfortunate for him and definitely opened the door for me and Aaron (Martens) to battle it out."
Biffle found the fish to be especially cooperative on day three, catching somewhere between 60 and 70 bass throughout the day in a variety of areas. His weight of 17 pounds, 5 ounces, was the big bag for the day, but he still trailed Martens by a few ounces.
As a top-12 contender to fish the fourth and final day, Biffle's strategy was to spend the entire day on his smallmouth spot. However, by around 9 a.m. he had managed only a small limit of smallmouths and made the decision to go back to flipping the flooded vegetation. Although he was able to upgrade his limit to around 10 pounds, he was positive he needed a better weight than that to win.
In the afternoon, he again returned to his primary smallmouth spot and found the bigger fish more cooperative, but the bite didn't last long and eventually died altogether, as Biffle described it.
With about 45 minutes of fishing time left, he decided his last option was to try his secondary smallmouth spot since it wasn't far. Upon arriving at it, he found the water had muddied where he wanted to fish, but noted a cleaner stretch funneling nearby.
He caught back-to-back 4-pound smallmouths, and then added another 3-pounder to his catch. His final weight of 16 pounds, 13 ounces, was again the heaviest of the day. His final total of 64 pounds, 2 ounces, was enough to pass Martens and give him the win by more than 2 pounds.
Biffle said the key to fishing the bug in the current was to keep it moving along the bottom downstream with the flow. He had to reel quickly to do so, and with the smallmouth picking the bait up and immediately swimming down current, Biffle's hookset required a combination of "jerking while backing up" to catch up with the fish for a solid connection.
The last time Biffle won a June B.A.S.S. event, a 2010 Elite Series tournament on Ft. Gibson Lake in Oklahoma, he followed it up immediately with a win of a PAA tournament in Tennessee. He's hoping to do that again, this time with his sights set on a FLW Tour event scheduled for Tennessee's Chickamauga Lake later this week.

Chickamauga has been producing big bass and big tournaments weights since last winter, and Biffle is looking forward to enticing some of those brutes with prototypes of a brand new 5-inch version of his signature Biffle Bug series, called the Big Bug.
"This is a size that I've been wanting for a long time. I'm thinking Chickamauga is going to be a great place to give it a real good introduction to some big bass," Biffle said.
The 5-inch Biffle Big Bug, along with a brand new 1-ounce HardHead, are among several new items being introduced by Gene Larew Lures next month in Las Vegas at the fishing industry's annual ICAST trade show.
For more information on Larew and its full line of products, visit www.GeneLarew.com.