Big Bite Baits is proud to introduce the YoDaddy, the first signature bait from pro staffer Russ Lane. For the last year Russ has been working with Big Bite to create a versatile new shape that could be used in a variety of ways.
Russ designed the YoDaddy to be a multi-purpose bait. Two primary features that Russ wanted to incorporate into the YoDaddy were a bait that could be flipped and fished in heavy cover but in return would give the fisherman a higher hooking percentage, and the bait had to have a lot of action with minimal movement.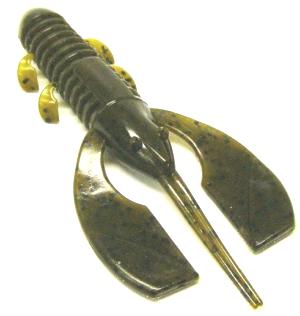 He took in consideration how the bait had to sit on the hook and how the hook point had to come out of the bait easy to get the best hook penetration to up your odd in getting more bass out of heavy cover. Russ built the YoDaddy around a 5/0 straight shank Gamakatsu heavy flipping hook. One key feature of the YoDaddy is a flat spot where the hook exits the body. This was instrumental in getting the hook percentage to raise during the testing of this bait.
Russ says "that the key to winning tournaments is hooking percentage, the fisherman that can land more fish from heavy cover will cash more checks than a fisherman that have bass get off because the bait got in the way of the hook".
Another feature Russ was looking for was a bait that had a lot of action with minimal movement. He said "most craw baits on the market now take a lot of movement to get any action out of the craws or legs". After several different proto types the legs have more movement no matter what weight is used. The flappers also feature a squared off design that contributes greatly to the easy moving action. This option makes the YoDaddy a perfect choice to fish as a trailer on the back of a swim jig or as a football trailer.
The YoDaddy is 3 1/4inches long and comes in 11 different Big Bite top fish catching colors.
Big Bite is the premier choice of fishermen in both saltwater and freshwater for soft plastics. When you are looking for a Big Bite on the end of your line then use Big Bite Baits.
For more information about Big Bite Baits please contact Scott M. Petersen speter1003@aol.com or log onto www.bigbitebaits.com