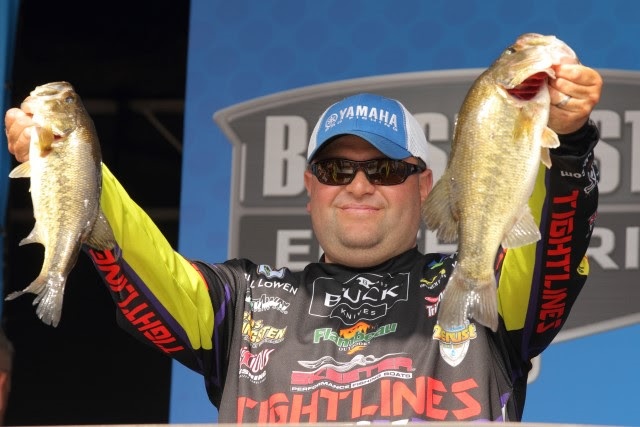 Sylacauga, AL -When North Bend, Oh. pro began his Elite Series career in 2006, one of the members of his sponsorship portfolio was Davis Bait Company. Now, as he prepares to enter his ninth Elite Series campaign, and another trip to the Bassmaster Classic; Lowen has rejoined the Davis Bait Company team.
William Davis, the founder of Davis Bait Company, said that he is pleased to welcome Lowen home. "I've known Bill for a lot of years and he has always been a part of the Davis Baits family as a person," he said. "His kind spirit and fun personality have always made him someone I have enjoyed being around, and his skill and resume as an angler are the icing on the cake."
Davis said that he is looking forward to working with him on new projects for the company with Lowen. "Bill is known as a shallow water angler, and his name is synonymous with jig fishing of all types," he said. "We have already begun working with him on new projects and we can't wait to release them to the public."
Lowen echoed Davis' thoughts about feeling like he was returning home. "William is always the kind of guy to make sure that his people are getting the most out of their opportunities; even if it means going elsewhere," said Lowen. "He told me that if I ever had an opportunity to do something, I should try, and also that if I wanted to, I should feel free to come back; and now is the perfect time."
The six-time Bassmaster Classic qualifier said that he missed the had missed the quality of Davis Baits' products and is looking forward to working with those capabilities again. William has always done such a great job making every product that comes out of the shop," he said. "Everything he does is premium quality, from his mastering, to his casting and his finishes, he is always right on the money, and I'm looking forward to his products being staples in my tacklebox again."
Look for a series of Davis Bait Company Bill Lowen signature products to be available soon. To keep up with announcements of those projects as well as all of the Davis Bait Company projects, visit them at www.davisbait.com.
About Bill Lowen
From Brookville, Ind. Bill Lowen is a six-time Bassmaster Classic qualifier and has competed in the Bassmaster Elite Series since its inception in 2006. Lowen has 58 B.A.S.S. top-fifty finishes and 11 top-ten finishes including 2 runner-up finishes in Bassmaster Elite Series competition.  Bill interacts with fans on his Facebook page at www.facebook.com/TurtleLowen on Twitter @BillLowen.  His website is www.BillLowen.com
About Davis Bait Company
Founded more than 20 years ago, Davis Bait Company is the inventor and innovator of the Shaky Head, the Shaky Worm and the technique of fishing Shaky Heads. The brand, a division of Davis Industries; which also manufactures OEM products for companies throughout the fishing industry, also produces a full line of jigs, X Wire Spinnerbaits, School Bus Rigs, Shaky Fish Heads and Shaky Fish Baits as well swimbait hooks. Look for Davis Baits at your favorite tackle retailer or online at www.davisbait.com.