Again we looked at some awesome baits in Las Vegas at the ICAST show. One company that caught our attention was Bitin' Titan, the only patented titanium bodied baits on the market.
The Bitin' Titan spoons are stronger then steel, yet lightweight. Because the spoon is titanium it will not rust or corrode. Because of it's light weight the spoons will flutter and flashes at the slowest speeds yet become extremely animated when fished more aggressively or trolled at higher speeds.
Use selected weights or Carolina rig for casting. The Bitin' Titan Spoons currently come in two sizes, 2 7/8" and 3 3/4". 
Because of its patented titanium blade, the Bitin' Titan Spinner Bait affords the angler more versatility, durability and strength then steel blades.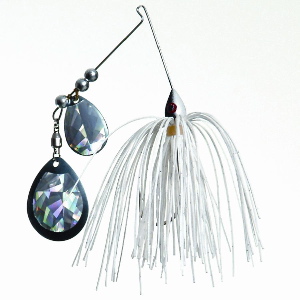 The lightweight titanium allows the blade to keep working at slow speeds, while still transmitting vibration through the line for angler contact. Increasing the speed magnifies the thumping vibration for even better feel and contact.
Electrochemically charging the metal induces the color. The results are natural color, which are less intrusive to the species we hope to catch.
Once again keep in mind that Titanium will not rust. The blades of the "Bitin Titan" Spinner Bait are guaranteed to be rust-proof.
For more information about Bitin' Titan Titanium baits send email to mark@bitintitan.com or visit their website at www.bitintitan.com.