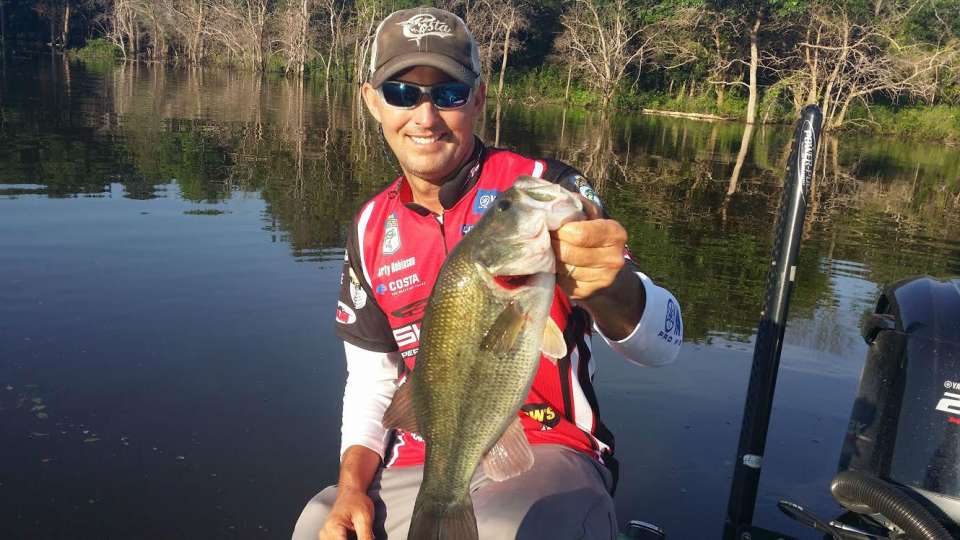 Photo Bassmaster / Bassmaster Marshal Jim Byrd
All eyes will be on Lake Hartwell when the Bassmaster Classic competitors roll into town. Fans and competitors alike will travel across the country to be part of the tournament and expo.
One professional angler will travel just over an hour to the event and would be a favorite to win, if he was competing.
Bassmaster Elite Series and Major League Fishing pro Marty Robinson has a wealth of experience fishing Hartwell and offers insight on what it will take to win this event.
"If I was fishing this Classic"
While undoubtedly Marty would rather be offering his predictions as a competitor, his outsider perspective, and experience at Hartwell offer great insight for this tournament.
"Knowing what I know now, and how rough the winter has been for us around here, I expect pre-spawn fish to be a major factor," he begins. "It has been really cold, but a few warm days right before the Classic could move the fish up shallow very quickly. Even if some of the fish move up, I think there won't be enough fish shallow to last for the three days of the tournament."
As a comparison, last year the area had a mild winter and there were several warm days before the FLW Tour visited at the same time of year.
"There were a lot of spawning fish caught and the majority of the field was fishing shallow. I really don't think that is going to be the case this year," adds Robinson.
How Marty Robinson Would Fish the Classic
Robinson was quick to say a crankbait and jerkbait would be his two top patterns if he was fishing this tournament.
"It is a good crankbait lake in late winter and early spring and I would fish a crankbait around rock, bluffs, and channel swings," he says. "I would use a Luck-E-Strike G5, which is an awesome cold-water crankbait. One thing I do is downsize to 8-pound P-Line 100% Fluorocarbon to get the bait a little deeper than everyone else."
A jerkbait is a given for pre-spawn bass and Robinson says he would definitely have one rigged up.
"I like the Luck-E-Strike Rick Clunn STX Jerkbait and do the same thing and downsize my line. This time of year I always rig up several rods with 8-pound just to get my bait down a little bit deeper," says the South Carolina pro. This time of year he focuses on the same areas as he does with a crankbait, but also fishes it above the many submerged brushpiles on the lake.
Besides these two moving baits, Robinson says a jig is a must for pre-spawn Hartwell bass.
"I would definitely have a Buckeye Lures Mop Jig rigged up, both for fishing rocks, bluffs, points and riprap," he says. This hardcover can be very unforgiving on line and Robinson says he spools up with 15 or 17-pound P-Line 100% fluorocarbon.
"The great thing about that line is that it is so strong that even if your line gets knicked, you won't lose fish. Rocks are going to fray any kind of line at some point and being able to land fish with line damaged by rocks is why I use P-Line. I don't worry about losing fish," he adds.
The Herring Bite
When talking about Lake Hartwell, the blueback herring are often brought up. The fish are a mystery to some in how they act as they roam throughout the lake and water column, but Robinson says they could be the key to victory.
"If someone finds the bluebacks out deep, the bass will be there and that angler could be on the winning fish. Everything in the lake eats bluebacks including the biggest bass and the angler that finds those big ones feeding on herring could win it all," he believes.
Weight Predictions and Three to Watch
The last Classic on Hartwell was won by Casey Ashley and took just over 50-pounds for the three-day event. Robinson said that weight should be right on the money again and also thinks Ashley is the man to beat.
"It will probably take around 17-pounds a day again and it is hard to pick against Casey. He's my roommate on tour, but he knows that lake better than anyone else in the field," says Robinson.
When asked to name two others to watch, he picked Aaron Martens and a darkhorse pick: Luke Gritter. "Aaron just gets that lake and it really fits his style," he says. "Luke is a great angler and fished the Elites one year and qualified for the Classic through the Bass Nation. He's a sleeper pick that could do really well."
While Robinson would rather be fishing this event, he does offer a unique perspective as someone who knows both the lake and competitors fishing the Classic very well. If his predictions are right, Casey Ashley may be adding another Classic to his name.