The Optimum Boom Boom line of swimbaits was designed by professional angler and big bait addict Fred Roumbanis.
There are now three different versions of this bait; a rigged version with a treble hook, a weedless version that comes in two sizes, and the newest, a line-thru that comes in three different sizes.
The new addition to the family is one that Roumbanis says is the most versatile and easiest to fish and he shared how he fishes the latest version… the Boom Boom Line Thru Swimbait.
The Most Versatile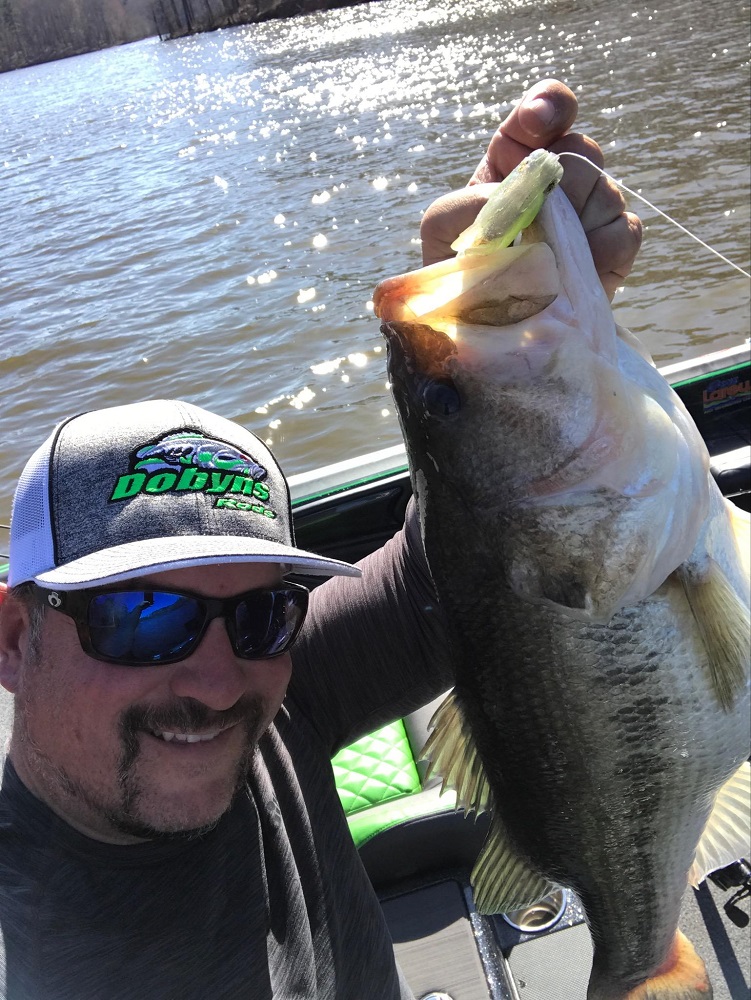 While each of the baits look similar, they fish differently, and one thing Roumbanis likes about the Line Thru is how it can be fished just about anywhere. With that said, he prefers to fish it from two to six-feet under the surface.
"The great thing about the line thru design is you can fish it a little slower and still have that hovering action that draws them from a long distance. This style also allows the bait to slide up your line when you hook one and that helps to preserve the bait so you can catch more fish on it," he added.
Conditions, Retrieves, and Where to Throw It
There are many times when swimbaits work, but Roumbanis says that wind is the one factor that helps.
"Ideally, I like bluebird skies with a little breeze. The bright sun is almost like trying to catch a baseball in the sky. You can see it, but can't get a great look at it. It is the same for fish because they can see the bait and feel the vibration, but they can't get too good of a look and just hit it," Roumbanis shared.
When it comes to retrieves for the Boom Boom Line Thru, a regular cast and retrieve will work, but Roumbanis does mix it up.
"I'll give it a little twitch, once in a while, to shake it and give the bait a little stutter. I will also slow it down some during the retrieve to let it fall a little bit."
Roumbanis fishes the Line Thru Boom Boom in many places but shared a few of his favorites.
"They work well when fished above the tops of trees. I also like to chase windy banks and fish it around main lake and secondary points," said Roumbanis.
Line Size Matters
As we chatted with Roumbanis, he was preparing for another tournament day, and he said he has the same bait rigged up on three different line sizes. He shared his rationale and how it affects the bait.
"I have the Line Thru rigged on 15, 17, and 20-pound fluorocarbon right now. With 20-pound it will get down to about two feet under the surface, 17-pound will get it down to about four feet, and 15-pound test makes it easier to fish down to around six-feet under the surface," he said.
Colors and Gear
There is nothing groundbreaking about how Roumbanis selects colors, and his approach follows the match the hatch theory to match the size and color of forage. He does, however, have some favorites.
"Last year, I was fishing Kentucky Lake, and the water was pretty stained, and I added a chartreuse stripe to the Ghost Minnow, and it was awesome, so we came up with Sexy Minnow that has the stripe already there, and that color has become my go-to in off-colored water," shared Roumbanis. "It is great for water that has one to two feet of visibility and with anything clearer, and I tend to rely on Ghost Minnow more."
Generally, on bright days, he likes lighter, natural colors and for cloudy days he switches to darker shades like Jackson Trout or PB Shad.
Roumbanis likes to fish these swimbaits on a rod meant for crankbaits and says there are several reasons why. The Dobyns Champion Series. DC 806CB is intended for big crankbaits, but he likes it for these baits as the long (8') rod allows him to launch the bait and he says it loads up great when a fish grabs it. He likes a 6.5:1 reel for the line thru, so he doesn't overwork the bait and adds that he wants a faster reel for the weedless version of the swimbait.
Four, Five, or Six-Inch?
The new Line-Thru comes in three sizes, and Roumbanis selects them based on forage size.
"When they are eating big gizzards or trout, it is always going to be the bigger sizes. The 4" is a fun bait to throw on a 10- to 12-pound fluorocarbon line when the fish are keying on smaller baitfish," added Roumbanis. "My kids love it too, and they even throw it on spinning tackle."
The Line Thru design for swimbaits has been around for years and has caught many bass over that time. Optimum Baits and Fred Roumbanis teamed up to make a new version of the popular Boom Boom lineup, and Roumbanis himself says it is the most versatile and easiest to fish bait in the group.