LOS ALTOS, Calif.,
– New from Boomerang Tool Company, "The Snip" offers anglers an innovative, convenient, effective alternative to awkward, easily misplaced line-cutting tools like scissors and nail clippers. Attach The Snip's integrated retractable nylon cord to your boat, tackle box, belt loop or vest, and you'll have a superior cutting device handy at all times.
Compact and durable, The Snip features precision serrated stainless steel jaws that slice through monofilament, fluorocarbon and braid like butter. It also boasts a built-in LED light, making it easy to see and cut line before sunrise, at dusk – even when night fishing.
But what really distinguishes The Snip from other line-cutting tools is its integrated, spring-loaded retractable "leash" – an innovation Boomerang first incorporated into its highly popular fishing pliers. This proprietary system allows the Snip to be attached virtually anywhere on your boat, or on your person, and extend 30 inches for use. When you're finished cutting, just lock The Snip's scissor blades in "safe mode" and the unit will automatically retract to its original position. Thanks to its retractor, The Snip is always there when you need it. You'll never have to search around for your cutting tool again, and since The Snip is always secured, there's no chance of losing it overboard.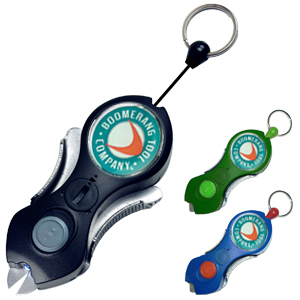 Although The Snip is about the size of your thumb and weighs a mere 1.25 ounces, it's big when it comes to performance. This amazing tool cuts all types of fishing lines – braid, fluorocarbon and mono – easily and efficiently. The super-sharp blades are made of "Grade 420" stainless steel, for a clean, smooth cut every time and maximum protection against the elements. Unsurpassed corrosion resistance, along with a rugged yet lightweight housing, make The Snip suitable for use in the most punishing freshwater and saltwater environments.
Boomerang's "integrated blade safety mechanism" lets you easily lock the blades in a closed position by squeezing the stainless steel handles on the side of The Snip's casing. Another squeeze of the side handles releases the blades into "scissor" mode for cutting duty.
Boomerang offers The Snip with or without the LED light feature, and in a variety of colors. While The Snip is a quality tool built to perform reliably over the long haul, with an MSRP of just $14.95 ($11.95 MSRP for the version without the LED light), it's priced to fit any fisherman's budget. Every Snip is also backed up by a one-year manufacturer's warranty.
To learn more about The Snip, or the complete line of unique Boomerang Tool Company products, visit: www.boomerangtool.com.
About Boomerang Tool Company
Boomerang Tool Company provides innovative, high quality, retractable tools to help you save time on the water. Boomerang's tools are ideal for both freshwater and saltwater use, so every angler can enjoy the advantages and conveniences they provide. Equipped with our products, you'll be able to focus on fishing instead of worrying about where your essential tools are. Boomerang Tools – there when you need them. Available products: fishing pliers, heavy-duty line cutters, knives and carrying pouches. Website: www.boomerangtool.com.
###