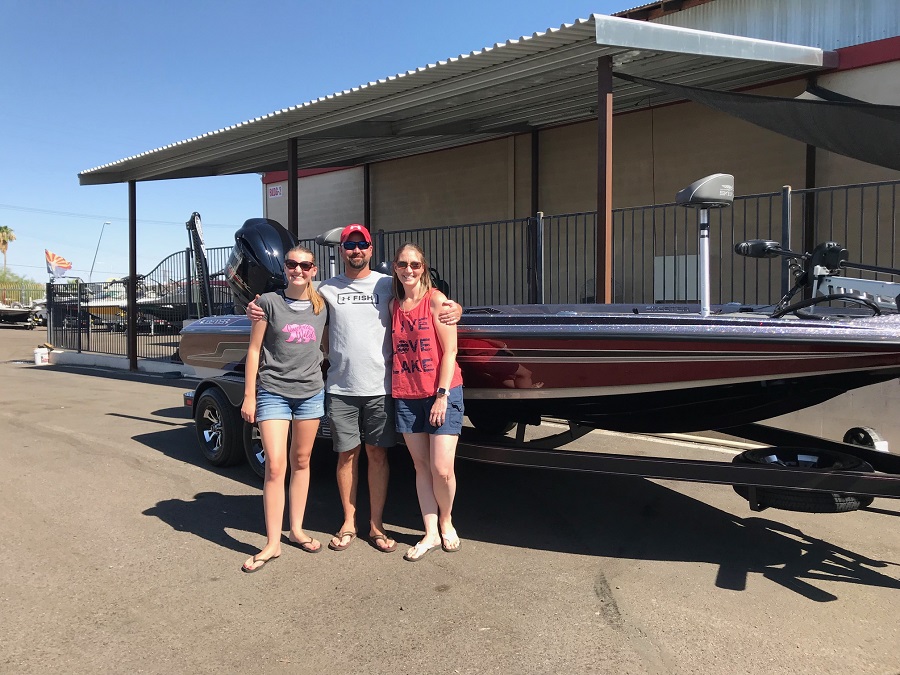 Photo: First Skeeter sale at Arizona location of Boulder Boats
Boulder Boats, a boat dealership with three locations in the west is now the authorized dealer for Skeeter bass boats in Arizona.
They already carry a large selection of Skeeter bass boats at their Visalia, California and Henderson, Nevada locations and will now offer the popular brand at their Mesa, Arizona location.
Boulder Boats has been in business since 2004 and offer excellent service to their customers and they also make it a priority to give back to the bass fishing community.
Skeeter in Arizona
Because of their success with the Skeeter brand in California and Nevada, they have been chosen to be the Skeeter dealer for all of Arizona.
"It has been amazing working with Skeeter and because of our performance, we now offer them in Mesa. We have already sold our first boat there and are looking forward to helping many more bass anglers get into a Skeeter," says Boulder Boats Marketing Director Greg Espinoza.
Bass Fishing Community Involvement
Boulder Boats is committed to working with bass anglers and have been active in Nevada and California and are actively looking for more partner organizations both there and in Arizona.
"Our contingency program has been highly successful and we are searching for local bass clubs and tournament circuits to support in Arizona," added Espinoza. "We support local clubs and select team tournaments with contingency and incentive programs. We are also working hard to make select tournaments within our territories eligible for the Skeeter Real Money program." The Real Money program rewards Skeeter/Yamaha owners for their success in sanctioned tournaments.
Boulder Boats is already working with the Cen Cal Elite Bass, Nevada Bass Anglers, Ultimate Bass Team Tour, Nevada Bass Nation Team Trail, Bass Angler Federation and the Las Vegas Bass Club.
Service
Boulder Boats has a full-service department at all three of their locations. The Mesa location offers 10 bays and the crew is certified with both Yamaha and Mercury. All three of their locations offer experienced technicians that can help resolve issues and get you back on the water quickly.
As a Skeeter dealer at all three locations, they have the ability to order any Skeeter boat you desire. Custom orders can be any color packages or options that Skeeter offers and the staff will do everything they can do get you into the boat of your dreams.
2018 Current Stock
The FX21 is 20'11" and features many great options as standard features. They include Dry Dock ventilation system to prevent mold and mildew in the compartments, a Lowrance Carbon 12 in the dash, and a Lowrance Carbon 9 up front. The boat also comes standard with a Minn Kota Fortrex 112.
The boat comes with two 8' Power-Pole Blades color matched to the boat's console pinstripe, interior deck, and seating. It comes also comes standard with a fully padded front deck, lighting upgrades and the Lowrance Sonic Hub 2. This is a boat built for the angler who wants the very best.
ZX250 (20'11" and ZX225 (19'11")
The ZX series from Skeeter boats also comes with many great standard options. Included is an 8' Pro Series II Power Pole, Lowrance HDS Elite TI electronics, and Minn Kota Fortrex 112 trolling motor.
2019 Skeeter Models
Boulder Boats will have the 2019 models available in mid-August but are already taking orders for the new models. "The 2019's will have some great new color schemes that they have not offered previously. All of the new FX and ZX models will also come standard with Humminbird electronics which allows for perfect integration with the Minn Kota Ultrex trolling motors," says Espinosa.
What Makes Boulder Boats Different?
The family-owned business does everything they can to serve their customers and communities around them.
"One thing that we do that is a little different is our on the water demos at the delivery of a customers boat. This gets the customer very familiar with their new boat," says Espinoza.
Consignments
Boulder Boats can help and get you one step closer to upgrading to a newer model with their consignment program. They will take care of the entire process of selling your old boat from taking photos to listing the boat on their website to completing the sale.
Boulder Boats has proven that they are committed to bass anglers and have been highly successful with the Skeeter brand and now with the addition of Arizona, they are poised to make a bigger impact. They have built their brand on supporting bass anglers and offering excellent customer service and will continue to do so with Skeeter in Arizona.