Bass Pro Brent Ehrler Masters the Shad Spawn With Gamakatsu Spring Lock Spinner
Tacoma, Washington- Professional bass fisherman Brent Ehrler uses Gamakatsu's Spring Lock Spinner to score big around the shad spawn. The California big bass specialist loads the spring lock with his favorite swimbait and hits the thick stuff, knowing the 2x-strong forged carbon steel hook will let him winch them right out of the heaviest cover.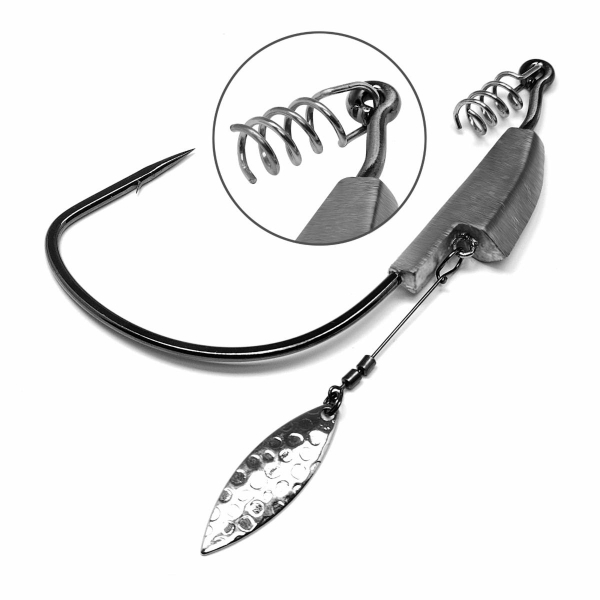 "Gamakatsu's Spring Lock Spinner really comes into its own around the shad spawn," says the veteran angler, who has taken more than two million in prize money during his 18-year professional fishing career. When shad start to spawn, he rigs the Spring Lock Spinner with paddle tails and other soft plastics to mimic shad and gets to work around the structure and in heavy cover where the big boys hide. The Extra Wide Gap provides plenty of room for the biggest baits, so he can use realistic imitations of the favored forage fish without worrying about hook sets.
"It's a great grass bait," explains Ehrler, who uses the bubble trail created by the blade to trigger strikes from bass hunkered down in the thickest grass. The Double Down Spring Lock bait screw uses two retaining wires wound in parallel to ensure the bait is perfectly aligned when it goes on—and stays there, no matter how tough the cover gets. But it's no one-trick pony, as the pro likes to vary his retrieve to squeeze some added attraction out of the blade. "I like to pop and snap it, which creates more sound and vibration when the blade smacks against the hook. It really triggers reaction strikes."
While the Spring Lock Spinner is perfect for targeting big bass around the shad spawn, its versatility makes it a go-to bait for Ehrler year-round. A wide variety of sizes and weights make it suitable for swimbaits, curly tails and paddle tails. Whatever you put on there, the 28-degree hook eye and premium spring lock keeps it in place, so it runs true every cast. "They never leave the boat. You can match the hatch in any lake by switching the soft plastic up. It's perfect just about anywhere, anytime rigged with a Zako,"
Grab your biggest plastics and hit the thick stuff with Gamakatsu's Spring Lock Spinner.
Spring Lock Spinner Features:
Nickel willow blade delivers flash and sound to lure predators from a distance
Double Down Spring Lock bait screw is an easier, more efficient way to keep soft plastics perfectly positioned
Extra-wide gap permits rigging the biggest baits with plenty of room to set the hook
Neutral weighting provides a tantalizing fall and erratic action that triggers bites
2x strong forged carbon steel hook stands up the hardest hook sets and biggest predators
Size 3/0 (3/16)
Size 5/0 (1/4)
Size 6/0, 7/0, 9/0 (3/8)
Size 10/0 (1/2)
Size 12/0 (3/4)
Color: NS Black
Qty/Pack: 1
For more information, visit www.gamakatsu.com
From humble beginnings as Japan's smallest fishing hook manufacturer in 1955, Gamakatsu® Ltd has evolved to become the world's preeminent hook manufacturer. Over the years, manufacturing upgrades and cutting-edge innovations have fueled Gamakatsu® USA's rise as a top producer of fishing hooks, apparel, and fishing related items.
When anglers purchase Gamakatsu® hooks, they are buying an original product made exclusively by Gamakatsu®. Gamakatsu® is continuously testing new materials and striving to improve their products, which already sets the standard for the rest of the industry.
For more information, please visit