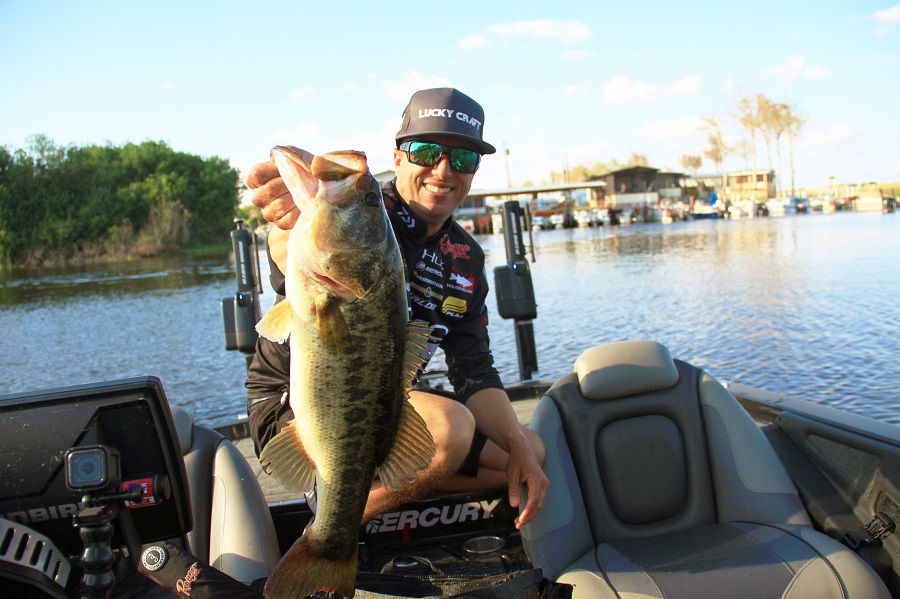 Photos: Ricky Bodsford
Western Elite Series pros Brett Hite and Brent Ehrler share many similarities. Both started by dominating west coast regional events before taking on the national bass tours. The two anglers will also both be competing in the upcoming Bassmaster Classic on Lake Conroe in Texas and each has a plan to bring the trophy back to the west.
Lake Conroe Thoughts
The general consensus of Lake Conroe is that it harbors giant bass. Brent Ehrler has fished it several times for TTBC events and expects the big ones to cross the stage in Houston. "I have never done really well there, but it has always been a different time of year and in the fall when the water is really low. We are hitting it perfectly and there should be multiple ten-pounders caught and I wouldn't be surprised to see a 13-pounder weighed in," he says.
Hite, on the other hand, has no experience on the lake but has been doing his research. "I have never fished it before or even seen it. I know it is a much smaller reservoir compared to the lakes we are used to fishing," says Hite who adds that the lake is very populated. "There are docks around a good portion of the lake."
The lake has plenty of docks and Hite feels they are the right kind, "One thing I like about the docks here is that they are stationary and not floating docks. This means there are fewer cables under water to get hung up on and the dock poles themselves are a perfect place for bass to post up and relate to."
Targeting Seawalls at the Bassmaster Classic
In addition to docks, the homes around the lake have built miles of seawalls. These offer a great place to target bass. "Each time I have been there the water was so low that they didn't become a factor, but this time of year the bass should be right up next to them or even spawning by them," says Ehrler. The way he approaches them is usually with a Yamamoto Senko cast parallel to the seawall. "You can just cast it, let it sink and then reel it back if you don't get one. They usually will hit it as it is falling," he shares.
A Senko is a Must at the Bassmaster Classic
The Senko is a staple for bass anglers from weekend fisherman to top pros. "No matter where you go this time of year if you don't have a Senko tied on you are behind the 8-ball," says Hite. He knows the effectiveness of the bait and plans to have at least one tied on at all times. For him, he alternates between the 5 and 6-inch versions.
Ehrler agrees and plans to stick with the 5" size and will fish it both weightless and with a small tungsten worm weight. "It just catches fish. Period," he says and adds that he will mostly be targeting docks and brush piles with the soft plastic.
Vibrating Jigs for the Bassmaster Classic
Vibrating jigs are a springtime favorite and Brett Hite is known as one of the best in the world at using them. "The Evergreen Jackhammer is one of my go-to baits and with a Yamamoto Zako as a trailer it skips very well under docks," he begins, "There are not a lot of reaction baits that you can skip but this skips great." He credits the trailer style as well as the blade configuration and placement for the skipping ability.
Wacky-Rigs, Shaky Head and Neko Rigs at the Bassmaster Classic
Although the lake is home to giant bass, finesse tactics could play a role in the event according to Hite and Ehrler. "One of the best baits for a shaky head is a Yamamoto Pro Senko. The 6.75" version is a big deal on a shaky head and is great for fishing brush piles and around docks," says Ehrler.
Hite plans to rely on a 6.5" Kut Tail worm and will either rig it weightless wacky style or with a nail weight inserted into the end. "That will all depend on how the fish are acting," he says about his rigging choice. "If they are suspended or up shallow I won't add the weight, but if are deeper I will definitely add some weight."
Pitchin' and Flippin' at the Bassmaster Classic
Anytime there is a shallow bite these techniques shine. Conroe is set up great for these approaches and the docks, laydowns, brush and more all offer a perfect target.
Ehrler will either use a jig or a Texas-rig in these situations and will have them both ready to go. "The Flappin' Hog is great for laydowns, shallow wood and docks. I'll fish a jig with a green pumpkin 5" Yamamoto Double Tail as a trailer in the same places and will also skip it under docks," says the California pro.
Brett Hite and Brent Ehrler have a plan that covers just about everything they may face in this year's Classic. They both plan to target shallow bass and contend for the biggest prize in bass fishing.