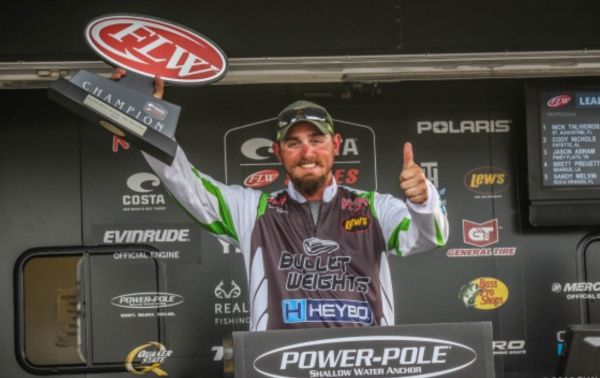 ALDA, Neb. – Bullet Weights® congratulates Nick Thliveros on winning the Costa FLW Series 2019 season opener for the Southeast Division on Lake Okeechobee in Florida.
Thliveros is starting his fourth year as a bass fishing professional in the Costa FLW Series. Bullet Weights has sponsored him since 2016.
On the last day of the tournament, Thliveros fished with a 1/32-ounce Bullet Weight to catch his limit. He also used tungsten skirt punch weights during the three-day competition. Thliveros noted that Bullet Weights products have not been the only means of support from the company.
"Bullet Weights was my first sponsor," Thliveros said. "They stand behind me and provide the backing I need to compete. When I'm on the road and need a product, they get it to me quickly, always on time. They were one of the first to congratulate me after I won the tournament. I feel like one of the family and take a lot of pride in having Bullet Weights on my jersey and boat."
Bullet Weights President Joe Crumrine commented, "Congratulations to Nick on starting the season with a big win. He is a great representative of our brand and the Bullet Weights family. We're pulling for him to catch a lot more fish and do well in the tournaments ahead."
The Costa FLW Series tournament on Lake Okeechobee was held January 31-February 2. For the complete story on Thliveros' victory, go to www.flwfishing.com/news/2019-02-02-thliveros-brings-it-home.
Headquartered in Alda, Nebraska, Bullet Weights is a leading manufacturer of fishing sinkers and accessories. The company offers fishing sinkers made of lead, steel (Ultra Steel®), tin (Ultra Tin™), tungsten and brass. Bullet Weights products are available in fishing tackle retailers, sporting goods stores and sporting goods departments of mass merchants. For more information, visit www.bulletweights.com.