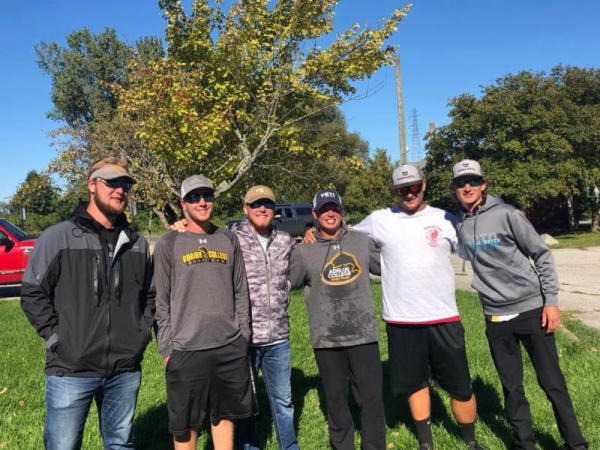 SAN ANTONIO, TX - Two months into the
school year, and the race for Cabela's School of the Year presented by Abu Garcia is beginning to heat up. Currently Adrian College has a strong hold on 1st place, but the rest of the team in the top ten are separated by only 600 points. We've seen in the past that teams that jump out to a strong lead can often hold off the challengers the rest of the year, however, there are so many major events on the horizon that nobody can predict what's ahead.
The first major event of the year, the AFTCO Collegiate Bass Open, will be held this week and will most certainly shake up the standings from top to bottom. The event will be at Lake Dardanelle in Russellville, AR and already has a large field of teams from across the nation registered, including Adrian College, Grand Valley State University, Murray State University, McKendree University, and 2018 Cabela's School of the Year winners, Bethel University.
Set to take place October 12th-13th, the AFTCO Collegiate Bass Open is the first tournament of the 2018-2019 Cabela's Collegiate Bass Fishing Series. Since this is an Association of Collegiate Anglers (ACA) event, the amount of SOY points on the line this week will be doubled. The overall winners will earn 500 points, teams finishing from 2nd-100th will earn SOY points, and schools with multiple teams finishing in the top 100 will earn points for their two highest finishing teams. This means that if a school finishes in 1st and 2nd place at the AFTCO Collegiate Bass Open, they will earn 995 total points.
One school looking to take advantage of this points system and add to their current points total is Adrian College. This marks the third update in a row in which the Michigan anglers sit atop the Cabela's School of the Year presented by Abu Garcia. With a total of 2,345 points, Adrian College has a 470-point lead over 2nd place. "There is no doubt that being in the lead is where you want to be. It definitely generates some additional excitement within our team, as well as our team sponsors," says Head Bass Fishing Coach Seth Borton.
To continue reading, click here.