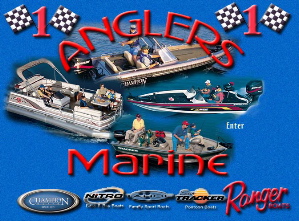 ANAHEIM, Ca - Anglers Marine showcases a ton of product at the 19th annual Bass-a-Thon November 12 and 13, none more so then a fabulous lineup of bass boats highlighted by Cash Match. Rick Grover and staff will have incentive laden deals from Ranger Boats, Champion Boats, Nitro and Tracker Boats.
Starting with Ranger Boats, Anglers Marine has an exclusive offer of the popular Z- Series boat. Ranger will match $1000 for any boat buyer who puts down $1000 on any Z-Series boat during Bass-a-Thon.
In addition, there will be special close out pricing on all remaining 2005 Rangers in stock. The VS/VX and Reata models left on the showroom floor will earn a $500 Cash Match. Choose any 2005 model Ranger and get a FREE Custom Ranger boat cover, a $750 value and get a $250 clothing voucher to boot. They've also set up special Bass-a-Thon financing from Bank of America.
Anglers Marine is proud to welcome the men behind the legends with Ranger Boats as well. Founder Forrest L. Wood will be on hand to sign autographs and he'll be back by President Randy Hopper, Sales VP Ketih Daffron and Tournament Manager Scott Arms. As always West Coast Sales Manager Keith Tripp will be there to help you select the right Ranger Boat.
Cash Match will be going on all over the Angler Marine showroom and it will also extend to Tracker and Nitro Boats. $1000 Cash Match on all Nitro NX482, 591, 901, 929 and 911 Boats.
$500 Cash Match on all Tracker Pro Team 175, Pro Team 190, TV-18 Avalanche, Tundra and Targa models. Low monthly payments make Tracker a great choice with payments starting as low as $165.50 per month to $256.39 on these boat models.
Champion Boats will also be included in the Cash Match deals at Bass-a-Thon with a $1000 and $500 Cash Match of your down payment on select boats.
Bottom line is this Cash Match Spectacular is the best time to purchase a new boat and it will only be offered for two days, November 12 and 13 at Anglers Marine 3475 E. La Palma in Anaheim. Check out their website at www.anglersmarine.com.