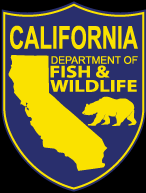 The California Department of Fish and Wildlife is proposing a number of changes to trout fishing regulations to make them easier to understand, and to better align regulations with management objectives on each water. You may view the proposed changes to specific waters here:

Table of proposed changes to waters with special fishing regulations (section 7.50) (PDF)
Compare changes to our existing trout fishing regulations:

California Freshwater Sport fishing Regulations, 2019-2020 (PDF)
Help us by providing comments with our online comment form.
Upcoming Meetings
The Department of Fish and Wildlife will host a series of statewide meetings to inform the public and seek input on the proposed new statewide changes for trout fishing regulations.
The meetings will focus on the following key areas:
Objectives of the new regulation framework and species management goals
Parameters of the regulation standardization and consolidation process
Review of specific proposed changes to regulations
Department of Fish and Wildlife personnel will be available at information stations to answer questions and listen to stakeholder interests, needs and ideas. All stakeholder input will be taken into consideration as a regulation simplification package is developed for formal public review through the California Fish and Game Commission.
Meetings will be held on the following dates:
Wednesday, March 20, 2019
6:00 - 8:00 p.m.
Talman Pavilion, Tricounty Fairgrounds, 1234 Fair St., Bishop
Wednesday, March 27, 2019
6:00 - 8:00 p.m.
Redding Library Community Room,1100 Parkview Ave., Redding
Wednesday, April 3, 2019
6:00 - 8:00 p.m.
Betty Rodriguez Regional Library, 3040 N. Cedar Ave., Fresno
Saturday, April 6, 2019
Noon - 2:00 p.m.
Bass Pro Shops, 7777 Victoria Gardens Lane, Rancho Cucamonga
Wednesday, April 10, 2019
6:00 - 8:00 p.m.
Colonial Heights Library Community Room, 4799 Stockton Blvd., Sacramento
Tuesday, April 23, 2019
6:00 - 8:00 p.m.
Truckee-Tahoe Airport Community Room, 10356 Truckee Airport Road, Truckee
A live stream or conference line will not be available. As new material becomes available it will be placed here.