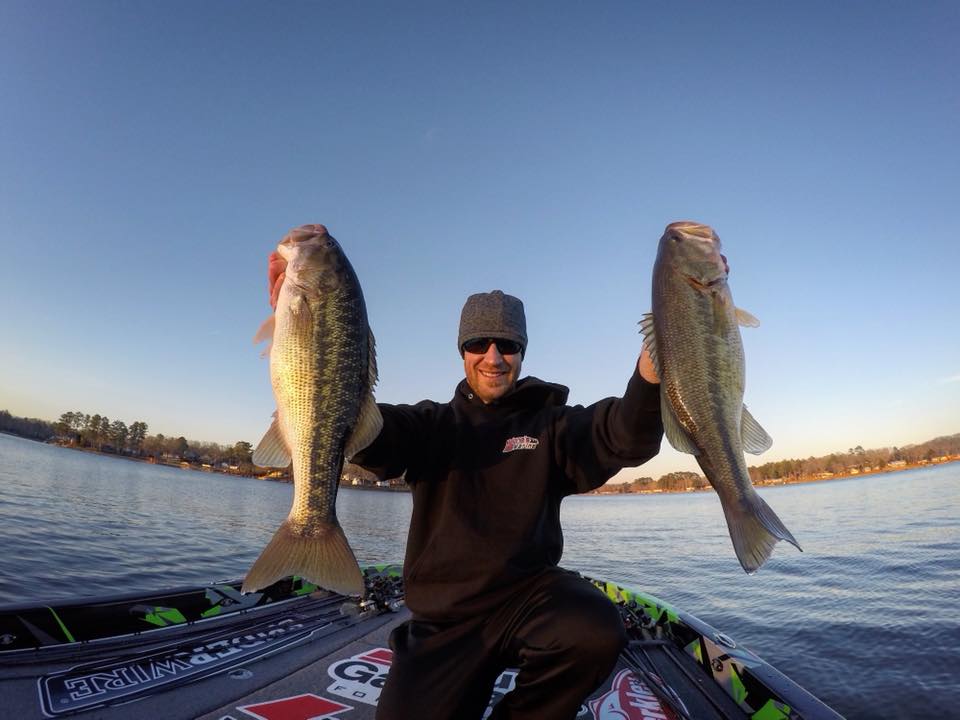 Cold Water Reaction with Hunter Shryock
When the water is cold, many anglers turn to finesse and slow down their presentations.
This approach will work, but reaction baits like jerkbaits and crankbaits allow anglers to cover more water in a faster manner and still put fish in the boat.
Bassmaster Elite Series pro Hunter Shryock counts cranking and jerking as two of his favorite ways to fool cold-water bass.
Boat Positioning and Where to Throw a Jerkbait
Shryock says his preferred way to fish a jerkbait is going parallel down the bank.
"First I want to figure out what depth zone they are in and then I can keep my boat in that depth and maximize my time where the fish are," he shares.
When it comes to jerkbait locales, he is looking for 45-degree banks, channel swings, and anywhere with baitfish present.
"Usually the best places have some type of rock. It can be flat slate rock or chunk rock that is the size of softballs or bigger rocks the size of basketballs," says Shryock.
Jerkbait Gear
The conventional thinking with jerkbait fishing is to use a slightly shorter rod to allow anglers to rip the bait without hitting the surface of the water. Shryock agrees with this and uses a rod designed for jerkbaits, an Abu Garcia "Ike Series" Delay that is a 6'4" medium-action rod.
"At first, I thought this rod was going to be way too short, but I really like it because the handle is shorter, and it is easier to work a jerkbait than using a longer rod. It also has a great bend and since it more limber you do not lose as many fish," he believes.
He likes an 8.1:1 Revo AL-F and spools it up with 8-pound Berkley Trilene 100% Fluorocarbon. For the jerkbaits themselves, he has some favorites.
The Berkley Skinny Cutter 110+ and Berkley Skinny Cutter 110+ Shallow are his top two jerkbaits. He also modifies the baits with weights and different hooks if he wants to get a different presentation, diving depth or suspending action.
"Those are both great baits, and I change between them based on the depth I am fishing. They have tons of great colors, but Blue Vapor and Table Rock are two of my favorites," he says. "I like solid colors on cloudy days and switch to the more transparent colors when it is bright and sunny."
Shad Crankbaits
Flat-sided shad profile crankbaits have long been a popular choice for cold-water bass fishing, and Shryock throws them a bunch.
"Cranking these during the winter is one of my favorite ways to catch them. I like to fish them slow and barely bang into cover, almost like you are counting the rocks on the bottom," he begins.
His bait of choice is the Berkley Bad Shad, and since it is plastic instead of the many balsa versions in this category, he can cast it much better.
"I use both sizes they make, but the Size 7 (2.75") is my first choice. Predominately I am using craw patterns, and they have some excellent ones," says the Ohio pro.
He has learned that slight temperature changes can turn this pattern on even in the dead of winter.
"You may get a one-degree change in warmer water, and those fish will slide up and start to look for food. I look for places like the ends of bluff walls, and the Bad Shad is great for cold water fish because it has that nice tight wiggle," adds the Bassmaster Elite Series pro.
Cranking Gear
Even though the bait is heavier than balsa baits, it is still reasonably light. The Bad Shad Size 7 only weighs 1/3-ounce. This lightweight design makes spinning gear a near necessity.
"I fish it on a spinning outfit the Revo Winch Spinning Reel is perfect because it has a very slow retrieve and forces me to slow down my retrieve," he says of the 4.7:1 gear ratio reel.
"I pair it with an Abu Garcia Veritas 7' medium Winch cranking rod, and it allows you to cast that light bait quite a way."
He prefers 8-pound Trilene 100% fluorocarbon for these baits and has one piece of advice: retie often. "You want it to be hitting those rocks, and that will do damage to a light line, so I am retying and checking my line all the time," he adds.
Crankbaits and jerkbaits will catch fish at any time of the year, but during the coldest months of the year, they can out produce many other techniques. Knowing where to fish them and having the right gear can go a long ways towards successful cold-water reaction fishing.