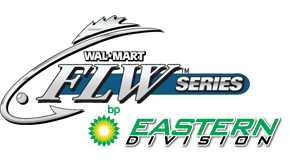 DECATUR, Ala. (March 29, 2008) – National Guard Pro Ramie Colson Jr. of Cadiz, Ky., caught a five-bass limit weighing 17 pounds, 2 ounces Saturday to win $125,000 in the $1 million Wal-Mart FLW Series® BP Eastern Division tournament on Wheeler Lake with a four-day catch of 20 bass weighing 59-02.
The catch gave him the dramatic win by a slim 1-ounce margin over Brad Hallman of Norman, Okla., who caught a total of 20 bass weighing 59-01 and earned $45,292.
"I never thought it would happen," said Colson, who has amassed over $296,000 in FLW Outdoors events. "I never imagined I'd catch the kind of fish all four days it would take to win."
Colson opened the tournament in 49th place Wednesday with five bass weighing 11-10. On Thursday he added another five bass weighing 16-04 using a jig to capture his lead. He then caught five bass weighing 14-02 throwing a jig near rock in 4 to 8 feet of water in bays Friday to make the crucial top 10 cut in second place. On Saturday he sealed his victory with the same 5/16-ounce jig.
Going into the final weigh-in, Colson said he felt good about what he caught.
"I knew it was within reach when I caught that big fish," Colson said. "When I heard Hallman put 19 pounds in the basket, I knew right then I was done for, because I thought I only had about 15 or 16 pounds. I was very shocked when I put my fish in and saw 17-02 on the scale."
Colson snagged his fish today in one of the spots where he caught a 3-pounder during practice. He attributes his first FLW Series win to being relaxed and focused.
"I was sitting down, just fishing the way I like to fish," Colson said. "I had everything mentally blocked out and didn't worry if there was somebody coming out there; we'd talk and they'd leave, and I'd go right around to where they were and get a fish."
Rounding out the top five pros are Dan Morehead of Paducah, Ky. (20 bass, 56-09, $36,234); Keith Combs of Del Rio, Texas (20 bass, 56-03, $27,175) and Andy Morgan of Dayton, Tenn. (20 bass, 55-13, $18,116).
Jake Deeds of El Dorado, Ark. caught the biggest bass of the tournament in the Pro Division Wednesday – a 7-pound, 10-ounce bass – that earned him the day's Snickers Big Bass award of $452.
Overall there were 45 bass weighing 121 pounds, 7 ounces caught by 10 pros Saturday. The catch included eight five-bass limits.
Derrick Snavely of Rogersville, Tenn., won the Co-angler Division and $25,000 Friday with a three-day total of 14 bass weighing 35 pounds, 1 ounce followed by Rodney Chmolack of Phenix City, Ala., in second place with 15 bass weighing 30-05 worth $9,314.
Snavely opened the tournament in third place Wednesday with five bass weighing 14-02 while fishing with pro Jason Hampson of Cartersville, Ga. On Thursday he jumped to first place on the strength of a four-bass catch weighing 8-13 while fishing with pro Jim Dillard of West Monroe, La. He wrapped up the win Friday with a five-bass catch weighing 12-02 while fishing with pro Kenny Holloway of Eatonton, Ga.
"I had three great days, using different baits each day," Snavely said. "I really just had to adjust to the way the pros fished. The Lord really blessed me. I had two in the boat at 10:30 this morning when I caught my biggest right on the bank off a big rock."
Snavely caught his fish flipping a 3/8-ounce jig around docks Wednesday, and caught his biggest fish Thursday on a Buckeye Spot Remover/shaky head worm. His best fish today came on a Mimic crankbait.
"I'm just speechless," Snavely said. "My pros were just awesome. Jim Dillard was like a vacuum cleaner going down the bank Thursday; he pulled me into two little pockets and actually sat there on the trolling motor, without casting, telling me where to throw it. I can't thank him enough."
Rounding out the top five co-anglers are Bill Niesciur of Glen Carbon, Ill. (15 bass, 30-02, $8,381); Kevin Koone of Greenbrier, Ark. (15 bass, 29-06, $6,985) and Teddy Bradley of Mishawaka, Ind. (15 bass, 29-06, $6,985).
Jason Seaton of Martinsville, Ind. caught the biggest bass of the tournament in the Co-angler Division Wednesday – a 7-pound, 10-ounce bass – that earned him the day's Snickers Big Bass award of $280.
Coverage of the Wheeler Lake FLW Series tournament will be broadcast to 81 million FSN (Fox Sports Net) subscribers in the United States as part of the "FLW Outdoors" television program airing May 4. "FLW Outdoors" is also broadcast in Canada on WFN (World Fishing Network) and to more than 429 million households in the United Kingdom, Europe, Russia, Australia, Africa, Asia, and the Middle East through a distribution agreement with Matchroom Sport, making it the most widely distributed fishing program in the world. The program airs Sunday mornings at 11 Eastern time in most markets. Check local listings for times in your area.
The next FLW Series BP Eastern Division tournament, hosted by City of Plattsburgh – New York, will be held Sept. 10-13 on Lake Champlain in Plattsburgh, N.Y. Boats will launch from Dock Street Landing in Plattsburgh and the final weigh-in will be held at a Wal-Mart location in Plattsburgh.
After four qualifying events are complete in the BP Eastern Division, the top 30 pros and 30 co-anglers will advance to the BP East-National Guard West Fish-Off Nov. 20-22 at a yet to be announced site. There they will face the top 30 pros and 30 co-anglers from the National Guard Western Division for a shot at advancing to the $2 million, 2009 Forrest Wood Cup. The winning pro at the Forrest Wood Cup will earn as much as $1 million – the sport's biggest award.
Tournament pros aren't the only ones winning big this season. With the introduction of FLW Fantasy Fishing™, FLW Outdoors® offers anyone the opportunity to enter for their chance to land the catch of a lifetime with the opportunity to win $7.3 million in cash and prizes. Players can become a virtual pro angler by signing up for Player's Advantage, providing them with exclusive insider information that could guide them to a $100,000 victory at every Wal-Mart FLW Tour® stop and the Forrest Wood Cup. Player's Advantage will give them an edge over the competition and increase their shot for a $1 million cash grand prize that will be awarded to the FLW Fantasy Fishing cumulative points winner.
Those who visit FantasyFishing.com today can sign up for Player's Advantage and FLW Outdoors will include a $15 Wal-Mart gift card.
FLW Outdoors, named after Forrest L. Wood, the legendary founder of Ranger Boats, is the largest fishing tournament organization in the world. In 2008 alone the organization is offering more than 90,000 anglers the chance to win over $40 million through 230 tournaments in 10 circuits targeting bass, walleye, redfish, kingfish and striped bass. FLW Outdoors is also taking fishing mainstream with the largest cash awards in the history of fantasy sports, $7.3 million.
For more information about FLW Outdoors and its tournaments, visit FLWOutdoors.com or call (270) 252-1000. For more information about FLW Fantasy Fishing and Player's Advantage, visit FantasyFishing.com.
FLW Outdoors historically maintains a 98 percent live release rate in all of its bass tournaments.