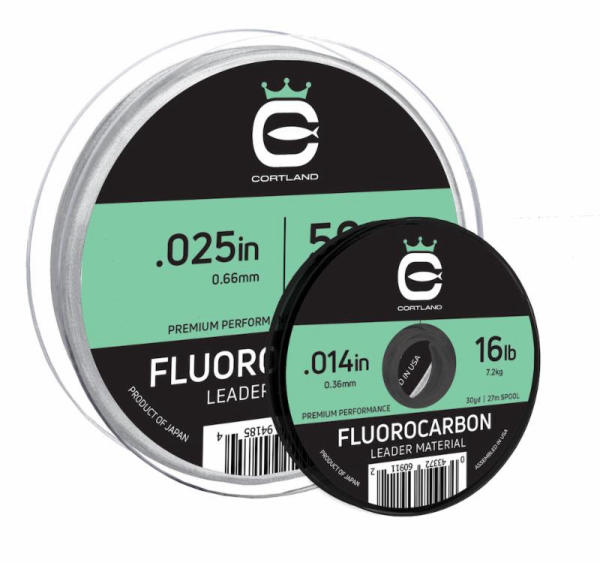 Cortland, NY - Cortland's new Fluorocarbon Leader Material is the latest addition to the ever growing family of World Famous Fishing Line. Manufactured using the latest technology and proprietary blends of material, Cortland Fluorocarbon Leader Material is offered in thirteen different sizes. The smallest is a super fine 6# test at 0.007" diameter all the way to a super stout 100# at 0.041" for big game applications.
Cortland's Fluorocarbon Leader Material formulation has nearly the same light refractive index as water, creating a line that becomes virtually invisible. This unique feature makes Fluorocarbon the premier material when fishing clear water or targeting wary species.
Fluorocarbon material has a density much higher than standard nylon monofilament, resulting in high abrasion resistance. The glass smooth surface allows for "uniformed seating" of knots resulting in superior knot strength for all purposes.
Cortland's new Fluorocarbon Leader Material is ideal for anglers that prefer to tie their own leaders or for use as a shock tippet.
Cortland's Fluorocarbon Leader Material incorporates a glass smooth, virtually invisible finish with superior knot strength and abrasion resistance. Cortland's proprietary blend of fluorocarbon is designed specifically for the demands of hardcore anglers and the species they pursue.
FEATURES:
Virtually Invisible
High Abrasion Resistance
Glass Smooth Finish
Incredible Knot Strength
SPECS:
6, 8, 10, 12, 16, 20, 25, 30, 40, 50, 60, 80, 100
30 Yard Spools (MSRP - $12.95 - $59.95)
100 Yard Spools (MSRP - $29.95 - $174.9
For over 100 years, Cortland Line has been designing and manufacturing the world's most innovative fly lines and braided fishing lines. With passion and experience, we remain focused on one thing: fishing. Fishing has been, and always will be, what drives us to develop the most advanced lines offered today. Located in Cortland, NY - all of our pro shop lines are made in the USA with the latest in line technology - many technologies that Cortland itself pioneered for the industry.