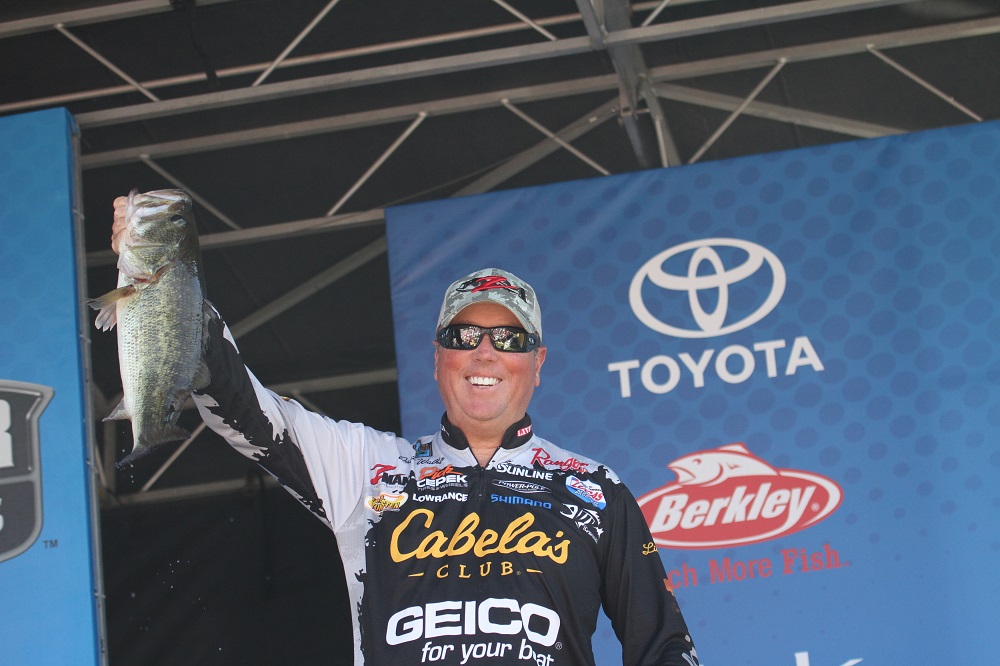 All eyes are on Lake Hartwell as the Bassmaster Classic will soon roll into town. The site of the event has held two previous Classics and several FLW Tour events and they have all been held at roughly the same time of year. Because of this, many of the competitors have a great deal of experience there. David Walker is fishing this event and has only been there one time; but sees that as an advantage and it is playing into his predictions for how the tournament will unfold.
The Advantage of Having Little Experience
Walker's only previous trip to Hartwell was at the last Classic held there in 2015.
"It was a similar time of year and the same water level as it should be when the Classic starts. If I had a lot of experience there in the summer or fall, it wouldn't help at all and could hurt," he says.
One thing Walker hopes doesn't happen again is what occurred during practice for the 2015 event. "
I rescued a guy who was in the 45-degree water after his boat sank. I was in the right place at the right time," he recalled.
Cold Water Confidence
You hear it all the time, confidence is key to success in bass fishing. Walker agrees and says that he has high confidence when the water is cold. It may be because it plays into his strengths and his fishing style and Walker says that when it is coldest he seems to do well.
"It has always been like that and some of my best tournaments are those that I am really bundled up and cold. It is my favorite time of year to fish because that is where you have the best chance to catch the biggest bass in the lake," he says. "This is the window where you can catch a giant casting and winding and not just fishing for a big bedding bass. I think this Classic is going to be a pre-spawn type tournament with big fish because of the crazy and cold winter we had this year."
Three Rigs Walker Will Use at Hartwell
Jerkbaits, crankbaits, and underspins will be popular choices at Hartwell, but Walker feels that in order to compete and catch fish all day he will need to slow down, fish the bottom and apply some finesse.
He predicts that a Reins Tungsten Sliding Football Head, a dropshot, and Neko rig will all help him during the tournament.
Sliding Football For The Brushpiles
The Reins Tungsten Sliding Football Head is something that Walker helped design and he uses the various sizes for many uses.
"This time of year, I like the small ¼ oz. version and use a small craw or worm for my plastic," he says. "On Hartwell, there are so many brushpiles that you need something like this that won't get hung up as much. I'll also be using it on long points, in trees and any other cover I come across."
Neko Rigging the Winning Classic Bass
The "video game" style of fishing is something that anglers have learned to maximize, especially when spotted bass and cold weather are in the equation.
"This could be a real player in the Classic if the weather stays colder and the majority of the big fish are still out deep. I use a dropshot, but also Neko rig for fish I can see on my electronics," he says.
There are many different soft plastics that work for the Neko rig technique, but Walker prefers a Z-Man ZinkerZ, a soft plastic stickbait that features the company's signature ElaZtech material.
"The bait lasts forever and the material lets you fish a wacky-rig or Neko without an O-ring, you just hook into the bait and it won't rip," Walker says.
Another benefit of this type of plastic is how well it holds a nail weight. Walker most often uses the Reins Tungsten Nail Sinker in the 3/32 oz. and 1/8 oz. sizes.
"The weight is tungsten; so, it is really small and combined with that plastic it will not come out even on a hard cast. The weight has little ridges on it that hold it secure, you have to twist and pull to even get it out of there because of how the weight is designed."
Dropshot to Win the Classic
Walker rigs up both the dropshot and Neko rig when video game fishing and plans to have them both at the ready at Hartwell.
"It is simple, just let the fish decide what they want that day. It is always great to give them two options and no fish or no day is the same," he shares.
He mentioned that he has become a fan of larger dropshot weights over the years.
"Before it was always 1/8 oz., but now I use ¼ oz., 3/8 oz. and ½ oz. Reins TG SLIM Down Shot Sinker. It helps get the bait down so much quicker and delivers your worm right to them," he shares.
There are many possible patterns that may emerge at this year's Bassmaster Classic. Veteran pro David Walker believes that these three patterns give him the best shot to win it all. We will see how his predictions play out when the final bass is weighed.