Scientists Document Deep Sea Fish Migrations
We've all seen the documentaries that feature scenes of mass migrations on land. Those videos are pretty impressive showing all sorts of animals – birds, mammals and other creatures – on the move. What wasn't known was to what extent this was taking place in the deepest parts of our oceans.
That was until now.
Scientists have, for the first time, documented seasonal migrations of fishes across the deep seafloor, revealing an important insight that will further scientific understanding of the nature of our planet.
"We are extremely excited about our findings, which demonstrate a previously unobserved level of dynamism in fishes living on the deep sea floor, potentially mirroring the great migrations which are so well characterized in animal systems on land," said Rosanna Milligan, Assistant Professor at Nova Southeastern University's Halmos College of Natural Sciences and Oceanography who started the work at the University of Glasgow.
The study – published in the Journal of Animal Ecology and led by Nova Southeastern University (NSU) and the University of Glasgow – analyzed more than seven years of deep-sea photographic data from West Africa, linking seasonal patterns in surface-ocean productivity with observed behavioral patterns of fishes at 1,500 meters.
The deep sea – greater than 200-meters water depth – covers most of the world's surface. Recent advances in technology and computational power have hugely improved our ability to access and study deep sea ecosystems, but there are still many basic questions that we simply don't have answers to.
This study now provides evidence of cycles of movement across the seafloor in deep-sea fish, with the study authors believing these movements could be happening in other locations across the world's sea floor too.
"The work really adds to our understanding of movement patterns in deep-sea fishes and suggests reasons for their behaviors, Milligan said. "Because we were able to link the abundances of fish observed at the seafloor to satellite-derived estimates of primary productivity, our results suggest that even top-level predators and scavengers in the deep oceans could be affected by changes filtering down from the surface of the ocean."
Dr. David Bailey, Senior Lecturer in Marine Biology at the University of Glasgow's Institute of Biodiversity, Animal Health and Comparative Medicine, said: "Animal migrations are really important in nature, because when animals move from place to place, they transport energy, carbon and nutrients. We were only able to discover this behavior because of the collective expertise and decade-long commitment of the Universities and industry partners. These kinds of long-term projects and the datasets they generate are vital to understanding ongoing change in the oceans and how they may be impacted in the future."
This work was only possible because of an international collaboration between industry, academia and government, involving more than 10 organizations across Angola, UK and US. It was done using the Deep-ocean Environmental Long-term Observatory System (DELOS).
The DELOS observatories are permanently left in place on the seafloor (1,400 m depth) and house separate instrumentation modules containing oceanographic sensors, cameras and more. The modules are periodically recovered for data download and servicing using a remotely-operated vehicle (ROV).
You can learn more about the DELOS project ONLINE.
Be sure to sign up for NSU's RSS feed so you don't miss any of our news releases, guest editorials and other announcements. Please sign up HERE. You can also follow us on Twitter @NSUNews.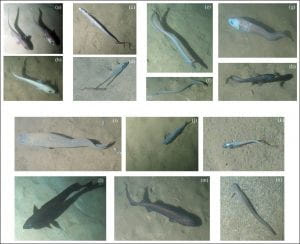 Some of the fish identified: (a – b) Grenadiers; (c – d) Halosaurs; (e – f) Eels; (g – h) Cusk Eels; (i) Brotulids; (j) Tripod fish; (k) Snail fish; (l) Morid cod; (m) Portuguese dogfish; (n) Eelpout
About Nova Southeastern University (NSU): At NSU, students don't just get an education, they get the competitive edge they need for real careers, real contributions and real life. A dynamic, private research university, NSU is providing high-quality educational and research programs at the undergraduate, graduate, and professional degree levels. Established in 1964, the university includes 16 colleges, the 215,000-square-foot Center for Collaborative Research, a private JK-12 grade school, the Mailman Segal Center (early childhood education) with specialists in Autism, the world-class NSU Art Museum Fort Lauderdale, and the Alvin Sherman Library, Research and Information Technology Center, one of Florida's largest public libraries. NSU students learn at our campuses in Fort Lauderdale, Fort Myers, Jacksonville, Miami, Miramar, Orlando, Palm Beach, and Tampa, Florida, as well as San Juan, Puerto Rico, and online globally. Classified as having "high research activity" by the Carnegie Foundation for the Advancement of Teaching, NSU is one of only 50 universities nationwide to also be awarded Carnegie's Community Engagement Classification, and is also the largest private institution in the United States that meets the U.S. Department of Education's criteria as a Hispanic-serving Institution. Please visit www.nova.edu for more information.