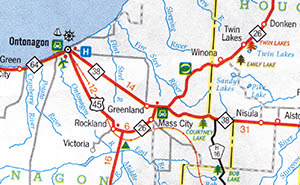 Michigan Department of Natural Resources conservation officers aided in the arrest Monday of a 23-year-old Gogebic County man at a service station in Mass City.
At 5:47 p.m. EST Feb. 4, the officers responded to a radio report of a possible stabbing at Meritt's Travel Center. Conservation officers arrived alongside Ontonagon County Sheriff's deputies and an officer from the U.S. Forest Service.
The conservation officers helped take the man into custody.
"This incident illustrates the cooperative nature of how policing works in rural areas," said Lt. Ryan Aho, a DNR district law supervisor in Marquette. "It also shows how our conservation officers perform a wide range of duties in support and protection of local communities and their residents."
Deputies did not release further details today concerning the stabbing.
The suspect is a Watersmeet resident. He was scheduled to be arraigned today in Ontonagon County District Court in Ontonagon. He was arrested for domestic violence, felonious assault with a deadly weapon and resisting and obstructing police.
The man is lodged in the Ontonagon County Jail without bond, pending his arraignment hearing.
Michigan conservation officers are fully commissioned state peace officers who provide natural resources protection, ensure recreational safety and protect citizens by providing general law enforcement duties and lifesaving operations in the communities they serve.
Learn more about Michigan conservation officers at Michigan.gov/ConservationOfficers.