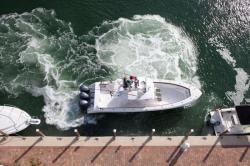 Docking a boat can be difficult and stressful. In this guide, we'll give you plenty of tips, tricks, and tactics that will make the job easier.
By Gary Reich, Boats.com
When it comes to maneuvers that give boat owners the jitters, you'd be hard pressed to come up with a more anxiety-inducing task than docking a boat. Whether you're bringing the boat alongside a bulkhead or into a slip, when you add a little wind or current—much less an audience of other boaters—it only makes things more stressful. In this article we'll provide all the details you need to know to dock safely, but before we get too far in depth, let's outline the most basic steps of how to dock a boat:
Deploy fenders and prepare dock lines.
Gauge the effects of wind and/or current.
Drive up close to your slip or berth.
Maneuver your boat so it's positioned to enter the berth or slip.
Slow or stop forward momentum so you don't approach too fast.
Using small applications of intermittent power, maneuver into the berth or slip.
Use a small application of power to stop all motion.
Secure the boat in its berth or slip with the mooring lines.
See more at Boats.com here.